Our New Vision
TrainRiders Northeast brought the Downeaster to Portland, ME in 2001 and Brunswick ME in 2012. Our New Vision: An across the platform, Amtrak connection at Boston's North Station, serving Worcester, Springfield, Hartford, New Haven & New York's Penn Station. Our continued success depends on your donation. Use our PayPal button to help us reach this goal. Many thanks for your continued support. Wayne Davis, Chairman
Good News: The Downeaster Set a Ridership Record for the Month of January!
Details

Created: 08 March 2017

08 March 2017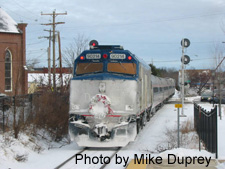 January & February are normally lean months for Downeaster ridership, so it was a pleasant surprise to learn that "America's Favorite Train" set a January record. NNEPRA Executive Director Patricia Quinn reported the numbers at 37,915 as compared to 30,979 for January of 2016.
February is expected to set a new record as well (Amtrak has yet to release those numbers). Attendees to the Patriots parade in Boston on February 6th packed the trains - an extra coach was even added to one of the trainsets.Congratulations to the NNEPRA staff, the Amtrak crews and the dedicated passengers who chose to "ride the rails" rather than fight traffic and take out a second mortgage for parking.
Here's the full Board Packet that was distributed at the meeting.