TRN
TRN
Details

Written by TRN Webmaster

TRN Webmaster

Published: 12 November 2019

12 November 2019

Hits: 163

163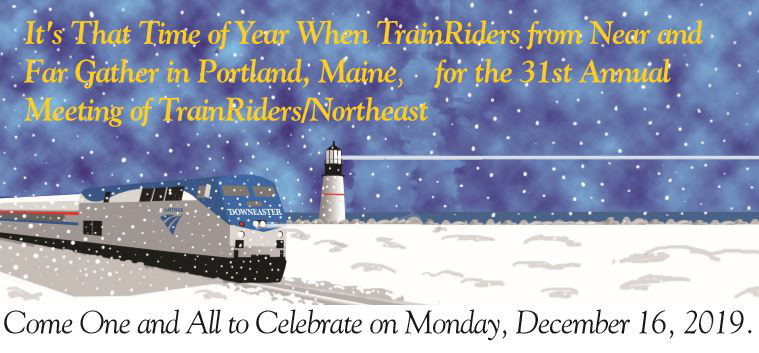 Our invited guests are Patricia Quinn, Executive Director of NNEPRA, David Fink, President of Pan Am Railways and Bruce A. Van Note, Maine Commissioner of Transportation. Much is happening with passenger and freight rail in Maine and no better place to get a full briefing than at our Annual Meeting. In addition, we are celebrating the Downeaster's 18th birthday!
Agenda
11:30 am - Registration begins at the Holiday Inn by the Bay in Portland
12:15 pm - Welcome, Business Meeting, Buffet Luncheon, Special Presentations and Guest Speakers
3:30 pm - Closing Comments and Adjournment
3:40 pm - Following the meeting, you're invited to board a shuttle bus to the Downeaster for a roundtrip to Freeport to see LL Bean's spectacular Christmas display and program. Afterward, we'll board the 5:38 pm Downeaster to Portland and points south. The trip is on us!
Take the train to and from Portland
Northbound Downeaster #681 from Boston arrives in Portland at 11:40 am. Southbound from Brunswick arrives at 11:58 am (you'll be bussed from the station to the hotel).

Registration
You can register for the Annual Meeting through either of the following methods.
*Online - Click here
*By mail - Print the application by going here
Membership
Renew your membership now by using our online form or by including your check when you mail your meeting reservation to TrainRiders/Northeast.
Details

Written by TRN Webmaster

TRN Webmaster

Published: 26 November 2018

26 November 2018

Hits: 2816

2816
Online Registration

Register below so we'll have your name tag ready when you arrive. If you're registering for more than one person, simply refresh this page and enter the additional names and amounts. You can also renew your membership by going here.
Registration begins at 11:30 am
Meeting opens at 12:15 noon
Adjournment at 3:30 pm
Downeaster trip to Freeport following the meeting
Details

Written by TRN Webmaster

TRN Webmaster

Published: 26 June 2017

26 June 2017

Hits: 5984

5984
You might call it a "busman's holiday" as a large group of Train Hosts traveled on the Downeaster to the Amtrak Dispatch Center at South Station in Boston. As part of their "learning experience," they used public transportation to travel from North Station to South Station, received a full briefing from Amtrak officials at the center (more than 700 trains are dispatched the center daily!) and enjoyed a relaxing lunch at Fanuiel Hall.
Chairman Wayne Davis put together this group with the support of Amtrak Portland Manager Steve Corcoran and NNEPRA Director of Customer Services Brian Beeler, II.
The video, narrated by Wayne, shows the all-day adventure.
The purpose of the TrainRiders Host Program is to have volunteers serve as goodwill ambassadors; to promote patronage of the Downeaster; to assist passengers with information onboard the train, along the route and at scheduled stops; to assist train crews in duties as requested by them, and to promote rail safety. This all-volunteer group of men and women enhances the Downeaster experience for the riding public.
Yes, you'll get to ride FREE to and from Boston while on duty. What's not to like about that?
Learn more about the program by going here.
Details

Written by TRN Webmaster

TRN Webmaster

Published: 25 November 2018

25 November 2018

Hits: 1739

1739
On Friday, December 14th, TrainRiders/NE celebrated its 30th year of grassroots advocacy on behalf of passenger rail in the Northeast. Our pride and joy, the Amtrak Downeaster, marked its 17th year of serving Maine, New Hampshire and Massachusetts.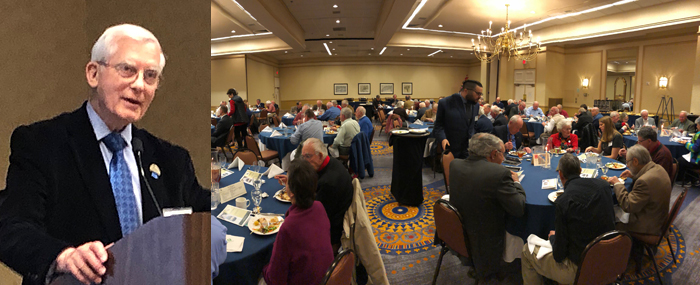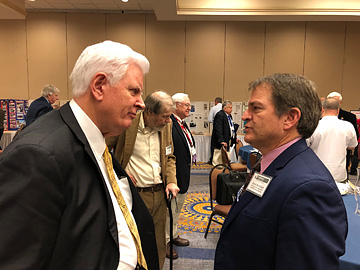 Our Keynote Speaker was Eugene (Gene) Skoropowski, Senior Passenger Rail Consultant, TY Lin International, whose 40 years of railroading experience brought Florida's privately-funded passenger rail service to fruition.
Details

Written by TRN Webmaster

TRN Webmaster

Published: 18 January 2017

18 January 2017

Hits: 6994

6994
PRESS RELEASE: TrainRiders Northeast, the non-profit, volunteer, rail advocacy organization founded in 1989 announced today that it has hired its first ever Executive Director, George O'Keefe, Jr., of Winthrop. O'Keefe is currently a Master's Degree candidate in the Policy, Planning, and Management Program, with a concentration in Organizational Leadership and Management, at the Muskie School of Public Service.
O'Keefe will work alongside TrainRiders' longtime Chairman and co-founder Wayne E. Davis to help the organization expand its mission of bringing "modern and efficient" passenger rail service to the Northeast. "A balanced transportation system is what we need in order to provide for sustainable economic opportunities that will last for generations," said O'Keefe.
Read more: TrainRiders/NE Board Elects First Executive Director
Subcategories