Welcome to TrainRiders/Northeast
Marathon DEP Hearing on NNEPRA's Storm Water Runoff Permit
Details

Published on Thursday, 26 March 2015 13:07
Written by TRN Webmaster
It was an all-day event as the DEP held extensive sessions on NNEPRA's Storm Water Runoff Permit request. The permit is required for the construction of the Downeaster's Brunswick Layover Facility. It began at 9:00 a.m. and ended at 8:00 p.m. (with some lunch/dinner breaks). This was the first such public hearing the DEP has ever organized for this type of permit.

The evening public session, held at the Brunswick Golf Club, brought out nearly two hundred advocates - against and for the permit. Those against feared disruption of their neighborhood due to alleged pollution and flooding and those in favor disputed their fears and emphasized the economic benefits of the expansion.


The Portland Press Herald has a full article on the hearing as well as background information on what has become an intense political dispute. Go here.
Update:
While we await the official transcript of the hearing, observers at the proceedings have communicated the following:

1. The opposing neighborhood was weak on science and in one case misled the DEP by using in their illustrations diesel engines which were manufactured in the 50s & 60s (TRN's Counsel Bruce Sleeper pointed out the inconsistency in, according to one observer, a "masterful cross-examination.")

2. Opponents were concerned about coal ash on the site and charged that dangerous hydrocarbons might still be found in the soil because there had been once been an oil storage tank in the freight yard. Could there still be residual oil in the soil that would drain into the Androscoggin River? "Unlikely," the engineers concluded, as multiple soil tests were taken to a depth of 15 feet without finding any significant pollutants - the tank had been removed some 20 years ago.

We expect a decision by the DEP by June.
February Report, Oversight Committee Audit & McEvoy Resignation
Details

Parent Category: NNEPRA
Published on Tuesday, 24 March 2015 01:22
Written by TRN Webmaster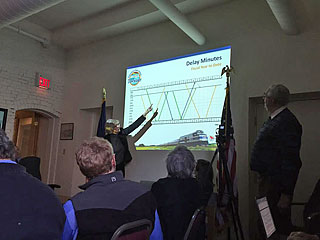 Performance Report: Amtrak failed to get complete numbers to NNEPRA in time for a full report. Exec. Dir. Patricia Quinn did state that February was a "bad month." Available February numbers showed 29,317 riders, down 23% from the same period last year - 38 trains were cancelled in February due to bad weather. Remarkably, revenue is down but 1% year-to-date, due in large part to lower fuel prices and lower payments to PanAm because of cancellations.
Read more: February Report, Oversight Committee Audit & McEvoy Resignation
NNEPRA Modifies Downeaster Schedule
Details

Published on Tuesday, 17 March 2015 15:00
Written by TRN Webmaster
NNEPRA has decided to modify the Downeaster's schedule, beginning on March 30th, in an effort to, among other things, improve the service's on-time performance.
Freeport and Brunswick are expected to benefit by the change as the time between daytime arrivals and early evening departures is cut nearly in half.
The second evening train out of Boston (#687) will depart at 6:05 p.m. instead of 5:40 p.m. Overall, good moves. http://www.pressherald.com/2015/03/16/amtrak-tweaks-downeastser-schedule-to-give-more-time/
Legislature's Oversight Committee Will Investigate NNEPRA
Details

Published on Saturday, 14 March 2015 11:22
Written by TRN Webmaster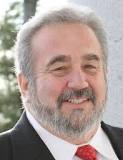 It's now official. The Legislature's Oversight Committee will investigate NNEPRA's management of the Downeaster. But that opening sentence fails to capture the animosity that has now gone public thanks to Senator Stan Gerzofsky. He vehemently opposes the Rail Authority and Executive Director Patricia Quinn; the siting of the proposed Brunswick Layover Facility in a freight yard next to complaining neighbors; and the idling of Amtrak engines.
Chairman Wayne Davis of TrainRiders/Northeast suggests the senator's actions are more personal than previously revealed.
More from MPBN:http://news.mpbn.net/post/legislative-watch-dog-panel-probe-agency-oversees-amtrak-downeaster-service
Portland Press Herald editorial calls on Augusta not to turn the investigation into a "witch hunt": http://www.pressherald.com/2015/03/19/our-view-impartial-leadership-key-to-rail-audits-integrity/
Sen. Gerzofsky Takes Aim at NNEPRA...Again and Again!
Details

Published on Saturday, 14 March 2015 00:23
Written by TRN Webmaster
Senator Stan Gerzofsky (D-Brunswick) is at it again - asking the Legislature's Office of Program Evaluation and Government Accountability to conduct a full audit of NNEPRA operations - he did this two years ago but it went nowhere. He has also reintroduced a bill restricting passenger trains to 30 minutes of idling time (keep in mind that diesel engines need to idle during cold weather in order to prevent freezeups). The Bangor Daily News reports on his latest effort to investigate the Downeaster and its Executive Director, Patricia Quinn.
http://bangordailynews.com/2015/03/12/politics/
brunswick-senator-seeks-probe-of-downeaster-railroad-operations/