Welcome to TrainRiders/Northeast
Public Hearing on BLF Permit Scheduled
Details

Published on Thursday, 22 January 2015 21:17
Written by TRN Webmaster
The Maine DEP has scheduled a public hearing on the Storm Water Runoff Permit for the evening of March 25th in Brunswick (location TBA). That permit is required by NNEPRA in order to proceed with construction of the Brunswick Layover Facility.

TrainRiders/NE is an 'intervenor' in the process which grants us the right to present expert evidence as well as cross-examine others who testify. All testimony is given under oath. The Brunswick neighborhood group is also an 'intervenor'. The Town of Brunswick is an 'interested municipal agency'.
A 'hearing officer' will moderate the session and file an assessment with the Commissioner of the DEP, Patricia Aho, who will make the final decision.
Year End Review from Wayne Davis
Details

Parent Category: TRNE News
Published on Wednesday, 31 December 2014 13:20
Written by TRN Webmaster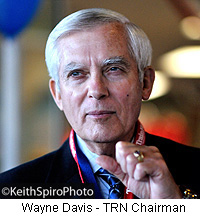 As we approach the last day of this year, we look back to what's taken place during 2014. It was a busy year, on both offense and defense. We set new travel goals and continued to defend NNEPRA's Brunwick Layover Facility proposal which is the key to more service which will lead to increased ridership.
In a time of special need, we received funds and moral support from many of you – and we sincerely thank you for that. We nevertheless continued to support passenger rail service throughout the region.
Brunswick Town Engineer Sees No Problems with Brunswick Layover Facility's Water Runoff
Details

Published on Tuesday, 16 December 2014 14:39
Written by TRN Webmaster
The Brunswick town engineer said at last night's Town Council meeting that the runoff from the Brunswick Layover Facility site would not connect to the town's storm water system - thus reducing the town's concern. In addition, he said that after reading reports on the DEP's website, the runoff before and after construction would appear to be unchanged. It was generally a positive assessment from the town engineer.
In addition, the council voted last night to become a 'Municipal Observer' which will allow them to receive DEP updates on the Storm Water Runoff Permit issue while maintaining the right to intervene in the process if required in the future.
December 17th was to have been the 'drop dead' date for the DEP to issue their decision. Unfortunately, by calling for a public hearing on the permit, the clock has stopped. The town lawyer speculated that the hearing would focus only on the water runoff issue.
NNEPRA Board Meeting Hears Charges of 'Conflict of Interest' Against Board Member Robert McEvoy
Details

Published on Monday, 24 November 2014 22:11
Written by TRN Webmaster
Conflict of Interest Discussion during Public Comments (Updates at the bottom of this report)
It was a packed board room that heard serious charges brought against Robert McEvoy, the first openly hostile NNEPRA board member to be appointed by the administration.
Citizens from Brunswick as well as TNE representatives stated that Mr. McEvoy, by writing a letter to the DEP detailing what he perceived to be unanswered questions in NNEPRA's Storm Water Runoff Permit, created a conflict of interest by not informing the NNEPRA Board, its leadership or its Executive Director of his action which publicly undercut NNEPRA's official position.
F. Bruce Sleeper, Counsel to TRN, noted that the Maine Attorney General issued an opinion on conflict of interest in 1983:
A public servant occupies a position of confidence and responsibility; he is, in essence a trustee for the public...An officer is not permitted to place himself in a position in whch his individual interest may clash or appear to clash, with the duty which he owes the public.
Mr. Sleeper called for the board to "not permit Mr. McEvoy to participate as a NNEPRA board member in any proceedings dealing with the Brunswick Layover Facility."
Other members of the public called for an apology from Mr. McEvoy, and if that was not forthcoming, a resignation from his position on the board.
Chairman Eisenstein noted that any board member can speak his mnd and called Mr. McEvoy an "honorable man."
There was considerable discussion about the ethics of Mr. McEvoy's intervention against NNEPRA's Storm Water Runoff Permit and the issue will be examined by the board with additional legal input.
NNEPRA is awaiting word from the DEP as to when the public hearing will be held on its Storm Water Runoff Permt.
Resource: Press Herald story

Read more: NNEPRA Board Meeting Hears Charges of 'Conflict of Interest' Against Board Member Robert McEvoy
NNEPRA's Annual Meeting Reports 'Modest Growth' for FY2014
Details

Published on Friday, 31 October 2014 10:51
Written by TRN Webmaster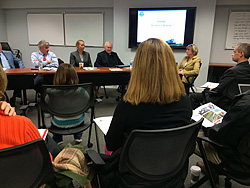 Executive Director Patricia Quinn and her staff reported details of FY2014 to a packed meeting room of interested parties. Here are selected items from the Annual Report:
Performance Statistics:
4% increase in Ridership - 536,524 total
6.2% increase in Revenue - $8.6 total
58% On Time Performance
On Time Performance
MBTA work on the Shawsheen River Bridges required weekend track outages and forced 12 Downeaster trains to be cancelled. The severe winter created severe track conditions in the spring, resulting in the cancellation of 24 additional trains and the estimated loss of 4,000 riders and $64,000 in revenue.
Passenger Profile
Passengers chose to ride the Downeaster for a variety of reasons:
45% - Leisure
28% - Visit friends and family
17% - Business
2% - Medical
2% - College
6% - Other
During FY2014
57% - Traveled to or from Maine (66% of revenue)
30% - Traveled between NH and Boston (25% of revenue)
25% - Traveled on passes (16% of revenue)
Customer Satisfaction
Throughout the year of challenges, passsengers continually ranked the Downeaster the highest among Amtrak trains for customer service with an overall satisfaction rating of 93%.
FY2015
NNEPRA projects a 3% drop in ridership due mainly to tie replacement & bridge projects.