Welcome to TrainRiders/Northeast
NNEPRA May Board Meeting
Details

Parent Category: NNEPRA
Published on Tuesday, 24 May 2016 15:09
Written by TRN Webmaster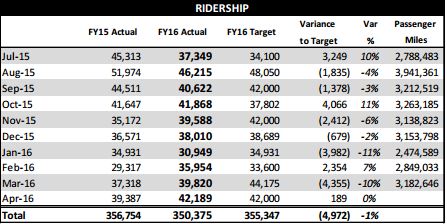 The NNEPRA board met Monday, May 23rd, to review the latest Downeaster performance numbers.
Ridership: Now that the roadbed is in tip-top shape, ridership shows continued growth since October of last year, save for January, 2016. A similar trend for revenue was reported.
On Time Performance: 89%
Overall Customer Satisfaction: March Downeaster: 91, Amtrak: 85
Brunswick Layover Facility: Special Projects Manager Jim Russell reported on the continued progress at the BLF, "We are on schedule for a September opening." The NNEPRA Board was then treated to a video tour of the facility when Trainriders/Northeast board members were escorted around the site.
Thank you, Jim. You answered our many questions with expertise and patience.
NNEPRA Reports on Downeaster Performance
Details

Published on Tuesday, 26 April 2016 17:22
Written by TRN Webmaster
NNEPRA held is regular monthly meeting on Monday. TrainRiders/NE's Legal Councilor F. Bruce Sleeper provided the following summary:
Executive Director Patricia Quinn said that April ridership is now about 1800 passengers more than last year, so the Downeaster continues to do well on that front, although a bit below the targets NNEPRA set even in January and March. They are also below targets on revenues, again even in January and March.
Downeaster Performance Moves Forward
Details

Published on Friday, 01 April 2016 17:45
Written by TRN Webmaster
NNEPRA's Year-to-Date Performance Report shows a return to normal conditions. For example, March's On Time Performance averaged 93%! As a volunteer at the Saco Train Station, I can attest to those numbers as #685 frequently coasts in a minute to two early. From NNEPRA's Brian Beeler II (as of March 10th), "Out of 210 trains operated this month to date – 87 of them arrived early to their final station!"
Important Winter Newsletter Now Available
Details

Published on Thursday, 17 March 2016 03:19
Written by TRN Webmaster
TrainRiders/NE took on an important responsibility last year as we joined NNEPRA in their battle against the NIMFYs (Not in My Freight Yard). Their toxic opposition threatened to sabotage the much-needed Brunswick Layover Facility.
NARP New England Meeting on Saturday, March 12, 2016 in New London, CT
Details

Published on Wednesday, 02 March 2016 22:24
Written by TRN Webmaster

NARP New England members will be meeting at The New London Holiday Inn, 35 Governor Winthrop Blouevard in New London. It a chance to catch up on passenger rail progress and challenges here in the Northeast. Go here for your reservation - time is running out.