Welcome to TrainRiders/Northeast
NNEPRA Reports Growth in First Half of FY 2014
Details

Published on Monday, 24 February 2014 21:41
Written by TRN Webmaster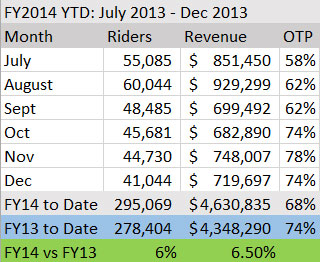 FY 2014 to date (6 months) is doing amazingly well, with a 6% ridership growth as compared to the same period in FY 2013. The spreadsheet shows some 295,069 riders in FY 2014 YTD as compared with 278,404 in FY 2013 YTD. Revenue exceeded the same period in FY 2013 by 6.5%, or $282,545.
Patricia Quinn, Executive Director of NNEPRA, reported that On Time Performance continues to disappoint with an overall 68% record during this reporting period. She explained that "issues impacting OTP are varied, but constrained capacity between Portland and Boston accounted for approximately 45% of all delays, while infrastucture defects (slow orders) accounted for 40% of the delays."
Overall customer satisfaction remained high according to the report, scoring 94 for the Downeaster as compared to 87 for the nationwide Amtrak system. As we've noted in the past, the passengers are well taken care of during delays.
Conversations between the Town of Kennebunk and NNEPRA took place recently to explore the possibility of using the old train depot as a Downeaster stop. Town officials may make a formal request to the board in the near future.
NNEPRA met with the Bicycle Coalition of Maine to discuss how to increase bikers' use of the Downeaster. It was an informational meeting with NNEPRA and Amtrak representatives listening and explaining the logistical issues passenger trains encounter when trying to accomodate bikers. A Northeast Regional Task Force is being assembled to explore this issue in greater depth.
NNEPRA Reports Growth in 2nd Qtr of FY2014
Details

Published on Tuesday, 28 January 2014 18:56
Written by TRN Webmaster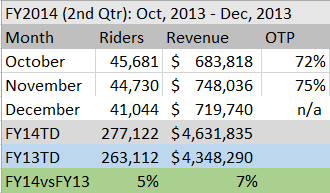 The Downeaster's performance continues on track as Executive Director Patricia Quinn reported on the second quarter of FY2014. Overall, when combined with the first quarter, ridership was up 5% and revenue grew by 7% over FY2013 to date.
On Time Performance remains troubling, due in large part to commuter and freight train delays.
The Downeaster's Overall Customer Satisfaction Score in December was 96%! When you take into account the delays which have affected 25% of the trains, the CSI score demonstrates that a welcoming and professional crew can keep riders satisfied even when they don't arrive on time.
Washington recently approved an "indefinite" extension of CMAQ funds for the use by state-sponsored railroads for operations (originally, the Congestion Mitigation and Air Quality funds were to be only used for three years in startup transportation projects). 80% of the Downeaster's operating budget comes from CMAQ funding.
Happy New Year 2014!!!
Details

Published on Monday, 30 December 2013 14:59
Written by Wayne E. Davis (Board, Chairman)
In 1960, as he watched New England's passenger rail system gradually disappear, Maine's E.B. White wrote in his publication The Railroad, that "A state without rail service is a state that is coming apart at the seams, and when a train stops at a village depot anywhere in America and a passenger steps off, I think that village is in an enviable condition".
As the 2013 holiday season comes to an end, in our little corner of America, the public is exulting in Downeaster travel with impressive numbers to prove it. For the FY 2013, ridership exceeded 556,000 passengers, an increase of 5% over FY 2012. Ticket revenue was well over $7M, an increase of 9% over FY 2012. E.B. White should be pleased with the growing number of "villages" in an "enviable condition" (think Brunswick & Freeport). We'd also like to think that he's cheering us onward in our quest to promote rail extensions in addition to improvements to the Boston-Portland service.
NNEPRA Reports Growth in 1st Qtr of FY2014
Details

Published on Monday, 25 November 2013 21:37
Written by TRN Webmaster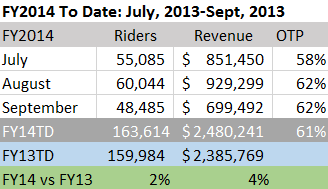 Another fiscal year begins and Patricia Quinn, Executive Director of NNEPRA, reported ridership during the 1st quarter of Fiscal Year 2014. The report states that "the Downeaster transported a record-setting 163,614 passengers generating $2.48 million in revenue."
"An all-time monthly ridership of 60,044 passengers was matched by all-time monthly revenue of $929,299 in August. A service interruption associated with the rehab of the Shawsheen River Bridges is estimated to have displaced approximately 1,000 riders in September" (dates when the Downeaster could not service Boston).
25th Anniversary Annual Meeting 2013 - An Inspiration to Behold!
Details

Parent Category: TRNE News
Published on Sunday, 15 September 2013 11:14
Written by TRN Webmaster
TrainRiders/NE's Annual Meeting is always special - for our members and invited guests. However, this year's event celebrated not just the 25 years of our organization's effort to 'change the way New England travels," but the continued growth of the Downeaster and the relationships developed over the years with our public and private partners. Add to that mix the inspired message delivered by keynote speaker John Robert Smith and a new level of excited commitment to economic development through a growing and dependable national rail system was achieved.
Read more: 25th Anniversary Annual Meeting 2013 - An Inspiration to Behold!