Welcome to TrainRiders/Northeast
Patricia Quinn to Appear Monday Evening Before Brunswick Town Council
Details

Published on Saturday, 25 April 2015 22:57
Written by TRN Webmaster
Notice from All Aboard Brunswick:
Hello, All Aboard Brunswick friends—
We have an update on the layover facility for the Downeaster.
Patricia Quinn, executive director of NNEPRA, will be at the Brunswick Town Council meeting on Monday, April 27, at 7:00 p.m., to present an update on the Downeaster and progress toward constructing the layover facility. We believe her primary topic will be a plug-in power facility in Brunswick that was proposed during the Transportation Committee's deliberations on L.D. 439, "An Act To Prohibit Excessive Idling of Passenger Trains."

This temporary solution will not prevent idling in the winter to keep engine fluids at operating temperature or periodic idling year-round to deliver compressed air to the brakes. It also will not cure the problem of overnight idling in Portland by the Downeaster train sets, and it will not enable NNEPRA to increase the number of round-trips between Brunswick and Boston.
It is important for as many AAB supporters as possible to attend the Town Council meeting to show support for the BLF, the Downeaster, and NNEPRA. We understand that members of the Brunswick West Neighborhood Coalition, who oppose the layover facility, will attend as well. If you can join us, that would be great. We'll have All Aboard Brunswick stickers available if you choose to identify yourself as a supporter of the Downeaster and the Brunswick Layover Facility.
Patricia's report is early on the agenda, so it won't be a long night.
On April 24, the court reporter delivered the transcript of the March 25 DEP public hearing. Closing briefs for all interested parties are due on Wednesday, May 6, and we expect a ruling 45 working days after that, or around July 8.
If you are a resident of Brunswick and you can't make it to the April 27 Town Council meeting, please consider sending a brief email to your Town Councilor expressing your support for the Brunswick Layover Facility, the Downeaster, and NNEPRA. You can find a listing of Brunswick councilors and their addresses at http://www.brunswickme.org/departments/town-council. Be sure to include your street address below your "signature."
Thank you very much,
Emily Boochever
This email address is being protected from spambots. You need JavaScript enabled to view it.
Trainsportation Committee Tables Anti-Passenger Rail Idling Bill
Details

Published on Friday, 10 April 2015 20:21
Written by TRN Webmaster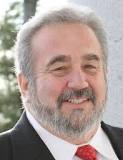 The Joint Committee on Transportation in Augusta heard testimony yesterday relating to SP 168 - An Act To Prohibit Excessive Idling of Passenger Trains. It was introduced by Sen. Stan Gerzofsky of Brunswick, who is known as an aggressive opponent of the train and NNEPRA's Executive Director Patricia Quinn. The bill was 'tabled' but could be resuscitated. If passed, it would severely hamper or shut down Amtrak's Downeaster service (as well as Maine Eastern's excursion trains). It reads:
1. Prolonged passenger train engine operation. Beginning January 1, 2016, except for engine operation under subsection 2, a railroad company may not operate a passenger train engine while the passenger train is stopped for longer than 30 minutes.
2. Exceptions. This section does not apply to a passenger train engine that is:
A. Being repaired or serviced if the operation of the train engine is essential to the proper repair of the train engine; or
B. Engaged in the delivery or acceptance of merchandise or a passenger for which engine-assisted power is necessary and another means of power is unavailable.
3. Penalty; enforcement. A railroad company that violates this section commits a civil violation for which a fine of $2,500 must be adjudged. The Attorney General may bring an action seeking injunctive relief to enforce the provisions of this section.

While the bill appeared to be specifically aimed at idling trains in Brunswick (at the station and nearby freight yard), the Downeaster trains actually idle extensively at its current outdoor layover facility in Portland.

A knowledgeable observer at the hearing reported the following:
"Ms. Quinn told the committee that NNEPRA is going to install a generator in Brunswick to reduce emissions. She says that this will take a minimum of 12 weeks for ordering and construction of the generator. Senator Gerzofsky told the committee that he didn't trust the authority to actually do this in a timely manner unless the bill remains outstanding. The committee tabled the bill pending a report from Patricia as to where the generator was going to be located and how things were going on installation. It was suggested by the committee that they might end up holding the bill, but send the authority a letter saying that they want the generator installed ASAP."

This is just the latest attack on NNEPRA by Senator Gerzofksy. His opposition to the Brunswick Layover Facility has significantly delayed its construction; he initiated an investigation into NNEPRA's operations; and now wants to shut down their engines. We expect more of our representatives in Augusta, but in this case we are getting petty politics. Go to our Facebook page to add comments.
Marathon DEP Hearing on NNEPRA's Storm Water Runoff Permit
Details

Published on Thursday, 26 March 2015 13:07
Written by TRN Webmaster
It was an all-day event as the DEP held extensive sessions on NNEPRA's Storm Water Runoff Permit request. The permit is required for the construction of the Downeaster's Brunswick Layover Facility. It began at 9:00 a.m. and ended at 8:00 p.m. (with some lunch/dinner breaks). This was the first such public hearing the DEP has ever organized for this type of permit.
The evening public session, held at the Brunswick Golf Club, brought out nearly two hundred advocates - against and for the permit. Those against feared disruption of their neighborhood due to alleged pollution and flooding and those in favor disputed their fears and emphasized the economic benefits of the expansion.
The Portland Press Herald has a full article on the hearing as well as background information on what has become an intense political dispute. Go here.
Read more: Marathon DEP Hearing on NNEPRA's Storm Water Runoff Permit
February Report, Oversight Committee Audit & McEvoy Resignation
Details

Parent Category: NNEPRA
Published on Tuesday, 24 March 2015 01:22
Written by TRN Webmaster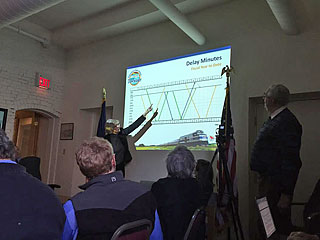 Performance Report: Amtrak failed to get complete numbers to NNEPRA in time for a full report. Exec. Dir. Patricia Quinn did state that February was a "bad month." Available February numbers showed 29,317 riders, down 23% from the same period last year - 38 trains were cancelled in February due to bad weather. Remarkably, revenue is down but 1% year-to-date, due in large part to lower fuel prices and lower payments to PanAm because of cancellations.
Read more: February Report, Oversight Committee Audit & McEvoy Resignation
NNEPRA Modifies Downeaster Schedule
Details

Published on Tuesday, 17 March 2015 15:00
Written by TRN Webmaster
NNEPRA has decided to modify the Downeaster's schedule, beginning on March 30th, in an effort to, among other things, improve the service's on-time performance.
Freeport and Brunswick are expected to benefit by the change as the time between daytime arrivals and early evening departures is cut nearly in half.
The second evening train out of Boston (#687) will depart at 6:05 p.m. instead of 5:40 p.m. Overall, good moves. http://www.pressherald.com/2015/03/16/amtrak-tweaks-downeastser-schedule-to-give-more-time/