Welcome to TrainRiders/Northeast
January, 2016 NNEPRA Board Meeting
Details

Parent Category: NNEPRA
Published on Monday, 25 January 2016 22:10
Written by TRN Webmaster
Included in this article is the performance section of today's NNEPRA Board Meeting. It details the return to more normal operations during the first half of FY2016.
Ridership & Income
As you can see, it was a rocky first half in terms of ridership. As we know, there were various reasons for under performance - initially the nearly unending cancellations due to the tie replacement project (July); the change in travel habits due to much lower gas prices; an MBTA bridge upgrade (December), the timing of which kept changing thus requiring reservation cancellations; and the commuter train conflicts and PanAm freight breakdowns. Those aren't excuses, those are the realities of multiple users on a one-track railroad (the PanAm section). Both ridership and income squeaked out a small gain for the first half of FY16.
On Time Performance
From July to December of 2015, On Time Performance showed steady growth ending up at 85-86% by the end of 2015. The railroad is now running without major slow orders, other than at Saco where bridge timbers over the river will require replacement (5mph). Just as OTP has recovered, so too has customer satisfaction. Finally, the Downeaster once again leads Amtrak satisfaction numbers by a significant amount
Customer Satisfaction
Brunswick Layover Facility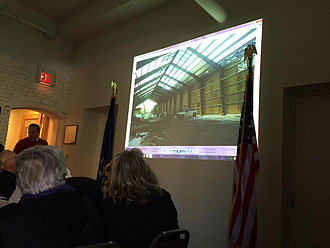 Consigli Construction continues to make signifcant progress. Jim Russell, NNEPRA's Special Projects Manager, took the board through a slide slow of the facility. The sides are now enclosed and the roof will likely be completed by next month. Then interior work can begin in earnest. 'BJ' White, the Downeaster's Road Foreman, waxed poetic at the meeting as he celebrated the impending end of a very bad story - he had made multiple trips to the hospital with frostbite as a result of working on the trains during previous winters.
Kennebunk
Patricia Quinn held out the possibility that Kennebunk could come online by this fall if appropriate work can be accomplished on a temporary platform
Finally
Ms. Quinn described the last half year as a "roller coaster." She suggested that ridership would be difficult to accurately predict in the coming months. It was good to hear several comments that trains were arriving at stations several minutes ahead of schedule!
Wayne Davis Provides the 'Real Story' Behind the Brunswick West 'BLF Open House' Complaints
Details

Parent Category: TRN
Published on Tuesday, 29 December 2015 22:26
Written by TRN Webmaster
When Consigli Construction Company offered a public tour of the Brunswick Layover Facility last week, one Brunswick West attendee threw a fit and left...and that's just the beginning of the story. The 'rest of the story' is from Chairman Wayne Davis, who was one of the invited guests. Here is his letter to the Times Record.
Read more: Wayne Davis Provides the 'Real Story' Behind the Brunswick West 'BLF Open House' Complaints
Durham-UNH Sets New Records!
Details

Published on Saturday, 12 December 2015 13:52
Written by TRN Webmaster
A Christmas gift from Durham-UNH
The Amtrak Downeaster is celebrating its 15th year of service this month. Major corridor track reconstruction over the past 18 months (now finished) resulted in train cancellations and delays affecting ridership growth. UNH-Durham ridership for FY 15 fell to just under 54,000 but that still represents an average annual growth rate of 15%.
Fall 2015 ridership is bouncing back quickly - October of this year was a record with almost 8,000 (7,941) Downeaster trips to/from Durham-UNH. Since the start of Downeaster service over 655,000 passengers have boarded or disembarked in Durham. UNH station represents approximately 12% of overall Downeaster ridership (over 5.7 million since December 2001). Durham-UNH is now the second largest ridership station in NH – (surpassing Dover in recent months ridership trends)
Stephen Pesci
UNH Campus Planning
Environmental Board Rejects Opponents Appeal - DEP Permit Affirmed!
Details

Published on Wednesday, 11 November 2015 18:00
Written by TRN Webmaster
The Board of Environmental Projection voted unanimously today to accept the recommendations of their staff by endorsing the Storm Water Management permit granted by the DEP to the Northern New England Passenger Rail Authority. By rejecting the appeal of the Brunswick West Neighborhood Coalition, the Brunswick Layover Facility has surmounted its last regulartory hurdle.
The coalition, NNEPRA, and Trainriders/Northeast presented their views to the board during a 3 1/2 hour session.
The coalition, led by Charles Wallace, complained about the process and the science by which the permit was been granted.
Read more: Environmental Board Rejects Opponents Appeal - DEP Permit Affirmed!
Construction Begins at Brunswick Layover Facility As NNEPRA Puts Bad Year Behind Them
Details

Published on Thursday, 22 October 2015 03:04
Written by TRN Webmaster
Brunswick Layover Facility: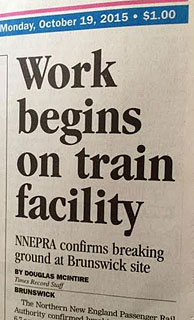 It took nearly four years, but the construction equipment is now working at the layover property in Brunswick.
The facility will house three train sets and reduce emissions and noise while enabling light maintenance year round. A particular benefit to maintenance crews is the ability to do their work out of the elements, particularly during winter months.
Read more: Construction Begins at Brunswick Layover Facility As NNEPRA Puts Bad Year Behind Them