Our New Vision
TrainRiders Northeast brought the Downeaster to Portland, ME in 2001 and Brunswick ME in 2012. Our New Vision: An across-the-platform Amtrak connection at Boston's North Station, serving Worcester, Springfield, Hartford, New Haven & New York's Penn Station (Moynihan Train Hall). Our continued success depends on your donation. Use our PayPal button to help us reach this goal. Many thanks for your continued support. Wayne Davis, Chairman
Wayne Davis Hosts Apprentice Chef as She Starts 21-City 'Amazing Restaurants Tour' on Amtrak
Details

Created: 06 July 2019

06 July 2019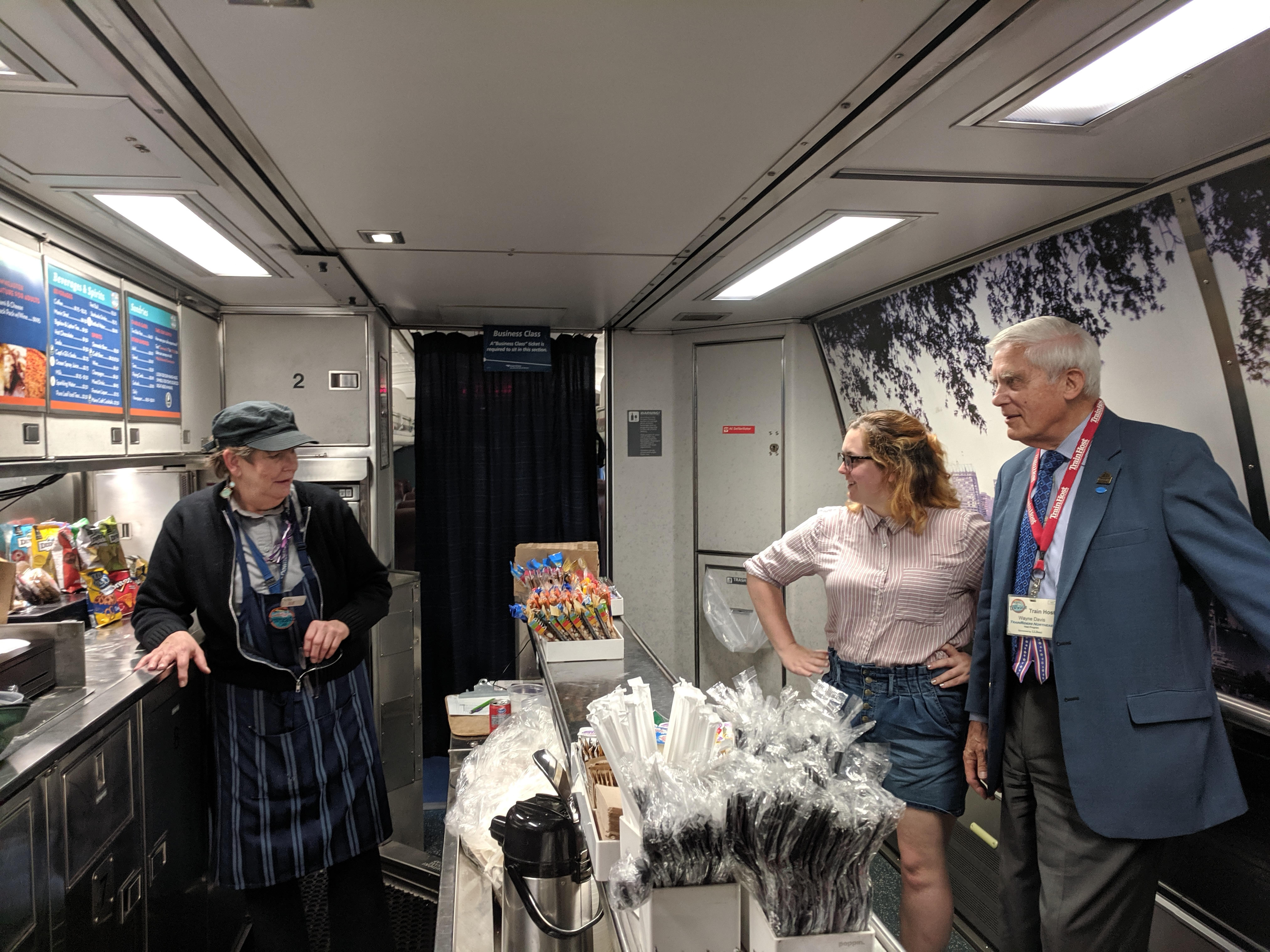 Each rider on the Amtrak Downeaster has a unique story to tell - and so does Madison Butler.
Recently, Wayne Davis of TrainRiders/NE hosted apprentice chef 'Madi' Butler on a short trip from Portland to Freeport as she began her fascinating food search via Amtrak. It's a 50-day adventure, visiting 21 cities under the auspices of the Rail Passengers Association (RPA). It began in Maine and will end in California.
Joining TRN Chairman Wayne Davis on the trip and was Tom Girsch, RPA's Vice-President, Joseph Aiello, RPA's Northeast Field Coordinator and RPA's summer intern, Chef Madison Butler (Chef Madi). TrainRiders/NE has joined with the RPA as one of the sponsors of Madi's journey.
They will talk with passengers about how they use transportation for work, family outings and play. They'll meet with mayors and government officials in big cities and small towns on planning issues. And they'll sample the local food, drinks, entertainment and recreation that is available through the Amtrak passenger rail network. During her time in Maine, Madi spent time with NNEPRA Executive Director Patricia Quinn discussing women in transportation.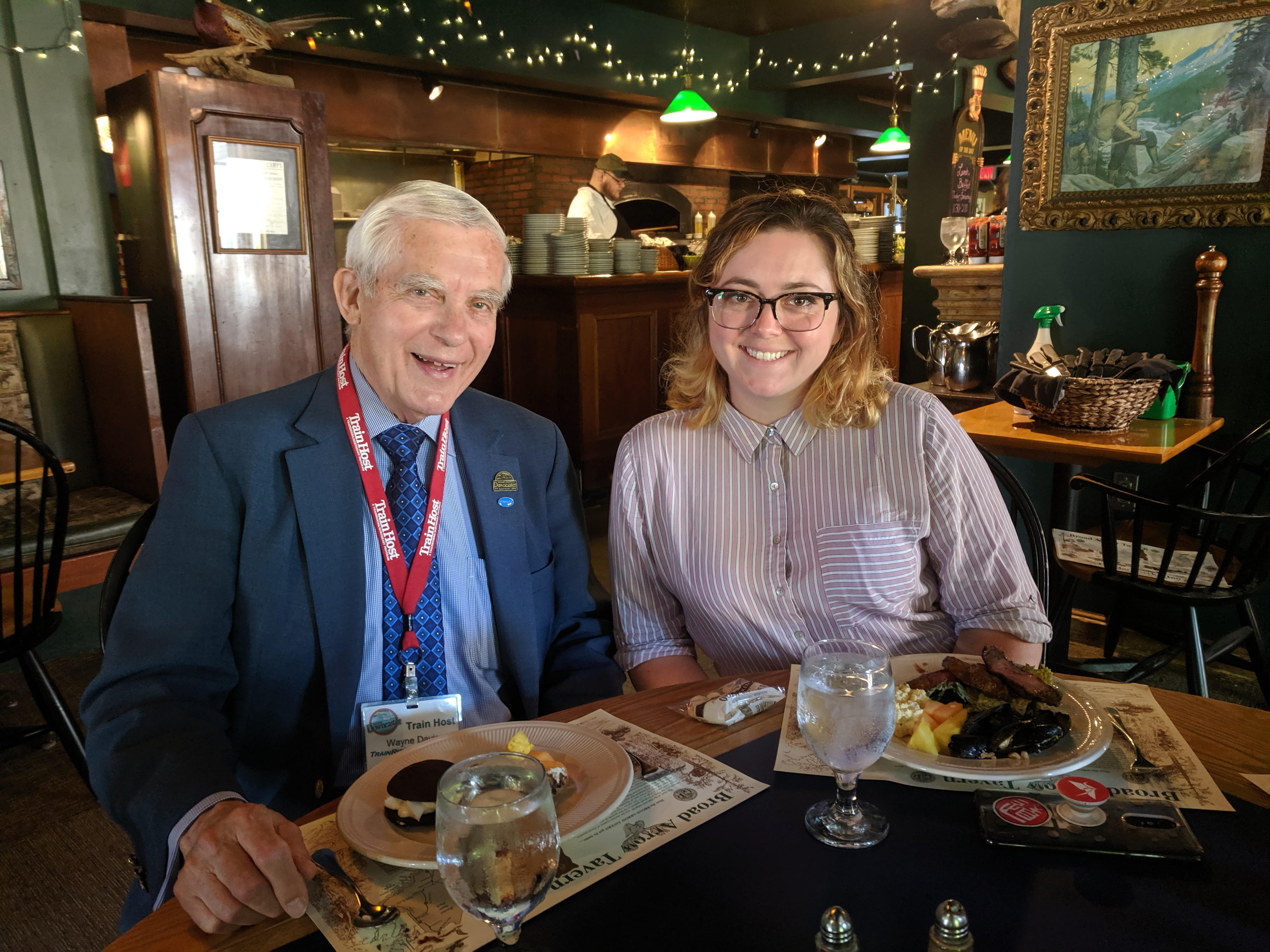 TNE Chairman Wayne introduced Chef Madi to Amtrak's Downeaster by riding to Freeport for lunch at the town's internationally famous Harraseeket Inn. She is a graduate of the Auguste Escoffier School of Culinary Arts.
After lunch, Chairman Wayne took everyone for a walk down Main St. to visit the well iconic LLBean store before heading back to Portland for Chef Madi's evening visits to a few of Portland's popular restaurants that have helped to make Maine's largest city well known as a 'foodie' destination.
Chairman Wayne accompanied Chef Madi on the Downeaster on Monday as she headed for Boston and Washington – both stops on her coast-to-coast rail trip to see and taste America.
She is keeping a video blog of her journey and you can see her conversations with Wayne Davis and Patricia Quinn by going here. Chef Madi is just one of the unique stories on the Downeaster. What's yours?