TRNE News
TRNE News
Details

Created: 27 June 2020

27 June 2020

Hits: 1468

1468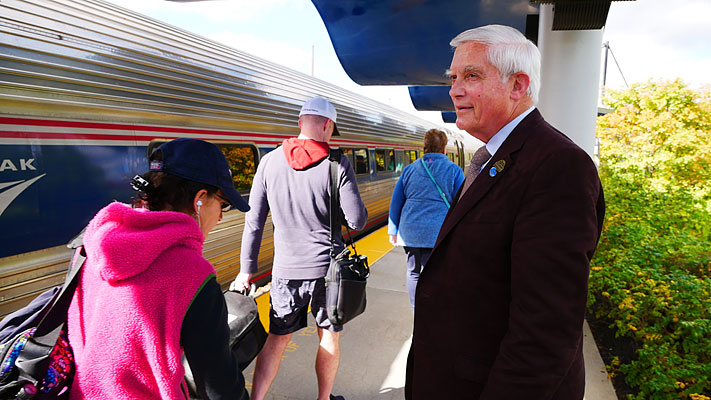 On June 27th, 1995, the Maine Senate cleared away the last legislative hurdle standing in the way of resumption of passenger rail service to Maine. LD 1255, An Act to create the Northern New England Rail Authority, passed by the necessary two-thirds majority, the Maine House having approved it the week before. Governor Angus King signed the bill on June 29th.
From Wayne Davis: "It occurs to me that this act and the last one are important dates not just for Maine - but also for New Hampshire and Massachusetts. Of course, the text goes on to say that without TNE's dogged determination there is little doubt that the bill would have failed - and goes on to thank oodles of folks - Senators Cohen and Snowe, Representative John Baldacci and more."
TrainRiders/NE participated in the writing of the legislation that created NNEPRA - our baby in 1995!
Read all about it in our 1995 newsletter! Click on the old banner below.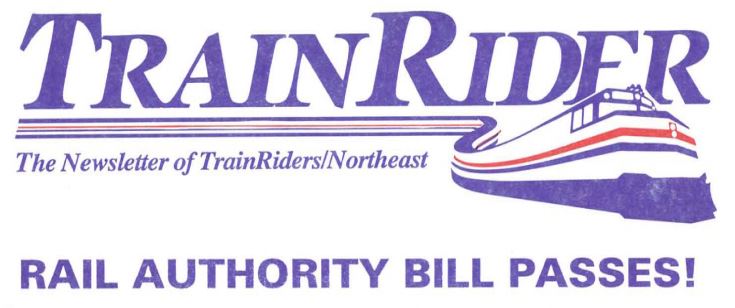 Details

Created: 15 March 2020

15 March 2020

Hits: 2224

2224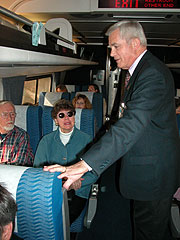 In order to reduce the risks of viral infection and the spread of the Coronavirus, the Train Host service has been suspended until April 15th.
Each Friday, during that period, Chairman Wayne Davis and Trainmaster Jim Oikle will review the situation with NNEPRA and Amtrak with the goal of returning the hosts to the train as soon as the risk has subsided.
Many of our hosts are older adults and like many retirees, they are considered to be at 'higher risk.'
Since helping passengers is their primary goal, they'll miss their assignments on the train.
Details

Created: 17 September 2016

17 September 2016

Hits: 20916

20916
The Government Oversight Committee held a session this week to hear the Office of Program Evaluation and Government Accountability's position regarding an investigation into NNEPRA's management of its finances and operational supervision of the Downeaster passenger rail service.

State Senator Stan Gerzofsky of Brunswick, an outgoing member of the Government Oversight Committee, had forcefully pursued the investigation. The following report is from All Aboard Brunswick which has been closely following the process.
OPEGA found NNEPRA to be a well-run organization with lots of oversight, tasked with the challenge of coordinating operations with Amtrak, Pam Am Railways, the MBTA, Maine DOT, individual station owners, and responsible to the Legislature, Maine DOT, the Federal Rail Authority (FRA), and the Federal Transportation Authority (FTA). Basically, the report said, "Nothing to see here, folks. Move along now."
The report's three recommendations were:
1. Better communication between NNEPRA and the Legislature, with the Transportation Committee scheduling NNEPRA to present its annual reports at public meetings. In the past, presentations at public meetings have typically been initiated by NNEPRA.
2. As part of the process of establishing passenger rail policy, planning and implementation, the Legislature, MDOT and NNEPRA should rely on objective cost-benefit research and analysis, and provide timely and appropriate forums for public input throughout a project's duration.
Details

Created: 20 July 2019

20 July 2019

Hits: 5605

5605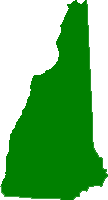 Year after year, NH rail advocates have tried but failed to access federal money to analyze the viability of passenger rail service from Boston to Nashua and Manchester (Dover, Durham and Exeter are already served by the Maine-sponsored Amtrak Downeaster).
This year is different - strong support in the Legislature and no veto from the governor's office!
The following is from Bob Hall, TrainRiders/NE's Vice-Chair and long-time advocate for expanded passenger rail service in the Granite State.
July 2019 marked the first signs by the State of New Hampshire of support for the return of rail passenger service to the Merrimack Valley communities of Nashua and Manchester. Trainriders/Northeast along with many other local and state organizations, businesses residents and elected officials as well as educational communities have long advocated for such service.
Senate Bill 241 after affirmative votes in both the New Hampshire House and Senate was allowed to become law by Governor Chris Sununu without his signature. This action will allow policymakers to make informed decisions as steps are taken to restoring passenger rail. No money will be used from the New Hampshire General fund rather this bill allows New Hampshire DOT to use the state's abundance of highway toll credits.
Details

Created: 05 August 2010

05 August 2010

Hits: 20964

20964
During recent years, TrainRiders has provided up-to-date videos to our friends and members. As a grass roots organization whose vision brought the Downeaster to Northern New England, we continue to pursue, in cooperation with the Northern New England Passenger Rail Authority, policies that will sustain, enhance and expand this successful service. Our enthusiasm is reflected in the videos below.



TrainRiders/NE Annual Meeting - 2014


This successful meeting was held in October of 2014 in Portland. It was here that Wayne Davis unveiled our vision of direct Brunswick to New York City service. See what Brunswick civic leaders had to say.





Jeff Reynolds' Brunswick Layover Facility Analysis
Jeff is a supporter of the BLF's siting in the old freight yard. His perspective is in sharp contrast to the
local neighborhood's position. The accompanying video illustrates the validity of NNEPRA's choice.


National Train Day - 2013
Amtrak chose Brunswick as the northern Maine site to celebrate this annual event.
Towns and cities along the Downeaster route were present to make join in the festivities.

TrainRiders/NE Annual Meeting - 2012
This video celebrated the inaugural train to Freeport and Brunswick
from Portland as the service began in September of 2012.

TrainRiders/NE Annual Meeting - 2011
This video celebrated the construction of the Portland - Freeport - Brunswick Expansion. Finally, the continuous welded rail was installed and other right-of-way improvements were moving forward.

Brunswick Construction Kick-off Ceremony


TrainRiders 2010 Annual Meeting - Brunswick History

TrainRiders/NE Annual Meeting History Video
A look back at media coverage of our vision - it was not always supportive.
Our honored guest was former Senator George Mitchell who was pivotal in
moving the decision-making levers in Washington on behalf of the Downeaster.
Subcategories
General facts about Joomla!