Funding
Funding
Details

Created: 09 June 2018

09 June 2018

Hits: 4694

4694
Thursday, the full Senate Appropriations Committee approved the FY2019 transportation bill which came out of Senator Collins' subcommittee. The Committee report accompanying that bill includes the following language: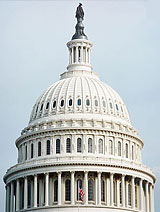 Improving Communication with Stakeholders The Committee applauds Amtrak's efforts to make itself financially more sustainable through a business-like approach to its operations. However, the Committee is concerned that the Corporation is failing to communicate adequately with the public prior to making service changes that have significant impacts on its ridership and the communities it serves.
This past year, Amtrak made a series of changes to longstanding policies governing charter trains, special trains, station agents, and private cars. Many of these changes were justified adjustments to services that were costly or interfered with the operation of Amtrak's regularly scheduled passenger trains. However, the Committee is concerned that Amtrak unveiled these decisions without giving members of the public time to react or register their opinions.
Read more: Senate Appropriations Committee Calls for More Public Transparency in Amtrak Funding Bill