TRN
TRN
Details

Created: 22 May 2021

22 May 2021

Hits: 202

202
Augusta, May 20th, 2021 - A spate of railroad-related bills was examined by the Committee on Transportation in a Thursday afternoon session and a follow-up work session the next day. The meetings were conducted via Zoom

LD1552 was titled "An Act to strengthen NNEPRA." It sounded like a positive effort by its proponents, but the devil was in the details and TRN Chairman Wayne Davis found good reasons to oppose the bill that would have weakened and inappropriately broaden NNPERA's responsibilities. Wayne Davis's quotes are from his written submission.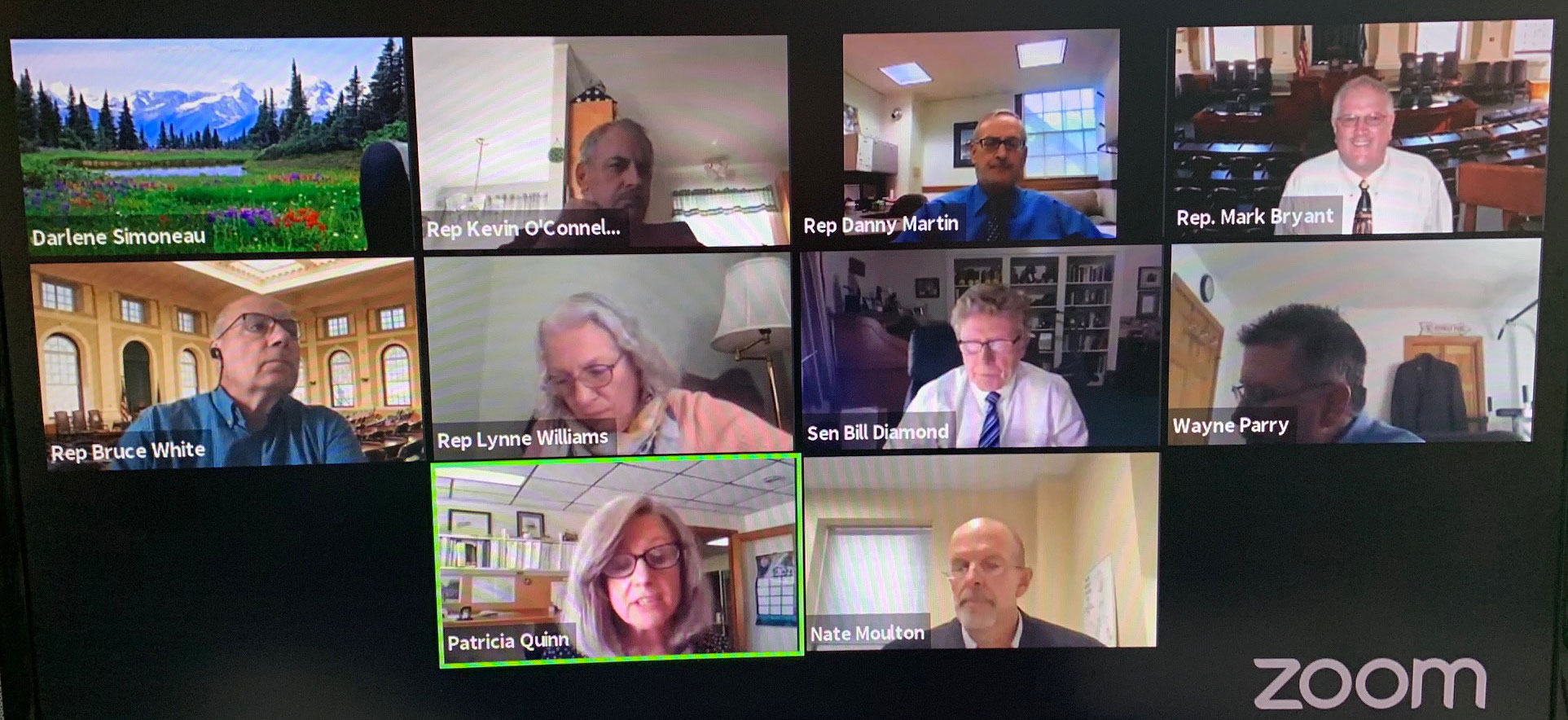 LD 1552: Expand the NNEPRA board by two members of the public who have expertise in passenger rail service. They would be elected by the board.
Wayne Davis in opposition: This would "eliminate the long-standing procedure whereby the Governor nominates new board members and the legislature confirms them." The current board configuration has "successfully overseen the management of the Downeaster since before its inaugural run in 2001. There is no reason to change this charging horse in midstream."
LD1552: Transfer all "state rail assets" which the DOT currently manages to NNEPRA.
Wayne Davis in opposition: These assets primarily consist of state-owned rail lines which may, in the future, be used for freight and passenger rail service. "The Maine DOT already has staffing to manage these rail assets and to transfer those to NNEPRA could easily divert the passenger rail authority from its primary mission of dealing with passenger rail issues."
LD 1552: Require the DOT to "develop a plan to allow for recreational use of the Mountain Division between Standish and Fryeburg..."
Wayne Davis in opposition: "...any resulting conversion of this line to recreational use will result in the permanent loss of that line for railroad purposes...any such conversation would constitute a major shift in the state policy which now, by statute, requires the protection and promotion of rail transportation." (A separate bill, LD 672: To Study the Feasibility of Building a Trail on the Mountain Division Rail Line [Standish to the NH line], did pass in amended form. The specifics of the amendment are yet to be reported out.)
Patricia Quinn, NNEPRA Executive Director, spoke in opposition to the bill as well as Nate Moulton of the DOT. In the work session, the committee unanimously recommended that the bill 'Ought Not to Pass' (no further action would be taken).
There were several other bills reviewed by the committee, but none more important to central Maine than LD 227.
LD 227: Resolve, to Conduct a Feasibility Study for Extending Passenger Rail Service from Brunswick through Augusta and Waterville to Bangor.
Wayne Davis: "One of Trainriders' goals as adopted in 1989, and continuing through today, included and includes the return of passenger rail service to inland Maine from Portland to Bangor via Augusta and Waterville. TrainRiders remains strongly committed to achieving this goal. To the extent the LD 227 leads to this goal, TrainRiders is in favor of its passage."

However, the Covid pandemic has "immensely decreased ridership on passenger trains throughout the country and the world, including, unfortunately, our Downeaster. Right now, this requires a clear focus on maintaining and reinvigorating current service rather than expanding that service to new areas of the state...Accordingly, TrainRiders asks this Committee to hold over consideration of this bill into the next regular legislative session when both the ridership habits of rail passengers and the economic resources available to satisfy those habits will be clearer."
LD227 was initially reported on the state website as 'Tabled' until the next legislative session, however, they have now corrected the error to 'Ought to Pass as Amended' - the specifics of the amendment are still under review.
There was an avalanche of eight rail bills before the Transportation Committee which were efficiently dealt with over a two-day period. The various bills and public comments can be viewed on the committee's web portal under 'All Committee Papers.'
Details

Created: 12 November 2019

12 November 2019

Hits: 2035

2035
It was a grand meeting!!!
Among our invited guests were Patricia Quinn - Executive Director of NNEPRA, David Fink- President of Pan Am Railways and Bruce A. Van Note - Maine Commissioner of Transportation (Commissioner Van Note was unable to attend) and Maine Senator Susan Collins. Much is happening with passenger and freight rail in Maine and there was no better place to get a full briefing than at our Annual Meeting. In addition, we celebrated the Downeaster's 18th birthday!

Senator Collins
Senator Susan Collins, chair of the Senate Subcommittee on Transportation, was unable to join us but appeared via video from Washington. She has been instrumental in increasing Amtrak's budget and has been a friend and constant supporter of TrainRiders/NE.
Details

Created: 25 November 2018

25 November 2018

Hits: 3579

3579
On Friday, December 14th, TrainRiders/NE celebrated its 30th year of grassroots advocacy on behalf of passenger rail in the Northeast. Our pride and joy, the Amtrak Downeaster, marked its 17th year of serving Maine, New Hampshire and Massachusetts.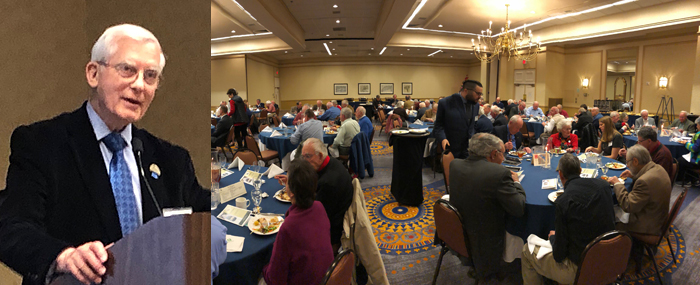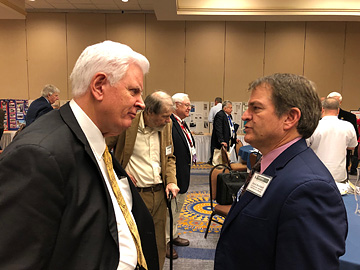 Our Keynote Speaker was Eugene (Gene) Skoropowski, Senior Passenger Rail Consultant, TY Lin International, whose 40 years of railroading experience brought Florida's privately-funded passenger rail service to fruition.
Details

Created: 16 November 2016

16 November 2016

Hits: 4824

4824
Online Registration

Register below so we'll have your name tag ready when you arrive. If you're registering for more than one person, simply refresh this page and enter the additional names and amounts. You can also renew your membership by going here.
Registration begins at 11:30 am
Meeting opens at 12:15 noon
Adjournment at 3:30 pm
Downeaster trip to Freeport following the meeting
Details

Created: 26 June 2017

26 June 2017

Hits: 7742

7742
You might call it a "busman's holiday" as a large group of Train Hosts traveled on the Downeaster to the Amtrak Dispatch Center at South Station in Boston. As part of their "learning experience," they used public transportation to travel from North Station to South Station, received a full briefing from Amtrak officials at the center (more than 700 trains are dispatched the center daily!) and enjoyed a relaxing lunch at Fanuiel Hall.
Chairman Wayne Davis put together this group with the support of Amtrak Portland Manager Steve Corcoran and NNEPRA Director of Customer Services Brian Beeler, II.
The video, narrated by Wayne, shows the all-day adventure.
The purpose of the TrainRiders Host Program is to have volunteers serve as goodwill ambassadors; to promote patronage of the Downeaster; to assist passengers with information onboard the train, along the route and at scheduled stops; to assist train crews in duties as requested by them, and to promote rail safety. This all-volunteer group of men and women enhances the Downeaster experience for the riding public.
Yes, you'll get to ride FREE to and from Boston while on duty. What's not to like about that?
Learn more about the program by going here.
Subcategories