Our New Vision
TrainRiders Northeast brought the Downeaster to Portland, ME in 2001 and Brunswick ME in 2012. Our New Vision: An across-the-platform Amtrak connection at Boston's North Station, serving Worcester, Springfield, Hartford, New Haven & New York's Penn Station (Moynihan Train Hall). Our continued success depends on your donation. Use our PayPal button to help us reach this goal. Many thanks for your continued support. Wayne Davis, Chairman
Good News: The Downeaster Set a Ridership Record for the Month of January!
Details

Created: 08 March 2017

08 March 2017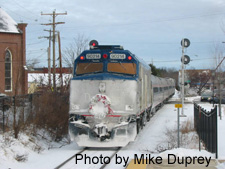 January & February are normally lean months for Downeaster ridership, so it was a pleasant surprise to learn that "America's Favorite Train" set a January record. NNEPRA Executive Director Patricia Quinn reported the numbers at 37,915 as compared to 30,979 for January of 2016.
February is expected to set a new record as well (Amtrak has yet to release those numbers). Attendees to the Patriots parade in Boston on February 6th packed the trains - an extra coach was even added to one of the trainsets.Congratulations to the NNEPRA staff, the Amtrak crews and the dedicated passengers who chose to "ride the rails" rather than fight traffic and take out a second mortgage for parking.
Here's the full Board Packet that was distributed at the meeting.
TrainRiders/NE Board Elects First Executive Director
Details

Created: 18 January 2017

18 January 2017
PRESS RELEASE: TrainRiders Northeast, the non-profit, volunteer, rail advocacy organization founded in 1989 announced today that it has hired its first ever Executive Director, George O'Keefe, Jr., of Winthrop. O'Keefe is currently a Master's Degree candidate in the Policy, Planning, and Management Program, with a concentration in Organizational Leadership and Management, at the Muskie School of Public Service.
O'Keefe will work alongside TrainRiders' longtime Chairman and co-founder Wayne E. Davis to help the organization expand its mission of bringing "modern and efficient" passenger rail service to the Northeast. "A balanced transportation system is what we need in order to provide for sustainable economic opportunities that will last for generations," said O'Keefe.
Read more: TrainRiders/NE Board Elects First Executive Director
28th Annual TrainRiders/NE Meeting - 2016
Details

Created: 16 December 2016

16 December 2016

The 28th Annual Meeting of TrainRiders/Northeast welcomed 100 attendees at the Clarion Hotel in Portland (next to the Transportation Center). Many of those came by train, so it was a quick walk from the station to the hotel.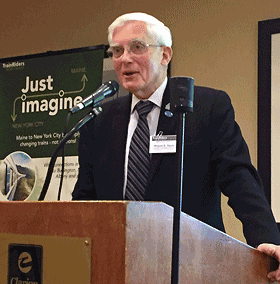 Senator Angus King saluted the Downeaster and TrainRiders/NE in a video presentation, complementing Wayne Davis for his vision and passion. Watch his comments here.
Eugene Skoropowski, Sr VP of Operations for All Aboard Florida's "Brightline", was the guest speaker. Gene's expertise is putting Florida on the map as a passenger-train-friendly state. He gave an impressive PowerPoint presentation, the slides of which can be viewed here.
First Quarter Performance Stats Show a Record Three Months!
Details

Created: 25 October 2016

25 October 2016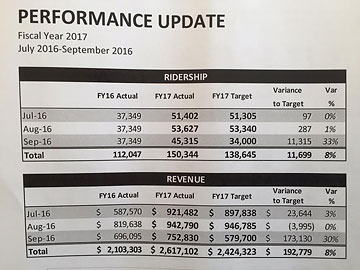 Ridership & Revenue: There isn't much commentary needed for the performance numbers released yesterday at NNEPRA's Board Meeting. Executive Director Patricia Quinn smiled as she reported that the first quarter of FY2017 set a 15-year record for Ridership and Revenue.
The ridership numbers reported this week have been updated due to an error. As you can see in the graphic, 37,349 was entered in all three 2016 months. The FY16 Actual numbers are:
July-16: 37,349
Aug-16: 46,215
Sep-16: 40,622
Total: 124,186
The conclusion remains the same - record quarter!
Read more: First Quarter Performance Stats Show a Record Three Months!
Open House at the Brunswick Layover Facility
Details

Created: 23 October 2016

23 October 2016
Another milestone today for the Amtrak Downeaster as NNEPRA held an Open House at the 655' long, three-trainset barn.
The entire NNEPRA staff was present answering questions from the hundreds of visitors. As one observer said, "What was all the fuss about?" Enjoy the comments.
NNEPRA and its staff have been through YEARS of opposition from the neighboring community and this event celebrated the rail authority's accomplishment - an indoor facility to service the Downeaster trainsets (welcomed by the maintenance crews, particularly in the winter); an additional Brunswick-Boston round trip on November 21st; a more flexible schedule; and a welcome boost to efficiency, ridership and revenue.