Our New Vision
TrainRiders Northeast brought the Downeaster to Portland, ME in 2001 and Brunswick ME in 2012. Our New Vision: An across-the-platform Amtrak connection at Boston's North Station, serving Worcester, Springfield, Hartford, New Haven & New York's Penn Station (Moynihan Train Hall). Our continued success depends on your donation. Use our PayPal button to help us reach this goal. Many thanks for your continued support. Wayne Davis, Chairman
The 31st Annual Meeting was a Huge Success!
Details

Created: 12 November 2019

12 November 2019
It was a grand meeting!!!
Among our invited guests were Patricia Quinn - Executive Director of NNEPRA, David Fink- President of Pan Am Railways and Bruce A. Van Note - Maine Commissioner of Transportation (Commissioner Van Note was unable to attend) and Maine Senator Susan Collins. Much is happening with passenger and freight rail in Maine and there was no better place to get a full briefing than at our Annual Meeting. In addition, we celebrated the Downeaster's 18th birthday!

Senator Collins
Senator Susan Collins, chair of the Senate Subcommittee on Transportation, was unable to join us but appeared via video from Washington. She has been instrumental in increasing Amtrak's budget and has been a friend and constant supporter of TrainRiders/NE.
NNEPRA Open House Shares Downeaster Planning Proposals
Details

Created: 23 October 2019

23 October 2019
The NNEPRA Open House, held yesterday in Portland, successfully brought together rail advocates and the public to hear an in-depth briefing by Executive Director Patricia Quinn about proposed Downeaster service enhancements.
Topics covered:
Wells track improvements

Inbound morning service from Wells to Portland and Brunswick

New location for Portland train station

New station in West Falmouth

New service between Westbrook & Portland

Lewiston-Auburn service
Again, these are proposals that NNEPRA is actively pursuing.
Unable to attend? Here's her presentation.
This was a well-organized gathering with color-coded dots for the attendees to express their passenger rail preferences. They gathered at tables...
Read more: NNEPRA Open House Shares Downeaster Planning Proposals
NNEPRA Open House!
Details

Created: 16 October 2019

16 October 2019
NNEPRA is holding an Open House on Tuesday, October 22nd at 4:30 PM. Executive Director Patricia Quinn will brief on expansion proposals for the Downeaster. It will be held at 20 Mrytle Street in Portland. Input from attendees is encouraged.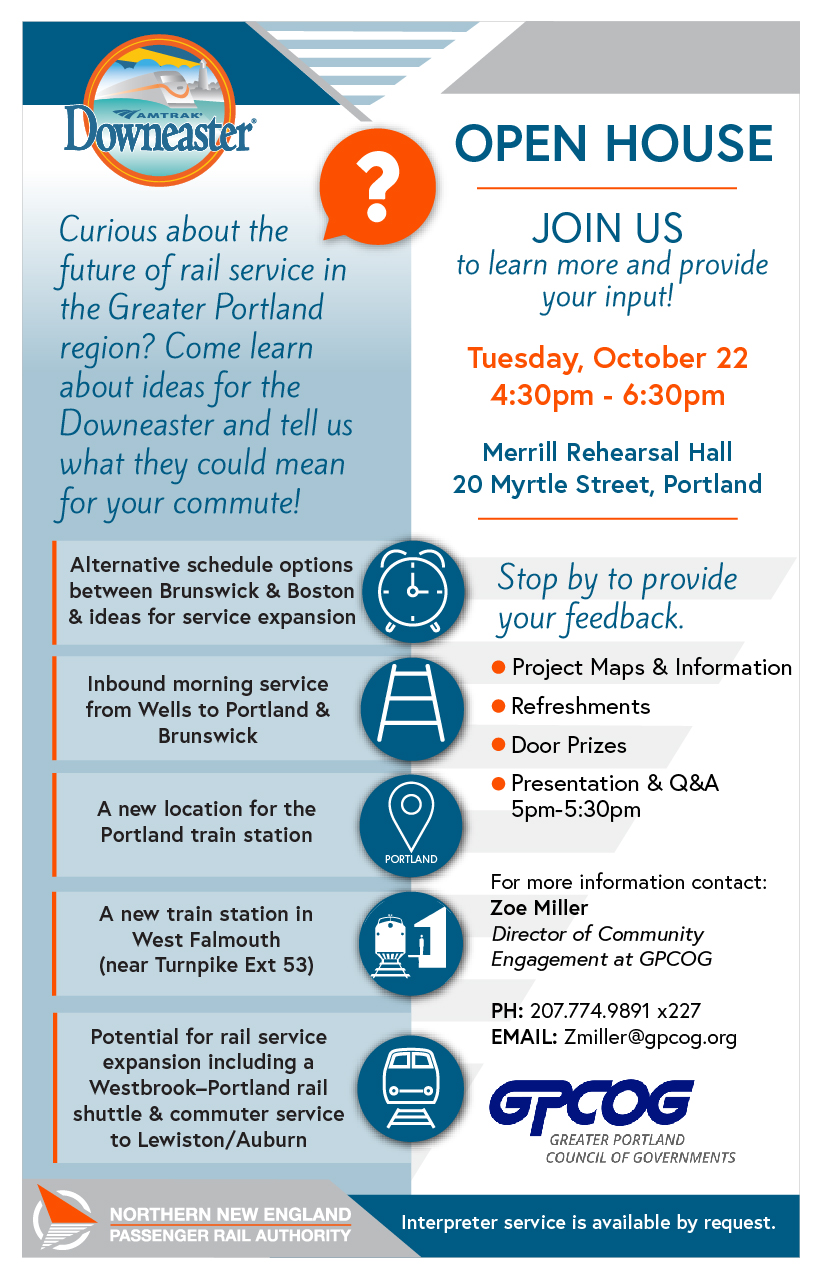 Amtrak Ditches Dining Car Service on Some Long-Distance Trains
Details

Created: 20 September 2019

20 September 2019
From Wayne Davis, Chairman, TrainRiders/NE
The most recent release from Amtrak titled "What's new, Amtrak? Rail service pledges improved dining, sleeping experience."
Improved???? I don't think so. One of the "improvements" starts off with "If you like traveling long distance via train but don't want to actually meet other people while doing it, Amtrak has a new option for you" Starting next month, Amtrak will add flexible dining options on four of its routes allowing passengers to take their dinners into their private rooms or have an attendant bring I to them" Improvement? New?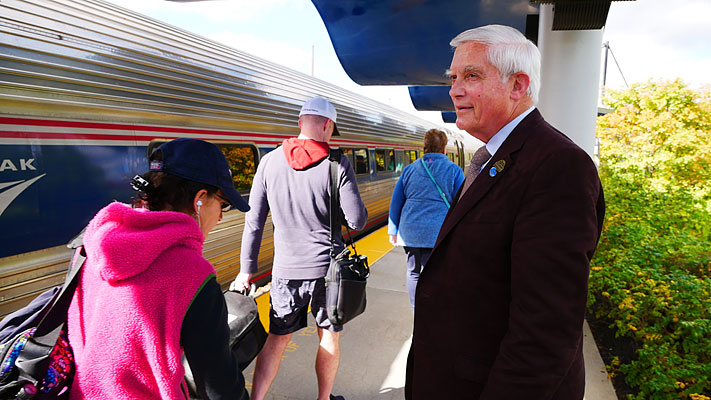 For the benefit of the new Amtrak folks – as a sleeping car passenger on countless Amtrak sleeping cars for the past 30 years, I've always had the option to have my meal brought to my room or walk to the diner and join with fellow passengers. The American way.
Read more: Amtrak Ditches Dining Car Service on Some Long-Distance Trains
Downeaster Test Train Examines Rail from Brunswick to Rockland
Details

Created: 30 August 2019

30 August 2019
It was quite a wait, but Amtrak finally ran a train from Brunswick to Rockland - part of the process of determining the quality of the state-owned railroad.

Photo by Stephen Betts of the Village Soup - Read the article
The Times-Record published an article. And there is a short video clip available on the Amtrak Downeaster Facebook page.
From NNEPRA: "The trip was conducted to evaluate the condition of the track and to help determine scheduled travel times as well as any improvements which may be needed to support the operation of passenger trains. In addition to visual inspections, a specially equipped Geometry Car operated over the line to collect detailed data about track conditions."
Now it's a matter of converting the Geometry Car data into dollars & cents needed for any required improvements. NNEPRA Executive Director Patricia Quinn told her board this week that she was encouraged by the test and was looking forward to starting the Coastal Connection to Rockland next year. We're all rooting for the expanded summer service.