Our New Vision
TrainRiders Northeast brought the Downeaster to Portland, ME in 2001 and Brunswick ME in 2012. Our New Vision: An across the platform, Amtrak connection at Boston's North Station, serving Worcester, Springfield, Hartford, New Haven & New York's Penn Station. Our continued success depends on your donation. Use our PayPal button to help us reach this goal. Many thanks for your continued support. Wayne Davis, Chairman
Amtrak Ditches Dining Car Service on Some Long-Distance Trains
Details

Created: 20 September 2019

20 September 2019
From Wayne Davis, Chairman, TrainRiders/NE
The most recent release from Amtrak titled "What's new, Amtrak? Rail service pledges improved dining, sleeping experience."
Improved???? I don't think so. One of the "improvements" starts off with "If you like traveling long distance via train but don't want to actually meet other people while doing it, Amtrak has a new option for you" Starting next month, Amtrak will add flexible dining options on four of its routes allowing passengers to take their dinners into their private rooms or have an attendant bring I to them" Improvement? New?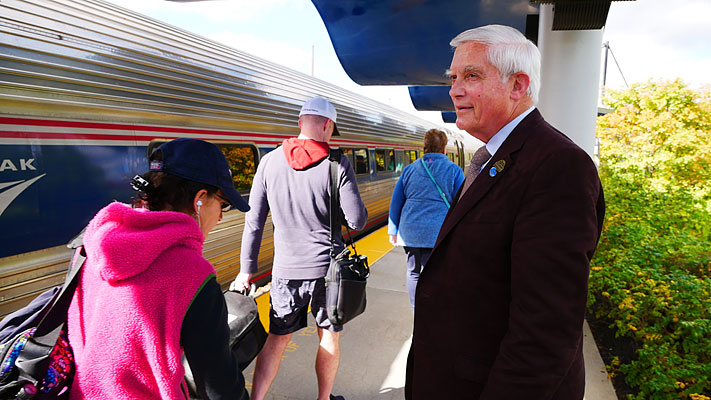 For the benefit of the new Amtrak folks – as a sleeping car passenger on countless Amtrak sleeping cars for the past 30 years, I've always had the option to have my meal brought to my room or walk to the diner and join with fellow passengers. The American way.
Read more: Amtrak Ditches Dining Car Service on Some Long-Distance Trains
Downeaster Test Train Examines Rail from Brunswick to Rockland
Details

Created: 30 August 2019

30 August 2019
It was quite a wait, but Amtrak finally ran a train from Brunswick to Rockland - part of the process of determining the quality of the state-owned railroad.

Photo by Stephen Betts of the Village Soup - Read the article
The Times-Record published an article. And there is a short video clip available on the Amtrak Downeaster Facebook page.
From NNEPRA: "The trip was conducted to evaluate the condition of the track and to help determine scheduled travel times as well as any improvements which may be needed to support the operation of passenger trains. In addition to visual inspections, a specially equipped Geometry Car operated over the line to collect detailed data about track conditions."
Now it's a matter of converting the Geometry Car data into dollars & cents needed for any required improvements. NNEPRA Executive Director Patricia Quinn told her board this week that she was encouraged by the test and was looking forward to starting the Coastal Connection to Rockland next year. We're all rooting for the expanded summer service.
TrainRiders/NE's Wayne Davis Joins Others Testifying Before Boston City Council on Proposed North-South Rail Link
Details

Created: 31 July 2019

31 July 2019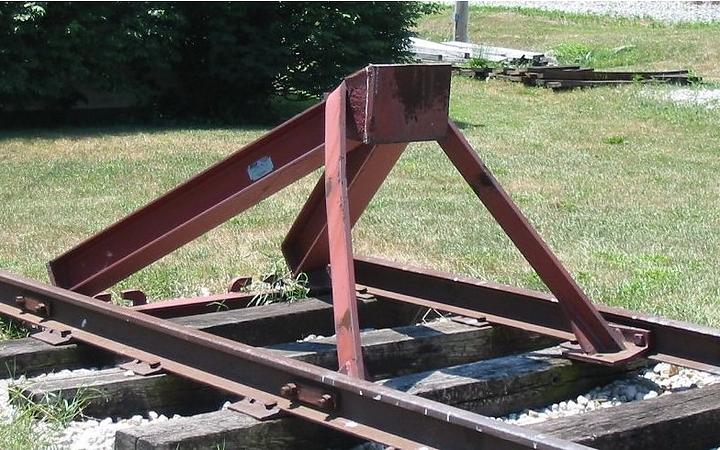 The long-discussed North-South Rail Link Project is in the news again as Boston's City Councilors search for solutions to Boston's transportation problems with trains, busses and automobiles. TrainRiders Northeast was asked to attend the Boston City Councils Mondays meeting of the Committee on Planning, Development, and Transportation since TNE has been a supporter of linking the stations since our founding in 1989. Wayne Davis served on Massachusetts Governor Weld's Citizen's Rail Link Advisory Committee for over five years working with Representative John Bussinger from the Massachusetts General Assembly and many others including Amtrak management and multi-state rail transportation officials.
Read more: TrainRiders/NE's Wayne Davis Joins Others Testifying Before Boston City Council on Proposed...
Progress in NH for Commuter Rail
Details

Created: 20 July 2019

20 July 2019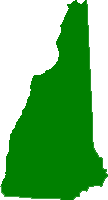 Year after year, NH rail advocates have tried but failed to access federal money to analyze the viability of passenger rail service from Boston to Nashua and Manchester (Dover, Durham and Exeter are already served by the Maine-sponsored Amtrak Downeaster).
This year is different - strong support in the Legislature and no veto from the governor's office!
The following is from Bob Hall, TrainRiders/NE's Vice-Chair and long-time advocate for expanded passenger rail service in the Granite State.
July 2019 marked the first signs by the State of New Hampshire of support for the return of rail passenger service to the Merrimack Valley communities of Nashua and Manchester. Trainriders/Northeast along with many other local and state organizations, businesses residents and elected officials as well as educational communities have long advocated for such service.
Senate Bill 241 after affirmative votes in both the New Hampshire House and Senate was allowed to become law by Governor Chris Sununu without his signature. This action will allow policymakers to make informed decisions as steps are taken to restoring passenger rail. No money will be used from the New Hampshire General fund rather this bill allows New Hampshire DOT to use the state's abundance of highway toll credits.
Several Downeaster Stories in the Press
Details

Created: 14 July 2019

14 July 2019
We've recently seen two stories that warrant sharing on our website.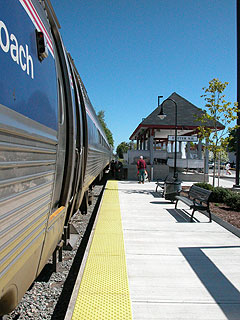 First, a possible stop in West Falmouth has been discussed by Falmouth town councilors and NNEPRA Executive Director Patricia Quinn. Councilors were reported to be eager to explore the addition of a train platform. It would be located adjacent to the West Falmouth Crossing shopping center. The story appeared in the Press Herald. Go here for the details.
Further down the line, the Town of Exeter is considering charging for parking at their train station. It's been free since the Downeaster service began in December of 2001. Needless to say, the proposal has caused considerable concern among many of the passengers. More on this story in SeacoastOnLine.
Both stories are also on our Facebook page, where you're invited to comment.