Our New Vision
TrainRiders Northeast brought the Downeaster to Portland, ME in 2001 and Brunswick ME in 2012. Our New Vision: An across-the-platform Amtrak connection at Boston's North Station, serving Worcester, Springfield, Hartford, New Haven & New York's Penn Station (Moynihan Train Hall). Our continued success depends on your donation. Use our PayPal button to help us reach this goal. Many thanks for your continued support. Wayne Davis, Chairman
Amtrak Service Nationwide Under Assault by AMTRAK!
Details

Created: 17 May 2018

17 May 2018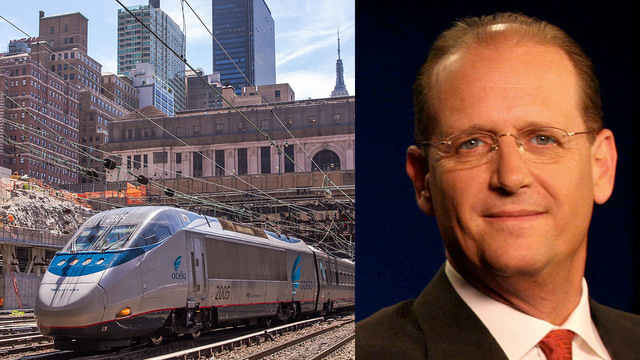 Richard Anderson became president of Amtrak last July, and served as co-chief executive officer with retired railroad president Wick Moorman until last December, when he became the sole occupant of that position as well, serving without a salary. Prior to that, he had served as CEO at Delta Airlines from 2007-2016, when he became executive chairman at that company.
Mr. Anderson's early messages seemed reasonable and even encouraging, recognizing the need for infrastructure improvements, better equipment, and higher speeds, as well as indicating that privatization of the service would probably not work. Now, however, his actions are causing rumblings among those, such as TrainRiders NE, who want passenger rail service to survive and thrive in this country. His steps include:
Elimination of discounts for veterans and AAA members.
Elimination of the Coastal Starlight Parlor cars (and calling for them to be sold as scrap to boot)
Elimination of in-train tour guides on some western trains
Elimination of private cars and private charter runs
Proposed elimination and scrapping of the dome car which has joined the Downeaster for the past two years to much acclaim and popularity
Elimination, starting on June 1 of dining cars on the Lake Shore Limited between Boston and New York City to Chicago, as well as on the Capitol Limited between Washington, DC and Chicago, leaving sleeping car passengers with "chilled" meals to eat in their compartments, (contemporary cuisine they're calling it) and coach passengers will have access only to a café car for these overnight trains

Read more: Amtrak Service Nationwide Under Assault by AMTRAK!
Stop, Look & Listen - The Long-Awaited Passenger Information Display System is Up and Running in Saco
Details

Created: 07 April 2018

07 April 2018
Some projects take longer than expected. When NNEPRA's Passenger Services Manager Brian Beeler joined the state agency, he was given the "opportunity" to shepherd to completion the Passenger Information Display System for the Downeaster stops in Maine. Little did he know that it would require eight years to see it finally implemented. In fact, the effort was already "in progress" prior to his arrival. Constant Amtrak reorganizations, technology improvements and vendor changes caused the project to stretch on for more than a decade.
It's now up and running in Saco. Portland and Wells are next. The Downeaster trains are listed in order of arrival at the local station and any delays are posted as well. A pleasant female voice announces the arrival and final boarding call of the scheduled train, the text of which is seen on the display.
NNEPRA can also program any unanticipated delays into the system so passengers awaiting their trains will no longer be left in the dark.
The Saco station now sounds like Grand Central Station. We welcome this helpful new technology - improving the passengers' experience as they await "America's Favorite Train."
No Amtrak Service to Rockland This Year
Details

Created: 26 March 2018

26 March 2018
Rockland Extension: At today's NNEPRA Board Meeting in Portland, Executive Director Patricia Quinn informed those present that Amtrak is unable to perform the required risk-assessment of the Rockland branch this year due to the need to assess all their existing routes because of PTC and 'dark territory' issues. Brunswick to Rockland would be a new route.
Ms. Quinn pledged to work closely with Amtrak so that a "more robust" proposal for Midcoast service can be accomplished next year.
Lewiston-Auburn, Kennebunk & New Hamphire - News on Passenger Rail Activities
Details

Created: 19 March 2018

19 March 2018
There's been a flurry of passenger rail news from Maine and New Hampshire. First, Maine.
Lewiston-Auburn: Two workshops will be held this month as part of a $400,000 legislative appropriation to examine the viability and community support for service between L-A and Portland. The first will be in Portland on Tuesday, March 27th in Room 24 of the Portland City Hall and the other in Lewiston on Wednesday, March 28th in Callahan Hall of the Lewiston Library from 4:30 to 6:30 p.m.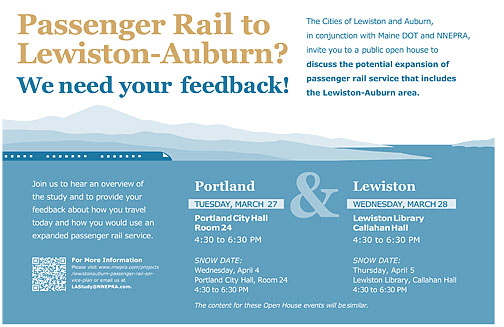 Read more: Lewiston-Auburn, Kennebunk & New Hamphire - News on Passenger Rail Activities
Planned Rockland Extension's Schedule Reduced Due to New Amtrak Safety Requirements - THIS IS NOW OUTDATED
Details

Created: 26 February 2018

26 February 2018
Today's NNEPRA Board Meeting was expected to give the 'Go-ahead' for the summer Coastal Connection Service between Brunswick and Rockland. That did not happen. What was approved was a decision to move forward with an August weekend service, but with four important conditions:
1. An Amtrak-CMQ agreement being reached.
2. A positive MeDOT infrastructure report on the branch line
3. A trip no longer than two and a quarter hours.
4. The service must meet all Amtrak and FRA requirements
Several members of the public expressed their disappointment, particularly those along the midcoast.
Read more: Planned Rockland Extension's Schedule Reduced Due to New Amtrak Safety Requirements - THIS IS NOW...