Our New Vision
TrainRiders Northeast brought the Downeaster to Portland, ME in 2001 and Brunswick ME in 2012. Our New Vision: An across the platform, Amtrak connection at Boston's North Station, serving Worcester, Springfield, Hartford, New Haven & New York's Penn Station. Our continued success depends on your donation. Use our PayPal button to help us reach this goal. Many thanks for your continued support. Wayne Davis, Chairman
An Era Ends Much Too Soon!
Details

Created: 15 May 2017

15 May 2017
2017 marks the end of the Ringling Bros. and Barnum & Bailey Circus trains. There are two units, the Red Unit, labeled "Circus Extreme," and the Blue Unit, known as "Out of This World."
Some interesting facts from RB, B&B:
*An average of 326 performers, staff and maintenance crew on the train
*33 conventional cars for circus personnel and their families on each train
*4 custom-designed animal stock cars
*2 container flats for concessions storage
*17 piggyback flats which carry equipment, props and vehicles
*16,378 miles - average miles traveled in last six years
*Blue Unit: 56 cars, 4,055 tons and 4,959 feet long
Here's the train approaching Newark, NJ station. Keep watching for the other approaching train that follows it.

The circus began using a train in 1872 - a tribute to the organizational skills of the "Greatest Show on Earth" and the train crews who hauled this centerpiece of American entertainment across our "steel highway." Here's a link to their remaining schedule.
NNEPRA February Board Meeting Hears Good News
Details

Created: 27 March 2017

27 March 2017
NNEPRA Executive Director Patricia Quinn was pleased to share the strong ridership and revenue numbers

First, ridership set a new February record of 37,275 which is 1,321 riders above February of last year. Ridership YTD is 27,816 above the similar period of last year.
Second, revenue set a new February record of $675,094 which is $56,280 above February of last year. Revenue YTD is $381,670 above the similar period of last year.
Third, the Joint Government Oversight Committee of the Maine State Legislature voted 7-3 to discontinue any further investigation of NNEPRA. Last year's investigation had given NNEPRA high marks for its management of the Downeaster service. The investigation had been a pet project of former senator Stan Gerzovski of Brunswick. He tried to bind the new incoming committee to conduct another investigation - the committee voted "no."
Fourth, the very popular Dome car will be back this year from mid-August to late September. You can remember last year's success by going here.
Downeaster Makes It 'Big Time' in National Amtrak Publications
Details

Created: 24 March 2017

24 March 2017
Amtrak Ink, a monthly publication for and about Amtrak employees and the national train service's economic impact along its routes, allotted a lot of 'ink' to the Downeaster in their January and February editions.
In January, Saco, Wells and Portland scored in the top 20 stations with the highest eCSI (electronic Customer Satisfaction Index) Go here for the graphic.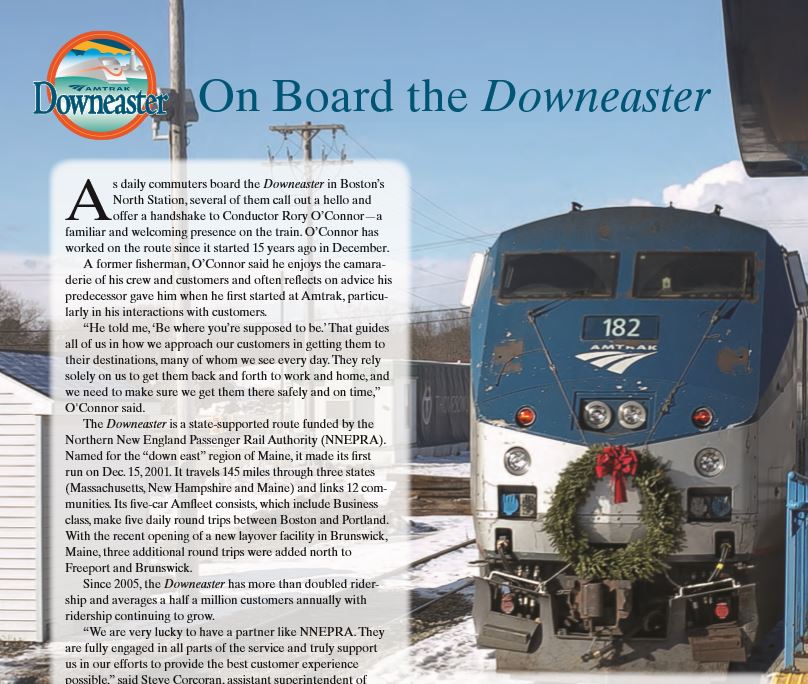 The February edition had two impressive articles - "Employees On the Downeaster" and "Economic Impact of the Downeaster." It is good to see our crews get the national attention they deserve.
Read more: Downeaster Makes It 'Big Time' in National Amtrak Publications
National Association of Railroad Passengers Opposes Proposed Amtrak Budget Cuts
Details

Created: 18 March 2017

18 March 2017

The recently released Trump budget proposal would eliminate Amtrak's long-distance train service as well as significantly reducing other rail funding. NARP's latest bulletin takes this on by pointing out that more the 200 communities would lose this service and tens of thousands of jobs would be lost.
This is a perennial Republican proposal that has regularly lost in the past Congresses, but with the GOP controlling both houses of Congress as well as the White House, it's time for all passenger rail interests to contact their Washington delegation to point out the folly of this proposal.
Good News: The Downeaster Set a Ridership Record for the Month of January!
Details

Created: 08 March 2017

08 March 2017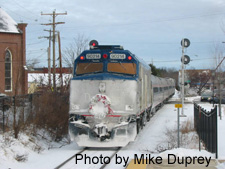 January & February are normally lean months for Downeaster ridership, so it was a pleasant surprise to learn that "America's Favorite Train" set a January record. NNEPRA Executive Director Patricia Quinn reported the numbers at 37,915 as compared to 30,979 for January of 2016.
February is expected to set a new record as well (Amtrak has yet to release those numbers). Attendees to the Patriots parade in Boston on February 6th packed the trains - an extra coach was even added to one of the trainsets.Congratulations to the NNEPRA staff, the Amtrak crews and the dedicated passengers who chose to "ride the rails" rather than fight traffic and take out a second mortgage for parking.
Here's the full Board Packet that was distributed at the meeting.