Welcome to TrainRiders/Northeast
August, 2016 NNEPRA Board Meeting
Details

Parent Category: NNEPRA
Published on Monday, 22 August 2016 20:51
Written by TRN Webmaster
Preliminary Report FY2016: The numbers showed continued recovery of the Downeaster service from the botched tie-job of FY 2015 and part of FY2016.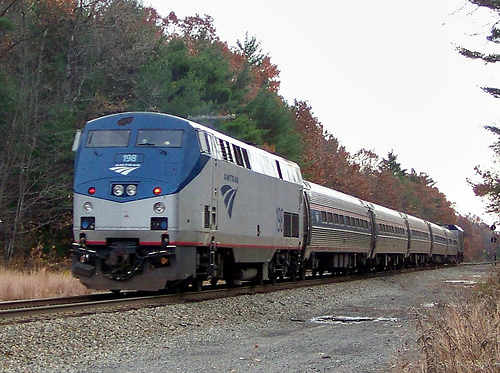 Ridership: Projected ridership was down by 2% and revenue by 3%. However, this June's ridership numbers showed an increase of 23,109 to a total of 42,605 over the paltry 19,496 of the previous June.
On Time Performance: I'll pick last year's worst OTP month - May of 2015 was 0% This May it was 81% - not the 90ish NNEPRA is aiming for, but a spectacular return to normalcy.
Overall Customer Satisfaction - June, 2016: The Downeaster continued to eclipse Amtrak service elsewhere with a 92% rating as opposed to Amtrak's 86%.
FY2017 Begins: July, the first month of of the new fiscal year, set a new ridership record of 51,402 passengers and that's an increase of 14,053 riders over July of FY2016.
Fall Tie Replacement: There remains considerable track work to be done this Fall. From October 1st to November 21st, some 15,000 ties will be replaced between Portland and Wells. This will necessitate no Downeaster service between Brunswick and Wells. Special bus service will bring southbound passengers from Brunswick, Freeport, Portland and Saco down to Wells. Similar service will transport northbound passengers after they reach Wells on the Downeaster. Another painful reminder that maintaining the tracks keeps railroad service up to expectations.
Brunswick Layover Facility: The facility is 95% complete and will begin housing #681 the second week in September. The third roundtrip from Brunswick to Boston will commence on November 21st - once the tie replacement project is completed. NNEPRA plans a BLF Open House for local residents on October 7th and 8th. Construction of the 4-mile-long Royal Junction siding is expected to begin in the Spring/Summer of 2017 with completion a year later. This will then allow all five Downeaster roundtrips to originate in Brunswick - overnighting in the Layover Facility.
Dome Car: Who would have thought a 61-year-old passenger coach would be so well received? Constructed in 1955, the dome car has become a big hit with the passengers, some of whom have traveled just to see the view from a new perspective. You have until September 18th to enjoy the ride.
Obviously, the Scarborough Marsh out of Portland (southbound) or out of Old Orchard (northbound) is a spectacular view. Thanks to the Portland Press Herald and Maine HDTV for the aerials of the Downeaster traveling over the trestle.
State Finds No Major Issues After NNEPRA Review
Details

Published on Thursday, 21 July 2016 22:42
Written by TRN Webmaster
Maine's Government Oversight Committee (GOC) met today in Augusta and heard Beth Ashcroft, director of the Office of Program Evaluation and Government Accountability (OPEGA), present a 7-page report detailing her agency's preliminary investigation of NNEPRA. This investigation was initiated at the request of Sen. Stan Gerzofsky (D. Brunswick), who, among other things, opposed NNEPRA's choice for the site of the soon-to-be-completed layover facility in Brunswick and who accused that Authority of mismanagement and a lack of transparency.
After extensive research into the operations and governance of the rail authority, Ms. Ashcroft stated that OPEGA found no significant issues with NNEPRA. More specifically, the report stated that:
OPEGA does not find that mismanagement or lack of transparency are "areas of high risk at this time."
OPEGA has not "identified any potential concerns or high risk conditions that lead us to definitely recommend further review" of any NNEPRA functions which are "key to providing the most effective and efficient passenger rail service possible."
OPEGA noted that NNEPRA "appears to have strong practices in some areas, like procurement and contracting, which are already reviewed to some degree through . . . federal reviews and independent financial audits." OPEGA's conclusion that "there may be limited value to spending OPEGA resources on more detailed review of NNEPRA at this time" is a strong endorsement of NNEPRA's practices and activities, validating the value of that agency to the State of Maine and the rest of northern New England.
OPEGA's 7-page report will be followed by a more detailed Information Brief in September, after which the GOC will consider whether any follow up is needed. A copy of the report is available at http://legislature.maine.gov/uploads/originals/final-nnepra-project-direction-recommendation-statement-.pdf.
June, 2016 NNEPRA Board Meeting
Details

Parent Category: NNEPRA
Published on Tuesday, 28 June 2016 15:58
Written by TRN Webmaster
The NNEPRA Board Meeting was held on Monday, June 27th.
Ridership: Executive Director Patricia Quinn reported on the latest performance numbers. The May, 2106 ridership was 38,754 as compared to 22,722 in May of 2015 (Need we mention that May, 2015 was a disastrous 30 days due to a tie-replacement project gone awry). However, the actuals missed the projected ridership by a considerable degree.
Revenue: May, 2016 revenue came in at $663, 377 as compared to $393,556 in May of 2015. Still, this past month's revenue fell 11% below target.
OTP: On Time Performance was 81% as opposed to 0% (!) in May of 2015.
CSI: The overall Customer Satisfaction Index for the Downeaster was 91 - Amtrak checked in at 88.
Brunswick Layover Facility: Special Projects Manager Jim Russell reported, "It's on schedule and on budget with 75% of the track work completed."
Royal Junction Siding: Funding has been acquired. This siding will ultimately allow all Downeaster trains to start and end in Brunswick.
NNEPRA May Board Meeting
Details

Parent Category: NNEPRA
Published on Tuesday, 24 May 2016 15:09
Written by TRN Webmaster
The NNEPRA board met Monday, May 23rd, to review the latest Downeaster performance numbers.
Ridership: Now that the roadbed is in tip-top shape, ridership shows continued growth since October of last year, save for January, 2016. A similar trend for revenue was reported.
On Time Performance: 89%
Overall Customer Satisfaction: March Downeaster: 91, Amtrak: 85
Brunswick Layover Facility: Special Projects Manager Jim Russell reported on the continued progress at the BLF, "We are on schedule for a September opening." The NNEPRA Board was then treated to a video tour of the facility when Trainriders/Northeast board members were escorted around the site.
Thank you, Jim. You answered our many questions with expertise and patience.
NNEPRA Reports on Downeaster Performance
Details

Published on Tuesday, 26 April 2016 17:22
Written by TRN Webmaster
NNEPRA held is regular monthly meeting on Monday. TrainRiders/NE's Legal Councilor F. Bruce Sleeper provided the following summary:
Executive Director Patricia Quinn said that April ridership is now about 1800 passengers more than last year, so the Downeaster continues to do well on that front, although a bit below the targets NNEPRA set even in January and March. They are also below targets on revenues, again even in January and March.