Welcome to TrainRiders/Northeast
NNEPPRA Board Meeting Concentrates on the "Really Tough Winter"
Details

Published on Tuesday, 24 February 2015 00:41
Written by TRN Webmaster
The extensive tie replacement work done by Pan Am during the first six months of FY2015 (July through December of 2014), took a signifcant toll on Downeaster performance with 143 trains cancelled.
Then came the blizzards of 2015! In January, Downeaster ridership of 34,931 was down by 3% as compared to last January - 16 trains were cancelled. February to date has seen 36 trains cancelled and those that did complete their roundtrips, experienced signifcant delays. Ridership this year-to-date is down approximately 6,000 passengers.
Ms. Quinn explained to the board, using pictures from the outdoor Portland Layover Facility, why the indoor Brunswick Layover Facility is a necessity. Following the meeting, Patricia sat down with TrainRiders/NE to emphasize the "tough winter" conditions that maintenance and train crews must deal with on a daily basis.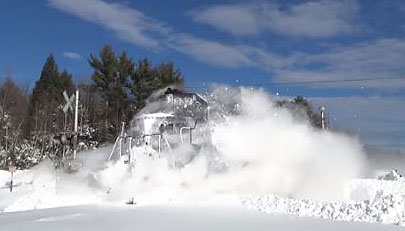 But it's not just the Downeaster that has suffered. Rail systems, freight and passenger, have fallen victim to Mother Nature's fury from New York to Maine.
The Portland Press Herald details the damage: http://www.pressherald.com/2015/02/28/freight-slows-as-snow-cold-pummel-trains/
DEP Sets Time & Location for March 25th Public Hearing
Details

Published on Friday, 20 February 2015 22:22
Written by TRN Webmaster
The Maine DEP will hold it's Public Hearing on NNEPRA's Storm Water Runoff Permit application for the Brunswick Layover Facility on Wednesday, March 25th at 9:00 a.m. & 6:00 p.m. at the Brunswick Golf Club, 165 River Road, Brunswick, Maine. While the morning hearing is open to the public, testimony will be restricted to the parties involved (DEP, NNEPRA, TrainRiders/NE and the Brunswick West Neighborhood Coalition). No public testimony will be heard at the 9:00 a.m. session.
The evening hearing, at the same location and starting at 6:00 p.m., will be "devoted to taking testimony from the general public." The DEP points out that "testimony will be given under oath and is subject to cross examination by the parties and questions from the presiding officer."
Testimony at both sessions will be limited to issues involving stormwater standards. Comments on other topics will not be permitted.
The full public announcement can be read here:
DEP Visits the Brunswick Layover Facility Site
Details

Published on Friday, 13 February 2015 22:20
Written by TRN Webmaster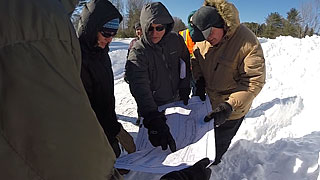 DEP Hearing Officer Laura Welles, along with environmental and engineering experts from Augusta, led a site inspection of the proposed Brunswick Layover Facility today in 10-degree weather.
This inspection was in preparation for the Public Hearing scheduled for March 25th in Brunswick (the site has yet to be identified due to the number of interested parties who are expected to attend). The hearing will take testimony on NNEPRA's request for a Storm Water Runoff Permit - the last regulatory hurdle before construction can begin.
Joint Transportation Committee Briefed by NNEPRA on Special Train
Details

Published on Wednesday, 11 February 2015 14:01
Written by TRN Webmaster
There was a Special Train on the tracks between Brunswick and Portland on Tuesday. NNEPRA hosted members of the Maine Joint Transportation Committee. It was an onboard briefing by NNEPRA Executive Director Patricia Quinn - addressing the Brunswick Layover Facility, the upcoming DEP hearing, passing sidings at Royal Junction and an up-close look at the maintenance problems the train faces when they are left outside during the winter. We invite you to come along via our video.
NNEPRA Board Meeting - January, 2015
Details

Parent Category: NNEPRA
Published on Monday, 26 January 2015 21:53
Written by TRN Webmaster
Performance Report: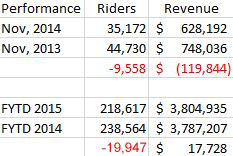 The numbers speak for themselves - a downer for the Downeaster. The Downeaster transported fewer passengers in November of 2014 than in November of 2013.
FYTD 2015 is running behind in ridership when compared to FYTD 2014, but revenue is up slightly (Wayne Davis told the board that on one recent weekend evening, there were 45 passengers waiting to get on the southbound train in Brunswick!).