Our New Vision
TrainRiders Northeast brought the Downeaster to Portland, ME in 2001 and Brunswick ME in 2012. Our New Vision: An across the platform, Amtrak connection at Boston's North Station, serving Worcester, Springfield, Hartford, New Haven & New York's Penn Station. Our continued success depends on your donation. Use our PayPal button to help us reach this goal. Many thanks for your continued support. Wayne Davis, Chairman
NNEPRA Expects Phase II of Resumption of Service Before the End Of July
Details

Created: 01 July 2020

01 July 2020
At today's Operations Meeting, Executive Director Patricia Quinn said she expects three more roundtrips will be added to the Downeaster's schedule between Brunswick and Boston in the latter part of this month. The NNEPRA Board, which does not normally meet in July, will gather on July 15th to decide how best to proceed.
The determining factor will be the progress of the tie job between Exeter and the NH/MA line as Ms. Quinn wants to make sure that the additional service will perform well.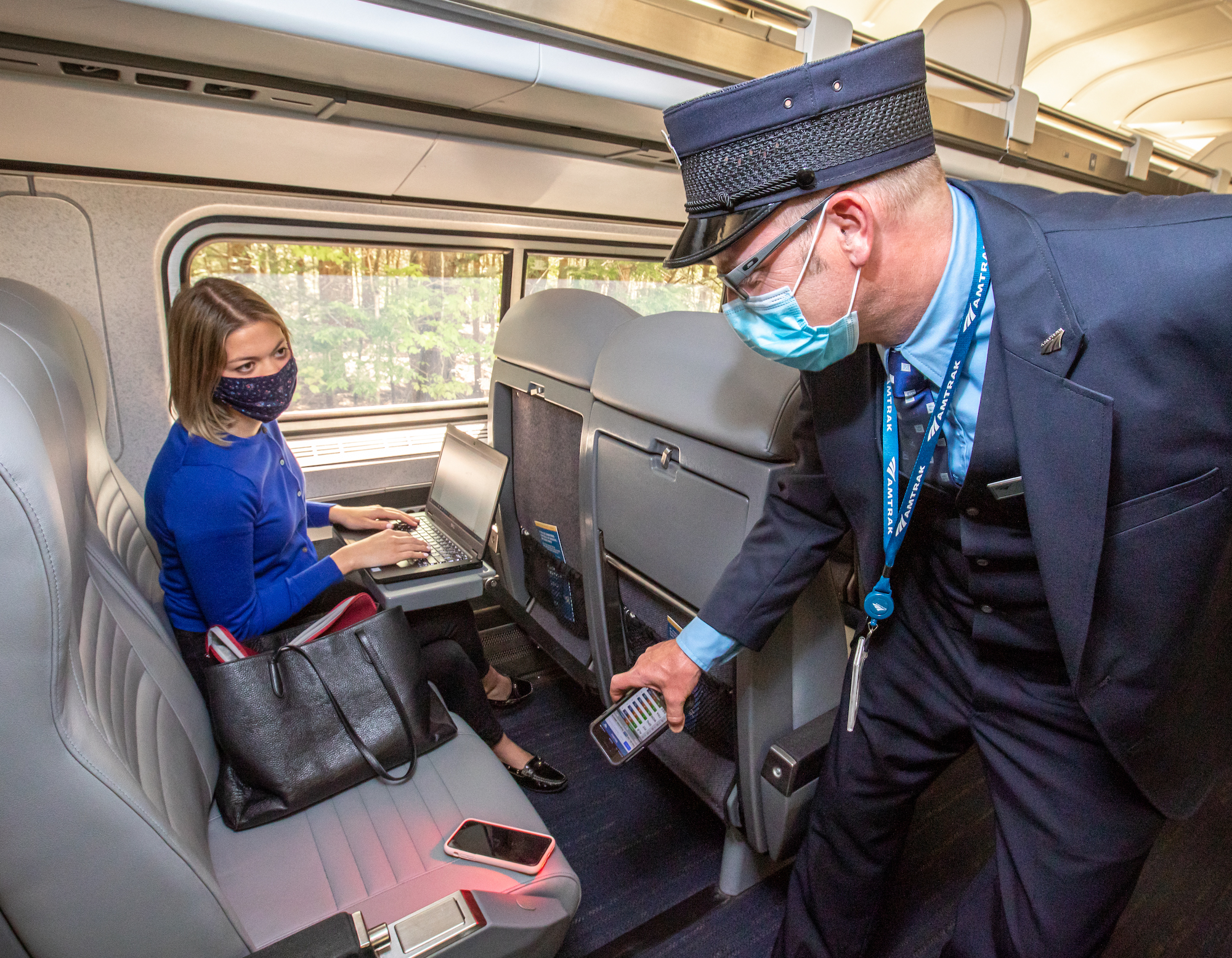 In addition to #680/681, trains #682/683, #684/685 and #688/687 will be added. Once #688 arrives at North Station, it will not linger but head back to Maine as there is no late-night entertainment scheduled at the Garden. There is no date certain for this resumption of service. All trains will undergo extensive cleaning in the Brunswick Layover Facility.
All safety/protective measures will remain in place, social distancing upon boarding with mask and social distancing within the coaches (traveling at half capacity).
The stations along the line will determine in their own towns/cities as to how and when to open.
Railroad Sources Say PanAm RailWays is For Sale
Details

Created: 01 July 2020

01 July 2020
PanAm, on whose tracks the Downeaster runs from Brunswick to the NH/MA line, is up for sale according to several authoritative rail sources. Pan Am has extensive rail holdings in four of the six New England states.
This from the Trains Magazine: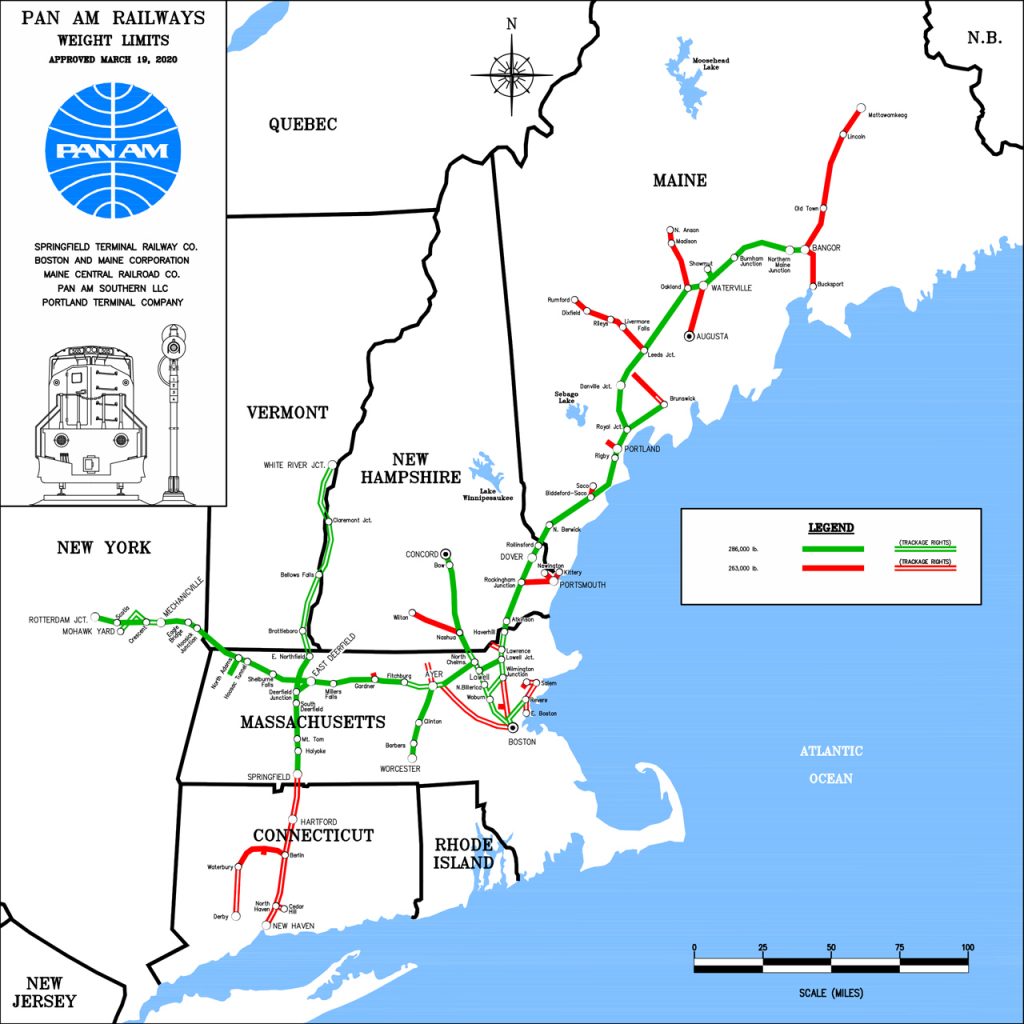 BILLERICA, Mass. — New England regional Pan Am Railways is for sale.
The privately held company, owned by 78-year-old Tim Mellon and other investors, has enlisted BMO Financial Group to assist with a potential sale transaction, according to multiple railroad industry sources.
Pan Am officials did not respond to a request for comment.
Industry observers say there will be considerable competition to buy Pan Am, which operates on 1,700 route miles and is the largest regional railroad in North America.
"I would expect that everyone is going to be interested in it," says independent railroad analyst Anthony B. Hatch.
Before the pandemic, interest in short line and regional railroads had been increasing as financial firms — including global infrastructure funds — joined traditional shortline holding companies in bidding for railroads that have gone on the block. And that has translated into higher valuations for railroads as investors seek long-lasting infrastructure that can offer a combination of stability and growth.
Despite changing traffic patterns in New England, Pan Am has been profitable every year since it was founded in 1981 as Guilford Transportation Industries.
The system stretches from the Albany, N.Y., area to Maine and includes trackage of the former Maine Central, Boston & Maine, Portland Terminal, and Springfield Terminal railroads. A haulage agreement with a trio of Irving short lines — Eastern Maine Railway, Northern Maine Railway, and New Brunswick Southern ± extends Pan Am's reach into northern Maine and Saint John, New Brunswick.
Pan Am and Norfolk Southern in 2008 formed a joint venture called Pan Am Southern that consists of 437 miles of rail lines and trackage-rights routes, including the B&M main line between Mechanicville, N.Y. and Ayer, Mass., that provides NS access to the Boston area via its so-called Patriot Corridor. Pan Am's Springfield Terminal subsidiary operates the Pan Am Southern, which also includes the north-south route Pan Am uses between White River Junction, Vt., and its branches in Connecticut via Springfield, Mass.
In the event of a sale, it's unclear whether a new owner could simply step into Pan Am's shoes in the Pan Am Southern or if NS would buy Pan Am's stake in the joint venture. An NS spokesman declined to comment.
Pan Am connects with three other Class I railroads — CSX Transportation, Canadian National, and Canadian Pacific — and 14 short lines.
Potential acquirers include shortline holding companies such as Genesee & Wyoming, OmniTRAX, and Watco. G&W already has a major presence in New England through its four railroads in the region, which include Pan Am connections New England Central, Providence & Worcester, Saint Lawrence & Atlantic, and Connecticut Southern.
Infrastructure funds could emerge as buyers, as well, Hatch says. Notable deals last year included Brookfield Infrastructure Partners taking G&W private, as well as First State Investments acquiring shortline holding company Patriot Rail & Ports.
Also possible suitors: CN and CP, both of which have said they are interested in buying adjacent short line and regional railroads. CP just completed its acquisition of Central Maine & Quebec, which connects with Pan Am in Maine.
"We know the Canadians are looking to grow by offline acquisitions," Hatch says.
But CN has reportedly passed on the opportunity to bid on Pan Am.
From Wayne Davis: "Though we wish PanAm well, we can only hope that if the railroad is indeed sold that the new management will be as positive about passenger rail as PanAm's current leadership. Trainriders Northeast has had a remarkable relationship with the railroad since our Downeaster began operating. Our successes have been accomplished in large part because of the close working relationship among TNE, AMTRAK and NNEPRA working directly with PanAm's President, David Fink, Jr and his top management."
Happy Birthday, NNEPRA - Born in 1995!
Details

Created: 27 June 2020

27 June 2020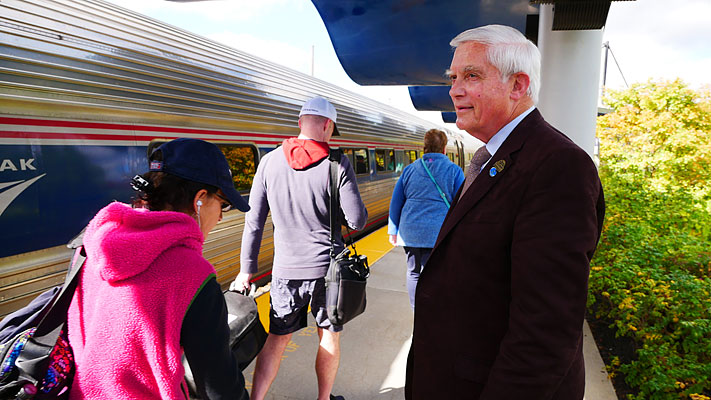 On June 27th, 1995, the Maine Senate cleared away the last legislative hurdle standing in the way of resumption of passenger rail service to Maine. LD 1255, An Act to create the Northern New England Rail Authority, passed by the necessary two-thirds majority, the Maine House having approved it the week before. Governor Angus King signed the bill on June 29th.
From Wayne Davis: "It occurs to me that this act and the last one are important dates not just for Maine - but also for New Hampshire and Massachusetts. Of course, the text goes on to say that without TNE's dogged determination there is little doubt that the bill would have failed - and goes on to thank oodles of folks - Senators Cohen and Snowe, Representative John Baldacci and more."
TrainRiders/NE participated in the writing of the legislation that created NNEPRA - our baby in 1995!
Read all about it in our 1995 newsletter! Click on the old banner below.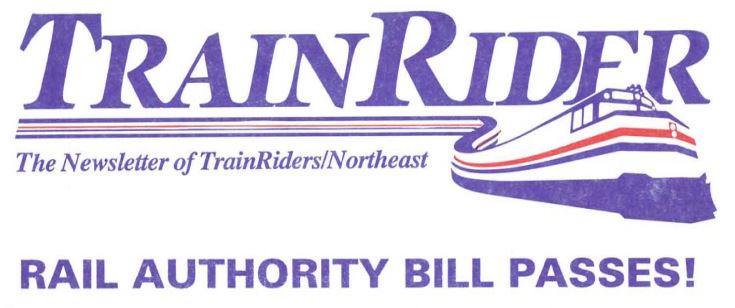 Amtrak to Cut Many Long Distance Trains
Details

Created: 19 June 2020

19 June 2020
Amtrak Executive Vice President and Chief Marketing and Revenue Officer Roger Harris, in a June 15 letter to employees, announced that Amtrak nationally will cut many long-distance trains as a result of a significant loss in ridership due to the coronavirus. He notes that some services have seen a 95% drop in passengers.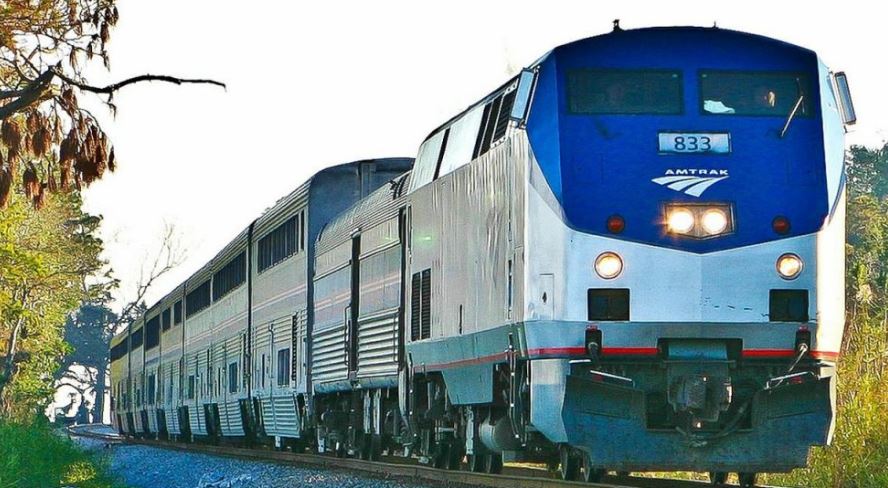 But Railway Age asks if some of the services will be permanently eliminated and the national system destroyed. Amtrak to Cut Many Long Distance Trains
Downeaster Service to Resume June 15th with One Roundtrip
Details

Created: 10 June 2020

10 June 2020
NNEPRA has announced that Phase 1 of the restoration of Downeaster service between Brunswick and Boston will get underway on Monday, June 15th with trains #680 & #685.
NNEPRA states that the purpose of the service is to "provide commuting options for essential workers and those who are traveling for essential purposes."
Enhanced Health and Safety Protocols will be implemented, which include:
Read more: Downeaster Service to Resume June 15th with One Roundtrip