Welcome to TrainRiders/Northeast
NNEPRA's Annual Meeting Reports 'Modest Growth' for FY2014
Details

Published on Friday, 31 October 2014 10:51
Written by TRN Webmaster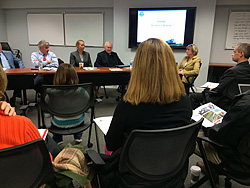 Executive Director Patricia Quinn and her staff reported details of FY2014 to a packed meeting room of interested parties. Here are selected items from the Annual Report:
Performance Statistics:
4% increase in Ridership - 536,524 total
6.2% increase in Revenue - $8.6 total
58% On Time Performance
On Time Performance
MBTA work on the Shawsheen River Bridges required weekend track outages and forced 12 Downeaster trains to be cancelled. The severe winter created severe track conditions in the spring, resulting in the cancellation of 24 additional trains and the estimated loss of 4,000 riders and $64,000 in revenue.
Passenger Profile
Passengers chose to ride the Downeaster for a variety of reasons:
45% - Leisure
28% - Visit friends and family
17% - Business
2% - Medical
2% - College
6% - Other
During FY2014
57% - Traveled to or from Maine (66% of revenue)
30% - Traveled between NH and Boston (25% of revenue)
25% - Traveled on passes (16% of revenue)
Customer Satisfaction
Throughout the year of challenges, passsengers continually ranked the Downeaster the highest among Amtrak trains for customer service with an overall satisfaction rating of 93%.
FY2015
NNEPRA projects a 3% drop in ridership due mainly to tie replacement & bridge projects.
Annual Meeting: Direct Downeaster Service to NYC Proposed & Revealing Video of the BLF Site
Details

Published on Friday, 17 October 2014 04:29
Written by TRN Webmaster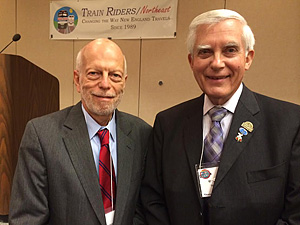 Our 26th Annual Meeting was held on Oct. 16th at the Holiday Inn by the Bay in Portland. Our keynote speaker was Ross Capon, Transportation Consultant and President Emeritus of the National Association of Railroad Passengers. Ross has testified countless times before Congress on behalf of railroad passengers. He is a member of the Federal Railroad Administration's Railroad Safety Advisory Committee along other federal and rail transportation boards. Ross shared his extensive knowledge of Amtrak's struggles to find congressional funding over the years. He is a long-time friend of TrainRiders/Northeast can be seen on the Downeaster as he vacations in Maine.
Patricia Quinn, NNEPRA Executive Director, displayed her 'numbers game' which was an easily digestible story of the Downeaster's successes and challenges.
Wayne announced an intiative to expand Downeaster service to New York City - it would be a direct route, bypassing the North and South Station bottlenecks. Video: http://youtu.be/YTJI5DJuc8E
MPBN report: http://news.mpbn.net/post/rail-riders-seek-better-connections-between-maine-and-new-york
PPH article on drone video of BLF site: http://www.pressherald.com/2014/10/23/drone-deployed-in-brunswick-battle-over-rail-facility/

In addition, an eye-riveting video of the Brunswick Layover Facility site was unveiled, analyzed by Jeff Reynolds who lives in the West Brunswick neighborhood.
A fine evening was enjoyed by all!
TRN Chairman Wayne Davis Comments on Continuing Brunswick Layover Facility Controversy - PPH Questions LePage Administration Motives - DEP Pledges 'By the Book' Review
Details

Parent Category: TRN
Published on Saturday, 30 August 2014 16:06
Written by TRN Webmaster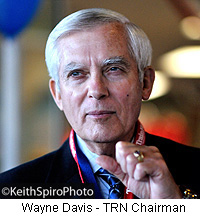 TRN Chairman Wayne Davis has spoken out on the continuing dispute over the Brunswick Layover Facility. In a Press Herald article, he concludes that Gov. LePage is "tinkering with the most successful train in the nation." There's more from Wayne, NNEPRA's Patricia Quinn, the DEP commissioner, the BWNC and other interested parties.
---------
UPDATE: The Press Herald's Editorial Board has just published a commentary on the LePage administration's renewed involvement in the Brunswick Layover Facility decision. Referring to the governor's opposition and the last-minute involvement of the DEP commissioner, they wrote:
"The state's involvement in a proposal over which it has no final say is a splashy and entirely symbolic move, and nobody should count on the heightened environmental concern on the part of the governor and his allies to outlast this fall's election."
The full editorial is well worth reading. Go here.
UPDATE: Bangor Daily News publishes additional details on DEP's involvement in Brunswich Layover Facility. The review (actually, re-review) of the BLF's Storm Drainage Permit will be "by the book." Read here.
MeDEP Commissioner Creates New Obstacles to NNEPRA's Renewed Storm Water Runoff Application
Details

Published on Thursday, 28 August 2014 23:45
Written by TRN Webmaster
Just when you thought it was safe to go in the water, Commissioner Patricia Aho of the Maine Department of Environmental Protection said, in effect, "Not yet! I have 21 more questions."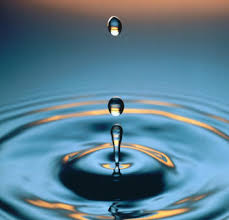 NNERPA's renewed application for a storm water runoff permit for the Brunswick Layover Facility was quickly labeled unacceptable and incomplete as new questions were added to the process.
The initial permit has been approved by the DEP. The DEP had even given NNEPRA guidance as to who was an 'abutter.' That permit was ultimately thrown out by a judge who said more 'abutters' needed to be notified. So NNEPRA notified the additional interested parties and refiled the application. NNEPRA then met with the DEP for 2 1/2 hours and discussed the application in detail and answered several of the concerns that the DEP had raised. Then, out of the blue, the DEP struck back after they had assured NNEPRA that they didn't foresee any significant problems. And let's not forget, the Federal Railroad Administration, which has jurisdiction over railroad matters, found 'No Significant Environmental Impact' to the construction of the BLF.
NNEPRA Executive Director Patricia Quinn is quoted in the Bangor News article that she is eager to provide any answers the state requests. The water torture continues.
NNEPRA Exec. Dir. Patricia Quinn Concludes, "We're ready to go" with the BLF Once Storm Water Permit is Approved
Details

Published on Monday, 25 August 2014 23:24
Written by TRN Webmaster
Brunswick Items
Ms. Patricia Quinn, NNEPRA Executive Director, briefed the board on various items, including the Downeaster Brunswick Layover Facility. She reported that she had a 2 1/2 hour meeting with the Maine DEP addressing in particular the storm water permitting process. As a result, the permit has been resubmitted and notification of the abutters has been expanded. This is a 45-day process that allows for public input. The meeting with the DEP addressed several other issues: the water table, air quality and storage of lubricants on the property. None of those issues was considered a problem.
Ms. Quinn met personally with two legislators and talked with a third on the phone regarding their letter suggesting that the layover facility be built in South Portland. She characterized the conversations as productive.
On the issue of idling at the Brunswick Station, Ms. Quinn stated that she was examining a way to reduce the idling time by shifting the current 12:30p arrival to 3:00p. Also, #687 would be shifted to a 6:05p departure from North Station (currently 5:40p) and become the evening train to Brunswick. We were reminded the the BLF is the solution to multiple issues, including this one.
Performance Report - Fiscal Year 2014
From the NNEPRA report: "FY 2014 marked a milestone for the Downeaster, as the 5 million passenger mark was met and exceeded. The year itself was successful with record-breaking ridership exceeding 536,000, which is a 4.6% increase over the previous fiscal year. Increases in ticket revenue were even more significant, exceeding $8.6 million, surpassing the previous year by 6.2%. Customer satisfaction for FY2014 was 93 as compared to Amtrak's overall CS of 86."
Read more: NNEPRA Exec. Dir. Patricia Quinn Concludes, "We're ready to go" with the BLF Once Storm Water...