Welcome to TrainRiders/Northeast
First Quarter Performance Stats Show a Record Three Months!
Details

Published on Tuesday, 25 October 2016 13:03
Written by TRN Webmaster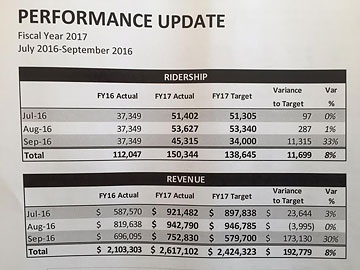 Ridership & Revenue: There isn't much commentary needed for the performance numbers released yesterday at NNEPRA's Board Meeting. Executive Director Patricia Quinn smiled as she reported that the first quarter of FY2017 set a 15-year record for Ridership and Revenue. The ridership numbers reported this week have been updated due to an error. As you can see in the graphic, 37,349 was entered in all three 2016 months. The FY16 Actual numbers are:
July-16: 37,349
Aug-16: 46,215
Sep-16: 40,622
Total: 124,186
The conclusion remains the same - record quarter!
Tie Replacement: Special Projects Manager Jim Russell reported that PanAm is progressing well in changing out some 15,000 ties between Portland and Wells - 7,000 done and 8,000 to go. Thirteen miles have already been done with 20 miles to go. Currently, the PanAm crew is between Old Orchard and Saco. Completion of the project is scheduled for November 18th.
Brunswick Layover Facility: The weekend open house was considered an overwhelming success with up 500 visitors showing up. NNEPRA staff was present to answer questions and put to rest unfounded rumors such as: heavy maintenance, welding and other noisy activities would be conducted in the "barn" - not true. One couple wondered about the reported use of the facility by the MBTA - not true. It's an example of how the opposition, through a gullible press, poisoned many minds with misleading statements. The staff was only too happy to set the record straight.
New Schedule: Two of the three trainsets will be housed in the BLF starting November 21st - no outdoor idling. This allows for a new, more flexible schedule. First, three roundtrips to Boston will start in Brunswick. Second, a significant shift in departure and arrival times will help riders make their time in Boston or Maine more productive (less wasted time). Check out the schedule.
The new timetable has a new plus for passengers arriving in Boston in the morning and completing their meetings/visits around noon. They won't have to wait all afternoon for the 5:00p train. They can hop on the new 1:05p northbound service. The 1:05p, 5:00p and 6:15p trains will terminate all terminate in Brunswick.
Brunswick Dedication Ceremony: NNEPRA will celebrate the expanded train service from Brunswick on November 21st at 10:00a at the Brunswick Station. Sen. Angus King, who as governor was on the inaugural run in 2001, will be the honored guest along with David Fink of PanAm Railways. The public is invited.
Food Service: NNEPRA, after competitive bids and discussions with various vendors, has selected a new company to service the Cafe Car. Ms. Quinn emphasized that Epicurian had performed well but the new company, NexDine, had new ideas NNEPRA wants to implement. NexDine will interview current staffers for possible positions in the Cafe. This ends a 15-year relationship with Epicurian Feast as Cafe Car food provider.
NNEPRA 2016 Annual Meeting
Details

Published on Friday, 14 October 2016 09:35
Written by TRN Webmaster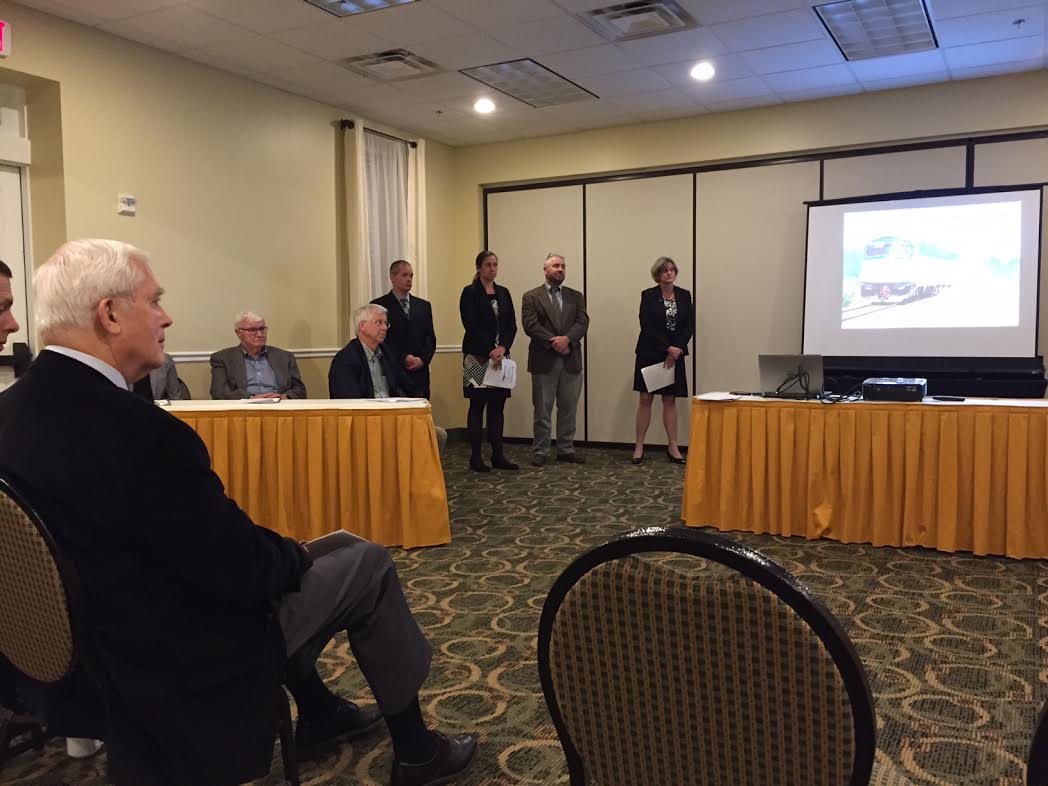 NNEPRA held its Annual Meeting last night in Freeport, Maine. Executive Director Patricia Quinn released the best statistic of the evening: "Fiscal year 2017 started strong with our highest first quarter ridership since the service was inaugurated!"
Much of the second quarter of FY2017 will suffer due to the current service disruption as some 15,000 ties are being replaced on the PanAm section of the line between Wells and Portland. This work is scheduled to end on November 21st when the third round trip from Brunswick to Boston will begin. This schedule improvement is due primarily to the Brunswick Layover Facility, which will go 'on line' next month.
Video of a trainset entering the BLF was scheduled to be shown at the meeting - produced by Maine HDTV in cooperation with Consigli Construction, NNEPRA and Amtrak. You can view it here.


Public Hearing on OPEGA's Review of NNEPRA
Details

Published on Saturday, 08 October 2016 02:27
Written by TRN Webmaster
The public hearing of the Maine Government Oversight Committee was held on October 6th, in Augusta. The purpose was to allow public comments on the recent Office of Program Evaluation and Government Accountability's (OPEGA) review of NNEPRA's financial and operational administration of the Amtrak Downeaster. Those who were displeased that the report failed to find fault with NNEPRA management, refocused their attention from trying to prevent the construction of the Brunswick Layover Facility to requesting further investigation of the decisions of NNEPA Executive Director Patricia Quinn as well as the board itself. Ms. Quinn, TrainRiders/NE Counsel F. Bruce Sleeper and an impassioned Board Chairman Martin Eisenstein returned the fire. Here's a sampling of the hearing.
The witnesses who asked for further investigation of NNEPRA consisted primarily of those who had opposed the siting of the Brunswick layover facility near their homes, as well as their State Senator, Stan Gerzofsky, and experts who had supported their position in the site selection process.
Having, in the face of multiple studies which, as evaluated by three State and federal agencies in addition to NNEPRA, supported the site chosen by NNEPRA as far and away the best one, been frustrated in attempting to change that site, these NIMBY's and their allies sought to attack the process which resulted in that decision, and, more generally, the way in which NNEPRA is being, and has been, run. As confirmed by statements made by Senator Gerzofsky, this was nothing more or less than an attack on NNEPRA's executive director, Patricia Quinn. That attack ignores both the accomplishments of NNEPRA under her leadership, as well as her nationally recognized, and nationally lauded, leadership role in passenger rail. Sour grapes anyone?
State Oversight Office Gives NNEPRA High Marks
Details

Published on Saturday, 17 September 2016 14:29
Written by TRN Webmaster
The Government Oversight Committee held a session this week to hear the Office of Program Evaluation and Government Accountability's position regarding an investigation into NNEPRA's management of its finances and operational supervision of the Downeaster passenger rail service.

State Senator Stan Gerzofsky of Brunswick, an outgoing member of the Government Oversight Committee, had forcefully pursued the investigation. The following report is from All Aboard Brunswick which has been closely following the process.
OPEGA found NNEPRA to be a well-run organization with lots of oversight, tasked with the challenge of coordinating operations with Amtrak, Pam Am Railways, the MBTA, Maine DOT, individual station owners, and responsible to the Legislature, Maine DOT, the Federal Rail Authority (FRA), and the Federal Transportation Authority (FTA). Basically, the report said, "Nothing to see here, folks. Move along now."
The report's three recommendations were:
1. Better communication between NNEPRA and the Legislature, with the Transportation Committee scheduling NNEPRA to present its annual reports at public meetings. In the past, presentations at public meetings have typically been initiated by NNEPRA.
2. As part of the process of establishing passenger rail policy, planning and implementation, the Legislature, MDOT and NNEPRA should rely on objective cost-benefit research and analysis, and provide timely and appropriate forums for public input throughout a project's duration.
August, 2016 NNEPRA Board Meeting
Details

Parent Category: NNEPRA
Published on Monday, 22 August 2016 20:51
Written by TRN Webmaster
Preliminary Report FY2016: The numbers showed continued recovery of the Downeaster service from the botched tie-job of FY 2015 and part of FY2016.
Ridership: Projected ridership was down by 2% and revenue by 3%. However, this June's ridership numbers showed an increase of 23,109 to a total of 42,605 over the paltry 19,496 of the previous June.
On Time Performance: I'll pick last year's worst OTP month - May of 2015 was 0% This May it was 81% - not the 90ish NNEPRA is aiming for, but a spectacular return to normalcy.
Overall Customer Satisfaction - June, 2016: The Downeaster continued to eclipse Amtrak service elsewhere with a 92% rating as opposed to Amtrak's 86%.
FY2017 Begins: July, the first month of of the new fiscal year, set a new ridership record of 51,402 passengers and that's an increase of 14,053 riders over July of FY2016.
Fall Tie Replacement: There remains considerable track work to be done this Fall. From October 1st to November 21st, some 15,000 ties will be replaced between Portland and Wells. This will necessitate no Downeaster service between Brunswick and Wells. Special bus service will bring southbound passengers from Brunswick, Freeport, Portland and Saco down to Wells. Similar service will transport northbound passengers after they reach Wells on the Downeaster. Another painful reminder that maintaining the tracks keeps railroad service up to expectations.