Welcome to TrainRiders/Northeast
Press Herald discovers West Brunswick Engineer has financial conflict of interest
Details

Published on Friday, 18 April 2014 16:12
Written by TRN Webmaster
How do your define 'conflict of interest?' The Portland Press Herald reports that the West Brunswick engineer who determined that the proposed Downeaster Layover Facility would exceed federal noise regulations, quietly filed plans to build a 9-home subdivision next to the land. That's a clear financial 'conflict of interest.' Or, to put it another way, "Not in my backyard unless it's my subdivision." Read the Press Herald's reporting.
Brunswick Layover Facility: Gov. Says, "Thorough review needed" - TRN says "Current Environmental Assessment more than sufficient"
Details

Published on Tuesday, 25 March 2014 19:35
Written by TRN Webmaster
From Wayne Davis, TrainRiders/Northeast Chairman:
A letter from Governor Paul LePage to the Federal Railroad Administration (FRA) became public this week requesting a "significant and thorough review" of the planned train Layover Facility that would be constructed in the existing property zoned 'rail yard' in West Brunswick. Local residents next to the rail yard have complained about plans for the facility and the procedure by which the location was selected. NNEPRA has already provided the FRA with the required Environmental Assessment document which is currently under review by that federal agency.
The governor's letter essentially raises the local residents' concerns to a state level, regrettably using incorrect data and logic to argue against NNEPRA, the quasi-state agency that manages Amtrak's Downeaster service. The governing board of NNEPRA insists that it has conducted a thorough and transparent process of evaluating the impact of the facility on the adjacent neighborhood..
In addition to questioning the integrity of the NNEPRA board, the governor is proposing the appointment of Robert W. McEvoy to the NNEPRA board. Mr. McEvoy is an engineer who lives in the protesting neighborhood and has been opposed to the layover facility site since it was first introduced.
Read more: Brunswick Layover Facility: Gov. Says, "Thorough review needed" - TRN says "Current Environmental...
First Two Months of 2014 Show Solid Growth
Details

Published on Tuesday, 25 March 2014 01:43
Written by TRN Webmaster
NNERPA Executive Director Patricia Quinn announced at today's monthly board meeting that Downeaster ridership had increased by a total of 5,834 riders during the first two months of 2014 as compared to the same period in 2013. Revenue demonstrated a similar jump, increasing by $109,195 over Jan/Feb of 2013.
Growth isn't easy in the middle of a New England winter, as people tend to stay home because of snow and numbing cold, but the Downeaster continues to hold on to its regular riders and attract new followers. Guess that's why it's been labeled "America's Favorite Train."
On Time Performance was 69.6% in January and 75% in February - still not something to write home about but heading in the right direction. March-to-date is showing on OTP of 87%.
The overall Customer Satisfaction Score for January of 2014 was 92% as compared to Amtrak's 85%.
Improving numbers continued to come in - a credit to the Amtrak crews and management, and of course, the passengers.
NNEPRA Holds Pubic Forum on Improving Downeaster Service
Details

Published on Tuesday, 11 March 2014 13:54
Written by TRN Webmaster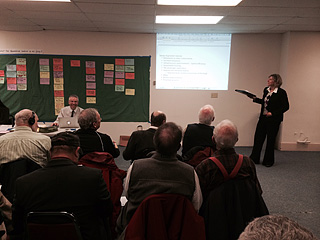 NNEPRA held a public meeting on Wednesday (March 19th) to discuss the Amtrak Downeaster Service Development Plan. It was a well-attended public forum that focused on extending Downeaster service to Lewiston-Auburn, Augusta and beyond New England to New York City.
TrainRiders/Northeast spoke in support of multiple extensions, particularly an effort to connect Maine through Worcester to Penn Station in New York, where a whole new market for travel to and from Maine awaits.
Patricia Quinn, Executive Director of NNEPRA, answered the many questions regarding currently needed improvements (double tracking, speed and frequency of service) as well as new feeder services to the Brunswick-Boston core of the current Downeaster.
Here is Trainriders/NE's summary comments passed out at the forum.
Here is Tom Bell's reporting on the session in today's Portland Press Herald.
NNEPRA Reports Growth in First Half of FY 2014
Details

Published on Monday, 24 February 2014 21:41
Written by TRN Webmaster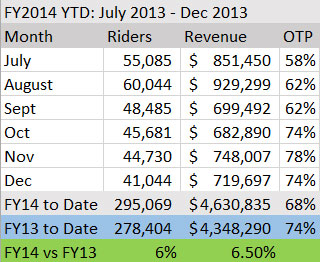 FY 2014 to date (6 months) is doing amazingly well, with a 6% ridership growth as compared to the same period in FY 2013. The spreadsheet shows some 295,069 riders in FY 2014 YTD as compared with 278,404 in FY 2013 YTD. Revenue exceeded the same period in FY 2013 by 6.5%, or $282,545.
Patricia Quinn, Executive Director of NNEPRA, reported that On Time Performance continues to disappoint with an overall 68% record during this reporting period. She explained that "issues impacting OTP are varied, but constrained capacity between Portland and Boston accounted for approximately 45% of all delays, while infrastucture defects (slow orders) accounted for 40% of the delays."