Our New Vision
TrainRiders Northeast brought the Downeaster to Portland, ME in 2001 and Brunswick ME in 2012. Our New Vision: An across-the-platform Amtrak connection at Boston's North Station, serving Worcester, Springfield, Hartford, New Haven & New York's Penn Station (Moynihan Train Hall). Our continued success depends on your donation. Use our PayPal button to help us reach this goal. Many thanks for your continued support. Wayne Davis, Chairman
TRN Opposes LD 1552 - Tantalizingly Titled: "An Act to Strengthen NNEPRA"
Details

Created: 22 May 2021

22 May 2021
Augusta, May 20th, 2021 - A spate of railroad-related bills was examined by the Committee on Transportation in a Thursday afternoon session and a follow-up work session the next day. The meetings were conducted via Zoom

LD1552 was titled "An Act to strengthen NNEPRA." It sounded like a positive effort by its proponents, but the devil was in the details and TRN Chairman Wayne Davis found good reasons to oppose the bill that would have weakened and inappropriately broaden NNPERA's responsibilities. Wayne Davis's quotes are from his written submission.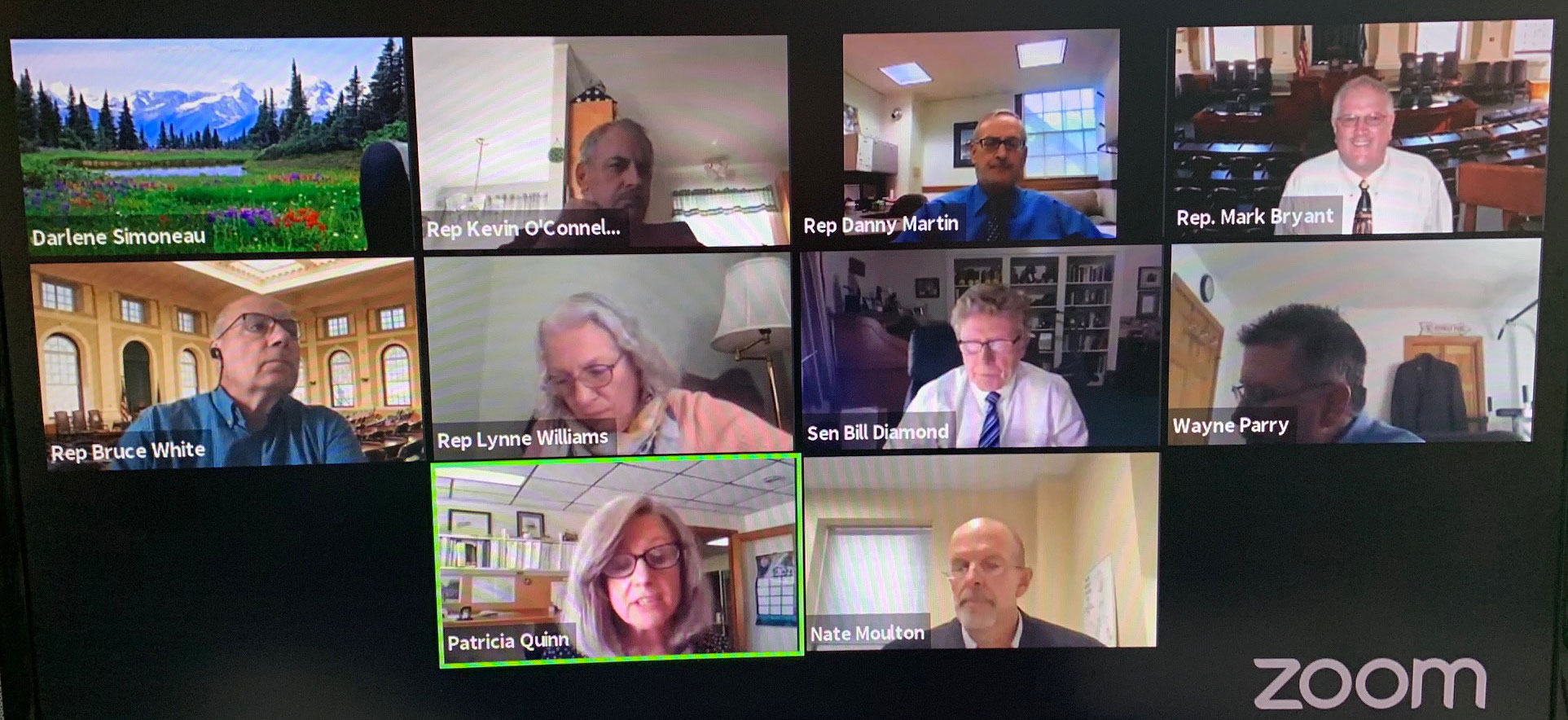 LD 1552: Expand the NNEPRA board by two members of the public who have expertise in passenger rail service. They would be elected by the board.
Wayne Davis in opposition: This would "eliminate the long-standing procedure whereby the Governor nominates new board members and the legislature confirms them." The current board configuration has "successfully overseen the management of the Downeaster since before its inaugural run in 2001. There is no reason to change this charging horse in midstream."
LD1552: Transfer all "state rail assets" which the DOT currently manages to NNEPRA.
Wayne Davis in opposition: These assets primarily consist of state-owned rail lines which may, in the future, be used for freight and passenger rail service. "The Maine DOT already has staffing to manage these rail assets and to transfer those to NNEPRA could easily divert the passenger rail authority from its primary mission of dealing with passenger rail issues."
LD 1552: Require the DOT to "develop a plan to allow for recreational use of the Mountain Division between Standish and Fryeburg..."
Wayne Davis in opposition: "...any resulting conversion of this line to recreational use will result in the permanent loss of that line for railroad purposes...any such conversation would constitute a major shift in the state policy which now, by statute, requires the protection and promotion of rail transportation." (A separate bill, LD 672: To Study the Feasibility of Building a Trail on the Mountain Division Rail Line [Standish to the NH line], did pass in amended form. The specifics of the amendment are yet to be reported out.)
Patricia Quinn, NNEPRA Executive Director, spoke in opposition to the bill as well as Nate Moulton of the DOT. In the work session, the committee unanimously recommended that the bill 'Ought Not to Pass' (no further action would be taken).
There were several other bills reviewed by the committee, but none more important to central Maine than LD 227.
LD 227: Resolve, to Conduct a Feasibility Study for Extending Passenger Rail Service from Brunswick through Augusta and Waterville to Bangor.
Wayne Davis: "One of Trainriders' goals as adopted in 1989, and continuing through today, included and includes the return of passenger rail service to inland Maine from Portland to Bangor via Augusta and Waterville. TrainRiders remains strongly committed to achieving this goal. To the extent the LD 227 leads to this goal, TrainRiders is in favor of its passage."

However, the Covid pandemic has "immensely decreased ridership on passenger trains throughout the country and the world, including, unfortunately, our Downeaster. Right now, this requires a clear focus on maintaining and reinvigorating current service rather than expanding that service to new areas of the state...Accordingly, TrainRiders asks this Committee to hold over consideration of this bill into the next regular legislative session when both the ridership habits of rail passengers and the economic resources available to satisfy those habits will be clearer."
LD227 was initially reported on the state website as 'Tabled' until the next legislative session, however, they have now corrected the error to 'Ought to Pass as Amended' - the specifics of the amendment are still under review.
There was an avalanche of eight rail bills before the Transportation Committee which were efficiently dealt with over a two-day period. The various bills and public comments can be viewed on the committee's web portal under 'All Committee Papers.'
Happy 50th Birthday Amtrak!
Details

Created: 01 May 2021

01 May 2021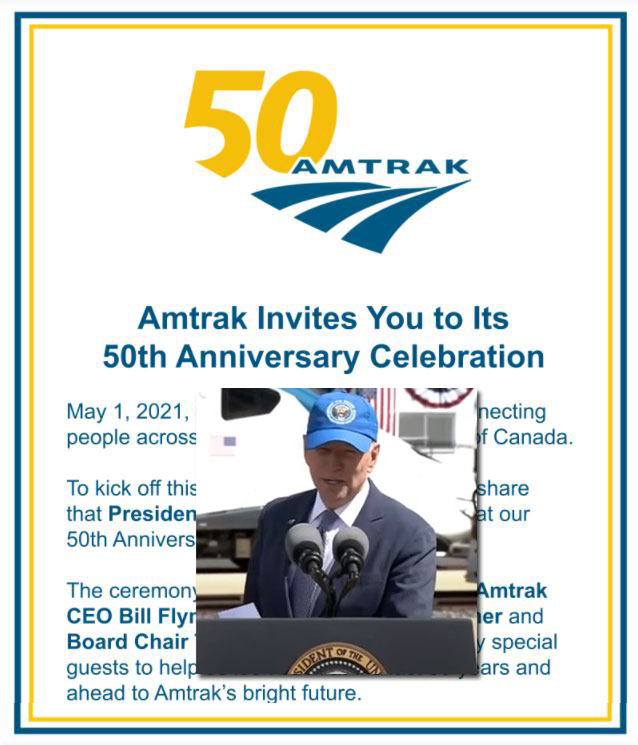 On this date in 1971, the first Amtrak passenger train left New York City for Philadelphia. A national network eventually grew out of that beginning. The state-sponsored Amtrak services emerged, which included the Maine Downeaster in December of 2001. The Downeaster was the result of TrainRiders/Northeast's grass-routes advocacy.
Amtrak funding has been on a rollercoaster ride since its beginning - strong funding and then cutbacks. Today, under the administration of President Joe Biden, the proposals for new funding and new routes raise hopes of a new 'golden age' of passenger rail service in the US.
President Biden regularly commuted from his home in Wilmington, DE. to Capitol Hill for 30 years. His $2 Trillion 'American Jobs Plan,' now headed to Congress, allocates $80 Billion for passenger and freight rail. Amtrak CEO Bill Flynn stated that if the proposed funding is approved, "Amtrak would be able to bring the NEC to a state of good repair and improve trip times" as well as avoid "devastating consequences for our transportation network."
The president's remarks can be seen here (starting at 1:00:17) along with selected remarks from Chairman Wayne Davis. (go to 1:18:03 ).
Watch Chairman Davis's full remarks for the Amtrak 50th!
Here's to another 50 years!
Downeaster to Return to Pre-Covid Schedule on May 3rd - Plus Other Amtrak News
Details

Created: 06 April 2021

06 April 2021
'Back to Normal' as the Downeaster returns to five roundtrips in May
According to NNEPRA's Patricia Quinn, the Downeaster will return its 5th roundtrip train to the timetable on May 3rd. This will restore the 5-daily roundtrip service to its pre-Covid schedule.
More details from Maine Biz.
NNEPRA Press Release
New Schedule (May 3rd)

Amtrak will end the 50% limit on seat sales on May 24th. The Downeaster is planning to end the limit on May 3rd.

NNEPRA Executive Director Patricia Quinn has been awarded the prestigious 'Vincent R. Terrill 2021 Lifetime Achievement Award' from the New England Railroad Club for her "exemplary commitment to passenger rail service in New England and beyond throughout her career." You can read the impressive press release here.


Amtrak has placed an extension to Rockland from Brunswick on their 'dream map.' The graphic showed other proposed expansions of Amtrak service throughout various states. NNEPRA, MEDOT, our state delegation in DC and local authorities along the proposed route are assessing the inclusion of Rockland in Amtrak's plans. NNEPRA had pushed for an extension to Rockland in 2017, but it was for naught at that time. As the Bangor Daily News reports, "Amtrak could permanently extend Maine's Downeaster line up the coast to Rockland among 30 new routes possible under President Joe Biden's $2 trillion infrastructure plan, officials said." More here. A proposed extension of passenger rail service to Bangor was not included in Amtrak's plans. Here's a story on the disappointment in Central Maine.

President Biden's $2 Trillion 'American Jobs Plan' now headed to Congress allocates $80 Billion for passenger and freight rail. Amtrak CEO Bill Flynn states that if the proposed funding is approved, "Amtrak would be able to bring the NEC to a state of good repair and improve trip times" as well as avoid "devastating consequences for our transportation network..." Full statement here.
TrainRiders/NE's Virtual Annual Meeting Held on March 25th - View the Video
Details

Created: 01 March 2021

01 March 2021
On March 25th at 2 p.m., our 33rd Annual Meeting was called to order. It was not in a hotel ballroom but on the Internet as a Zoom Webinar.
You heard from Chairman Wayne Davis and former Vice-Chair Andy Hyland about our new proposal for a simplified trip from any Downeaster station to New York City's revitalized Penn Station (Moynihan Train Hall). At North Station, you would cross the platform to an awaiting Amtrak southbound train, thus eliminating the frequently challenging and time-consuming subway commute to South Station or the costly taxi ride. Of course, the trip to Maine, New Hampshire & Massachusetts from the Big Apple would be equally accommodating.
You also heard from our guest presenters and were able to ask them questions thanks to Bruce Sleeper's tireless monitoring of the chat channel.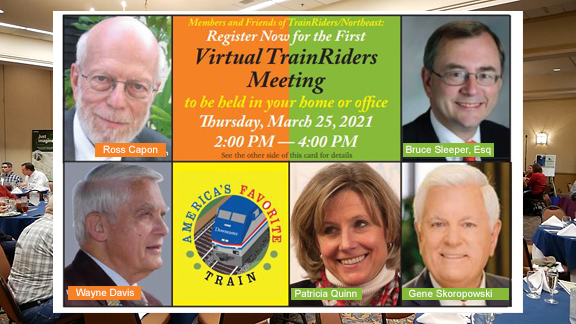 Our speakers:
Patricia Quinn - Executive Director of NNEPRA

Eugene Skoropowski, best known for his Florida Brightline passenger rail accomplishment. (PowerPoint file)
Ross Capon - President Emeritus of the National Association of Rail Passengers (now RPA) (PowerPoint file)
Andy Hyland - Former Vice-Chair of TrainRiders/Northeast presents our New England States Amtrak connection at North Station (PowerPoint file)
The video of the Webinar has been split into two sections for easier viewing.

Section 1 features our panelists: Patricia Quinn, Gene Skoropowski, Ross Capon, along with Senators Susan Collins, Angus King and Representative Chellie Pingree. Go here.
Section 2 details our New England States proposal, eliminating the frequently awkward journey between North and South Stations for those wishing to continue on to New York City. You'll hear assessments of the proposal from town and station leaders and then join Wayne Davis for an in-person tour of the new Moynihan Train Hall in NYC. Go here.
Maine DOT Supports NNEPRA Goal to Relocate Portland Station to the Mainline
Details

Created: 23 February 2021

23 February 2021
At this month's NNEPRA Board Meeting, Executive Director Patricia Quinn announced that the Maine DOT was on board with the rail authority's goal of moving the Portland passenger station from its current location to a new facility on the mainline. Such a move would eliminate backing out of the Portland Transportation Center in order to maintain service to and from Freeport/Brunswick. Ms. Quinn figures that one-mile detour' costs the Downeaster at least two hours of unnecessary travel each day - that's 14 hours a week!!!
The DOT has pledged up to $2 million for a feasibility study which is expected to take two years. More on this topic can be viewed at Maine Public.
In other news from the meeting:
Ticket-generated income since July (beginning of the fiscal year) was $1,047,133 with 46,136 passengers. Ms. Quinn noted that ridership to date is but 15% of the normal passenger load but it is growing, albeit at a slow pace. However, ridership at the Haverhill station has picked up because the MBTA has suspended weekend service there.


NNEPRA is planning to return the 5th roundtrip by Memorial Day if Covid-19 restrictions for Interstate travel are relaxed. Assuming that the Red Sox return to Fenway Park, night games will once again see a later northbound train departure.


Cash is now accepted for Downeaster travel at the Portland Transportation Center and onboard.



Bicycles are now able to 'roll on' to all trains at all stations - one per coach.