Our New Vision
TrainRiders Northeast brought the Downeaster to Portland, ME in 2001 and Brunswick ME in 2012. Our New Vision: An across-the-platform Amtrak connection at Boston's North Station, serving Worcester, Springfield, Hartford, New Haven & New York's Penn Station (Moynihan Train Hall). Our continued success depends on your donation. Use our PayPal button to help us reach this goal. Many thanks for your continued support. Wayne Davis, Chairman
Host Program
Details

Created: 06 October 2008

06 October 2008

Hits: 46474

46474
Train Hosts
The TrainRiders Host Program is an organization of volunteer train hosts functioning under the direction of TrainRiders/Northeast. The Downeaster passenger rail service is sponsored by the State of Maine through the Northern New England Passenger Rail Authority and is operated by Amtrak.
The Downeaster operates five roundtrips daily from Portland, Maine and North Station in Boston, Massachusetts with stops in Saco, Old Orchard Beach and Wells, Maine, Dover, Durham and Exeter, New Hampshire as well as Woburn and Haverhill in Massachusetts. In additon, there are two roundtrips between Brunswick/Freeport and Boston.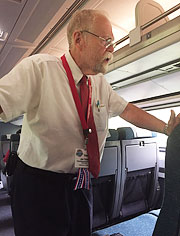 The purpose of the TrainRiders Host Program is to have volunteers serve as goodwill ambassadors; to promote patronage of The Downeaster; to assist passengers with information onboard the train, along the route and at scheduled stops; to assist train crews in duties as requested by them and to promote rail safety
Acceptance as a train host is contingent upon preliminary screening by the Host Committee, satisfactory completion of training and completion of "qualifying" trips with a qualified host.
Annual participation in the TrainRiders Host Program requires payment of a membership fee and includes a Host ID badge, a quarterly newsletter and an annual meeting invitation. Duties include arriving at the boarding station 30 minutes before train departure, obtaining needed supplies of informational handouts, introducing yourself to the conductor, assistant conductor and passengers, regularly walking through the train providing information, handouts and assistance to passengers as needed or requested, observing for hazardous conditions, cleanliness, heating and cooling conditions in the coaches and café car, assisting with keeping the train neat and orderly and returning completed trip reports to assist in evaluating the service.
Click here to download the Train Host Program Application Form and return it to us by mail.
Station Hosts

TrainRiders/Northeast currently has volunteer hosts at several of the stations along the route. Those stations include Dover, NH, along with Wells and Saco in Maine. Volunteers greet travelers and visitors, act as goodwill ambassadors, instruct those wishing to purchase tickets on the use of the Quik-Trak ticket machine, hand out literature and schedules and answer questions about local businesses, etc.

These are great opportunities to spend time promoting public transportation and our Downeaster service.

Please email TrainRiders/Northeast at This email address is being protected from spambots. You need JavaScript enabled to view it. if interested in participating in the Station Host Program.

Click here to download the Station Host Program Application Form.
{jcomments off}