Our New Vision
TrainRiders Northeast brought the Downeaster to Portland, ME in 2001 and Brunswick ME in 2012. Our New Vision: An across-the-platform Amtrak connection at Boston's North Station, serving Worcester, Springfield, Hartford, New Haven & New York's Penn Station (Moynihan Train Hall). Our continued success depends on your donation. Use our PayPal button to help us reach this goal. Many thanks for your continued support. Wayne Davis, Chairman
TrainRiders/NE Press Room
Details

Created: 16 December 2009

16 December 2009

Hits: 24323

24323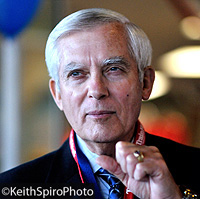 TrainRiders/Northeast can provide quick, knowledgeable information on any story affecting passenger rail transportation in the Northeast.
Wayne Davis, Chairman of the Board, organized TrainRiders for the purpose of bringing Amtrak service back to Maine, New Hampshire and Northeastern Massachusetts. The result: the Downeaster, from Portland to Boston with stops in between.
When writing a story about passenger rail issues, Wayne should be one of your first contacts. He knows the history of Amtrak's return to New England and will marshal the facts for any writer. Click here for a higher resolution picture.
Wayne Davis
Chairman, TrainRiders/Northeast
This email address is being protected from spambots. You need JavaScript enabled to view it.
207 272-2877
PO Box 4869
Portland, ME 04112
Office: 207 879-7245(TRY-RAIL)
Board of Directors - Officers
Bob Hall, Vice-Chair
Jim Oikle, Treasurer
William Hunt, Secretary
F. Bruce Sleeper, Esq., Treasurer & Counsel
Board Members
Don Briselden, At Large, NH
Janet Brown, At Large, ME
Betsey Buckley, ME
John Carroll, NH
Nicholas Catoggio, MA
Michael Duprey, At Large
Ellen Fogg, ME
Henry Goode, Jr., NH
Robert Hall, NH
William Hunt, NH
Andrew Hyland, ME
Margo Knight, ME
Valarie Lamont, ME
William Lord, ME
James Oikle, ME
Stephen Piper, NH
Robert Rodman, At Large
Paula Boyer Rougny, At Large
Fred Smith, MA
Mary Starr, ME