Our New Vision
TrainRiders Northeast brought the Downeaster to Portland, ME in 2001 and Brunswick ME in 2012. Our New Vision: An across-the-platform Amtrak connection at Boston's North Station, serving Worcester, Springfield, Hartford, New Haven & New York's Penn Station (Moynihan Train Hall). Our continued success depends on your donation. Use our PayPal button to help us reach this goal. Many thanks for your continued support. Wayne Davis, Chairman
NNEPRA Reports Growth in First Half of FY 2014
Details

Created: 24 February 2014

24 February 2014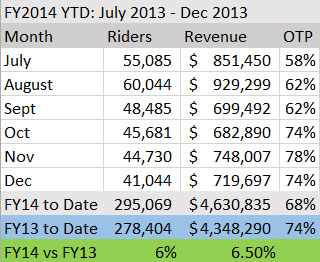 FY 2014 to date (6 months) is doing amazingly well, with a 6% ridership growth as compared to the same period in FY 2013. The spreadsheet shows some 295,069 riders in FY 2014 YTD as compared with 278,404 in FY 2013 YTD. Revenue exceeded the same period in FY 2013 by 6.5%, or $282,545.
Patricia Quinn, Executive Director of NNEPRA, reported that On Time Performance continues to disappoint with an overall 68% record during this reporting period. She explained that "issues impacting OTP are varied, but constrained capacity between Portland and Boston accounted for approximately 45% of all delays, while infrastucture defects (slow orders) accounted for 40% of the delays."
Overall customer satisfaction remained high according to the report, scoring 94 for the Downeaster as compared to 87 for the nationwide Amtrak system. As we've noted in the past, the passengers are well taken care of during delays.
Conversations between the Town of Kennebunk and NNEPRA took place recently to explore the possibility of using the old train depot as a Downeaster stop. Town officials may make a formal request to the board in the near future.
NNEPRA met with the Bicycle Coalition of Maine to discuss how to increase bikers' use of the Downeaster. It was an informational meeting with NNEPRA and Amtrak representatives listening and explaining the logistical issues passenger trains encounter when trying to accomodate bikers. A Northeast Regional Task Force is being assembled to explore this issue in greater depth.