Our New Vision
TrainRiders Northeast brought the Downeaster to Portland, ME in 2001 and Brunswick ME in 2012. Our New Vision: An across the platform, Amtrak connection at Boston's North Station, serving Worcester, Springfield, Hartford, New Haven & New York's Penn Station. Our continued success depends on your donation. Use our PayPal button to help us reach this goal. Many thanks for your continued support. Wayne Davis, Chairman
Wayne Davis Looks Back on the Downeaster's Year-of-Success
Details

Created: 03 January 2018

03 January 2018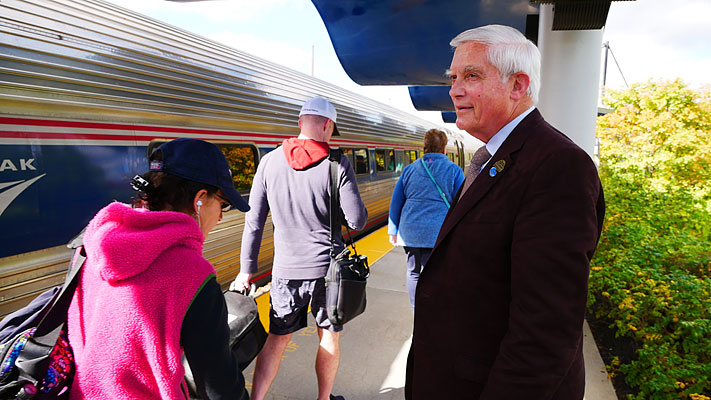 Ah! That time of year again when some of us remember the high points of the past year and yet others are struggling to remember anything positive about 2017. A quick trip through my 2017 appointment book brought to mind a flock of wonderful things that happened for us as rail advocates. (Yes, I still use a pen and ink paper appointment book.)
First on the list comes Amtrak's brand new Brunswick Layover Facility for our Downeaster's equipment storage and maintenance. After servicing Downeaster trains outdoors and digging the cars and engines out of some 6 feet of snow every winter for about 15 years – the Amtrak crew was delighted to finally see the completion of this great facility – the size of two football fields with enough space to hold three complete train sets inside – warm in winter and cool in summer. We rail advocates are excited too that the opening of the facility makes it possible for all five Downeaster daily train tips to originate and terminate in Brunswick later this year – instead of the current three trips.
And then there's the good news that the passenger counts for this past year – are way off the charts with the trains carrying close to 600 thousand passengers annually and continuing to cover more of its cost than any other such Amtrak service all the while continuing to receive some of the highest customer satisfaction scores in the nation. And how about the announcement that NNEPRA was exploring the possibility of beginning weekend service between Brunswick and Rockland for the summer. Shades of the old Maine Central of the early 1900's.
We were also delighted when Amtrak surprised us by bringing back their famous dome car as part of the Downeaster consist during the late summer which generated impressive ridership increases. And finally how about Amtrak sending one of the first examples of their "refurbished fleet" sporting updated restrooms, new wiring, plumbing, LED lighting, new carpets and new grey and white leather seats and new LED reading lights above the seats. By early June – the entire set of Amfleet coaches will have been refurbished.
Now I really started out to simply wish a Happy New Year to our TNE Board of Directors and New Executive Director George O'Keefe, members, friends and the passengers who use our Downeaster service frequently and to also offer a special thank you to the hardworking folks at NNEPRA , led by Patricia Quinn. Their top-notch management coupled with the conscientious and courteous service provided by the Amtrak crews and our TNE volunteer on board Train Hosts and Station Hosts who continue to be among the most important reasons that our Downeaster operates as one of Amtrak's most successful trains.
We've created America's Favorite Train that's just celebrated its 16th Anniversary and we continue to work diligently on our remaining goals, the Lewiston/Auburn and the Augusta service and our Portland to New York, via Worcester and New Haven service so stick with us – there's still much to do and oh – Happy New Year to all.