Our New Vision
TrainRiders Northeast brought the Downeaster to Portland, ME in 2001 and Brunswick ME in 2012. Our New Vision: An across-the-platform Amtrak connection at Boston's North Station, serving Worcester, Springfield, Hartford, New Haven & New York's Penn Station (Moynihan Train Hall). Our continued success depends on your donation. Use our PayPal button to help us reach this goal. Many thanks for your continued support. Wayne Davis, Chairman
NNEPRA February, 2019 Board Meeting
Details

Created: 25 February 2019

25 February 2019
The NNEPRA Board welcomed a new member, recently sworn in DOT Commissioner Bruce Van Note. Commissioner Van Note had previously served on the DOT for 27 years and before being nominated, was Director of Policy and Planning for the Maine Turnpike Authority.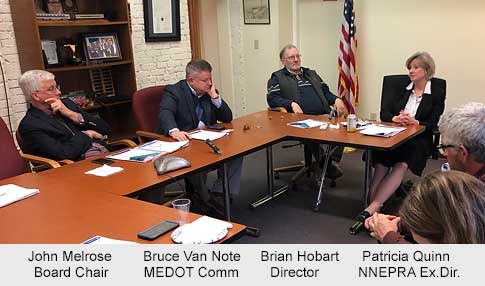 Ridership: The Downeaster Performance Report was discussed. FY 2019 to date (through January) shows a 3% variance in ridership (Target 320,844, Actual 318,689).
Revenue: FY 2019 to date shows a 1% variance (Target: $5,946,191, Actual $5,976,845) Below is the NNEPRA spreadsheet.

]
OnTime Performance: In October of last year, OTP was a miserable 45%. In January of this year, it rose to 84%!
Customer Satisfaction: Overall CSI in December of 2018 showed the Downeaster with a 92 rating and Amtrak overall with at 91.
Rockland Expansion: There was discussion of the still-current proposal to provide weekend summer service to Rockland as a pilot program. More definitive information is expected soon.