Our New Vision
TrainRiders Northeast brought the Downeaster to Portland, ME in 2001 and Brunswick ME in 2012. Our New Vision: An across-the-platform Amtrak connection at Boston's North Station, serving Worcester, Springfield, Hartford, New Haven & New York's Penn Station (Moynihan Train Hall). Our continued success depends on your donation. Use our PayPal button to help us reach this goal. Many thanks for your continued support. Wayne Davis, Chairman
Busy NNEPRA Board Meeting Hears 3rd Qtr Results While Addressing Track Safety Conditions
Details

Created: 05 May 2014

05 May 2014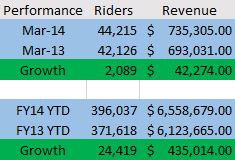 Performance Report:
Ms. Patricia Quinn, NNEPRA Executive Director, presented Downeaster performance statistics for the third quarter of FY2014 - they were all on the plus side (graphic to come). Ridership was up as compared to FY2013 as was revenue. Six percent growth is to be celebrated in this current sluggish economy.
On Time Performance rose to 81.3%, which is an improvement of previous reporting periods.
Slow Orders & Annulments:
The Downeaster is now dealing with an unexpected challenge to ridership/revenue/on-time-performance as significant speed restrictions (27 non-contiguous miles) have been put on the PanAm section of their route from Brunswick to the Massachusetts state line. This is the result of an Amtrak Geometry Car inspection which detailed serious track safety issues attributed to the harsh winter and spring thaw. NNEPRA has now cancelled trains #683 & #686 for the remainder of the week. Ms. Quinn said, "It will likely take several weeks until we get back to where we were." PanAm crews are working to eliminate these 'slow orders' a quickly as possible. TRN Chairmain Wayne Davis along with a TRN board member is quoted in a Portland Press Herald article.
UPDATE: Full service returns on Saturday, May 10th!
Kennebunk Stop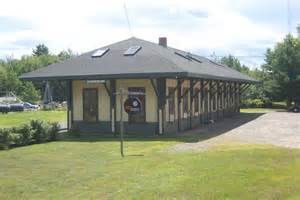 Representatives from Kennebunk, ME, presented their proposal for a platform at the town's existing historic depot so the town could have Downeaster service by the summer of 2015. It would be a seasonal stop and not all trains would stop there. Accordiing to the Town of Kennebunk, "This site is presently the home of Deitz associates (a marketing firm)...through a previous agreement, a portion of the buiding is reserved to serve as a station center. The space indentified is adequate to provide restroom facilities and a space for a ticket machine." Some 21 new parking spaces would be created. The board supports the proposal and gave approval for the planning process to continue.

The Train Hotel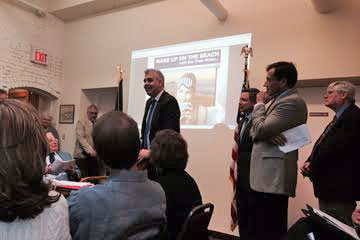 Francois Rebello of the Quebec Hotel Train presented his proposal to run an overnight train from Montreal to Boston, with stops in Maine. It is a private undertaking that would transport travelers in sleeping cars (including a dinning car) on a 12-13 hour journey from Montreal to Portland where it would use PanAm and MBTA tracks to complete its trip to Boston's North Station. The roundtrip fare would be $300. Of particular interest to the Pine Tree advocates is train service to Maine's most popular beach, Old Orchard, as well as providing service to inland Maine towns and cities. The goal would be to start seasonal service in the summer of 2015 if agreements with the right-of-way owners can be reached. In addition, both the Downeaster and MBTA commuter service would have to agree to the specifics of the proposal. The board gave its general support to the concept and encouraged the examination of the many issues facing such a new service.

New Board Member
The Maine Secretary of State swore in Robert W. McEvoy, who is the new board member from West Brunswick.
National Train Day

Brunswick will once again host National Train Day on Saturday, May 10th at their station. It will feature Downeaster train tours, samples of Maine Made products from the Downeaster Café, train exhibits and more.

TrainRiders/NE will be present starting at 10 a.m. and a Downeater train will be open for visits from 1- 3 p.m.

Do join us.