Our New Vision
TrainRiders Northeast brought the Downeaster to Portland, ME in 2001 and Brunswick ME in 2012. Our New Vision: An across-the-platform Amtrak connection at Boston's North Station, serving Worcester, Springfield, Hartford, New Haven & New York's Penn Station (Moynihan Train Hall). Our continued success depends on your donation. Use our PayPal button to help us reach this goal. Many thanks for your continued support. Wayne Davis, Chairman
Railroad Sources Say PanAm RailWays is For Sale
Details

Created: 01 July 2020

01 July 2020
PanAm, on whose tracks the Downeaster runs from Brunswick to the NH/MA line, is up for sale according to several authoritative rail sources. Pan Am has extensive rail holdings in four of the six New England states.
This from the Trains Magazine: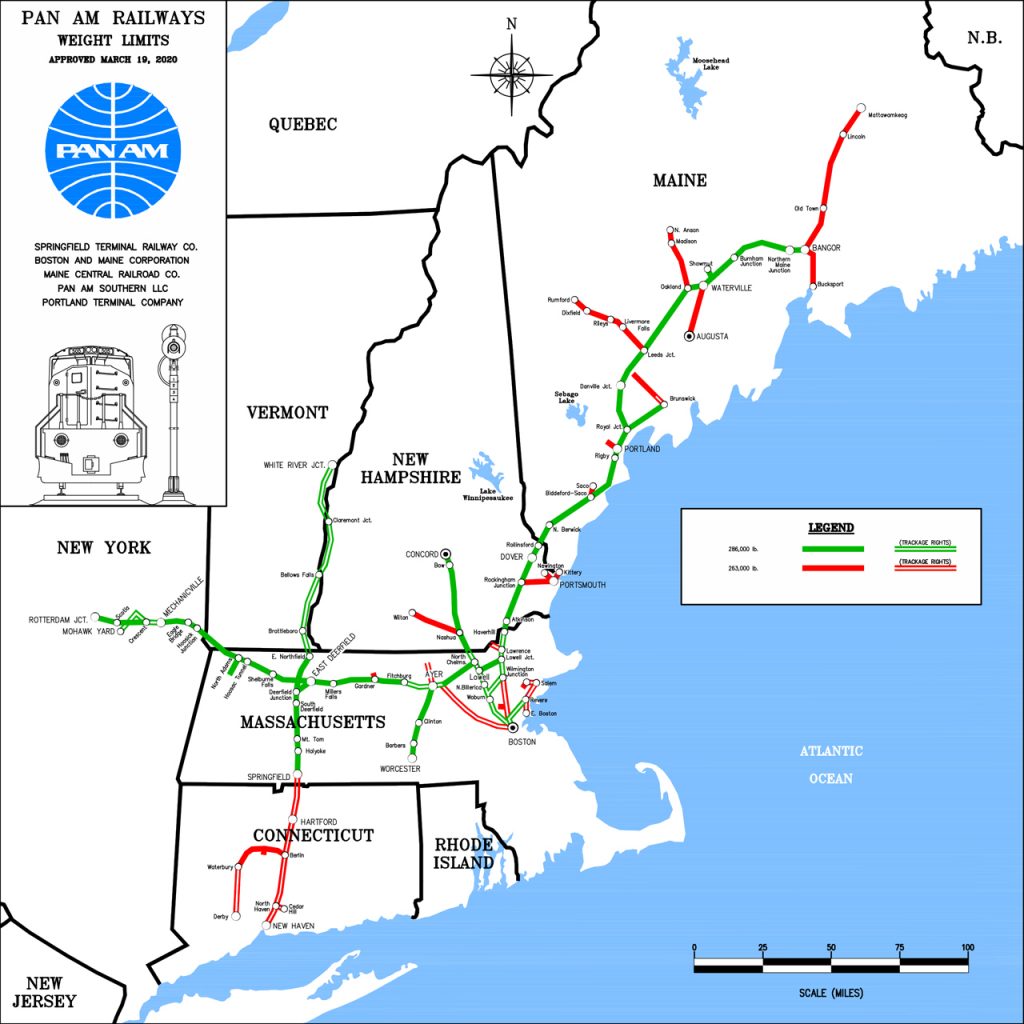 BILLERICA, Mass. — New England regional Pan Am Railways is for sale.
The privately held company, owned by 78-year-old Tim Mellon and other investors, has enlisted BMO Financial Group to assist with a potential sale transaction, according to multiple railroad industry sources.
Pan Am officials did not respond to a request for comment.
Industry observers say there will be considerable competition to buy Pan Am, which operates on 1,700 route miles and is the largest regional railroad in North America.
"I would expect that everyone is going to be interested in it," says independent railroad analyst Anthony B. Hatch.
Before the pandemic, interest in short line and regional railroads had been increasing as financial firms — including global infrastructure funds — joined traditional shortline holding companies in bidding for railroads that have gone on the block. And that has translated into higher valuations for railroads as investors seek long-lasting infrastructure that can offer a combination of stability and growth.
Despite changing traffic patterns in New England, Pan Am has been profitable every year since it was founded in 1981 as Guilford Transportation Industries.
The system stretches from the Albany, N.Y., area to Maine and includes trackage of the former Maine Central, Boston & Maine, Portland Terminal, and Springfield Terminal railroads. A haulage agreement with a trio of Irving short lines — Eastern Maine Railway, Northern Maine Railway, and New Brunswick Southern ± extends Pan Am's reach into northern Maine and Saint John, New Brunswick.
Pan Am and Norfolk Southern in 2008 formed a joint venture called Pan Am Southern that consists of 437 miles of rail lines and trackage-rights routes, including the B&M main line between Mechanicville, N.Y. and Ayer, Mass., that provides NS access to the Boston area via its so-called Patriot Corridor. Pan Am's Springfield Terminal subsidiary operates the Pan Am Southern, which also includes the north-south route Pan Am uses between White River Junction, Vt., and its branches in Connecticut via Springfield, Mass.
In the event of a sale, it's unclear whether a new owner could simply step into Pan Am's shoes in the Pan Am Southern or if NS would buy Pan Am's stake in the joint venture. An NS spokesman declined to comment.
Pan Am connects with three other Class I railroads — CSX Transportation, Canadian National, and Canadian Pacific — and 14 short lines.
Potential acquirers include shortline holding companies such as Genesee & Wyoming, OmniTRAX, and Watco. G&W already has a major presence in New England through its four railroads in the region, which include Pan Am connections New England Central, Providence & Worcester, Saint Lawrence & Atlantic, and Connecticut Southern.
Infrastructure funds could emerge as buyers, as well, Hatch says. Notable deals last year included Brookfield Infrastructure Partners taking G&W private, as well as First State Investments acquiring shortline holding company Patriot Rail & Ports.
Also possible suitors: CN and CP, both of which have said they are interested in buying adjacent short line and regional railroads. CP just completed its acquisition of Central Maine & Quebec, which connects with Pan Am in Maine.
"We know the Canadians are looking to grow by offline acquisitions," Hatch says.
But CN has reportedly passed on the opportunity to bid on Pan Am.
From Wayne Davis: "Though we wish PanAm well, we can only hope that if the railroad is indeed sold that the new management will be as positive about passenger rail as PanAm's current leadership. Trainriders Northeast has had a remarkable relationship with the railroad since our Downeaster began operating. Our successes have been accomplished in large part because of the close working relationship among TNE, AMTRAK and NNEPRA working directly with PanAm's President, David Fink, Jr and his top management."