Our New Vision
TrainRiders Northeast brought the Downeaster to Portland, ME in 2001 and Brunswick ME in 2012. Our New Vision: An across-the-platform Amtrak connection at Boston's North Station, serving Worcester, Springfield, Hartford, New Haven & New York's Penn Station (Moynihan Train Hall). Our continued success depends on your donation. Use our PayPal button to help us reach this goal. Many thanks for your continued support. Wayne Davis, Chairman
NNEPRA Annual Meeting Celebrates FY2018
Details

Created: 30 October 2018

30 October 2018
The NNEPRA Annual Meeting was filled with the sweet smell of success.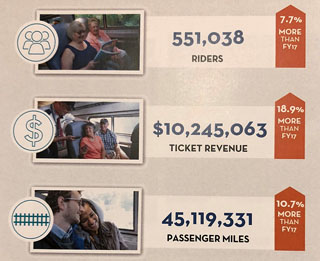 New records were set in FY18 - Ridership (7.7% more than FY17) ticket revenue (18.9% more than FY17) and passenger miles (10.7% more than FY17).
Nine months of FY18 set new ridership records.
The Downeaster maintained one of the highest customer satisfaction ratings in the country in FY18 at 90%.
The Downeaster has transported more than 7.1 million passengers and generated more than $107 million in passenger revenue since the service began on December 14th in 2001.

Executive Director Patricia Quinn announced that after discussions with PanAm, the fifth round-trip to Boston will now originate in Brunswick starting November 12th.
Ms Quinn summarized the good FY18 numbers for TrainRiders/NE.