Our New Vision
TrainRiders Northeast brought the Downeaster to Portland, ME in 2001 and Brunswick ME in 2012. Our New Vision: An across the platform, Amtrak connection at Boston's North Station, serving Worcester, Springfield, Hartford, New Haven & New York's Penn Station. Our continued success depends on your donation. Use our PayPal button to help us reach this goal. Many thanks for your continued support. Wayne Davis, Chairman
NNEPRA May Board Meeting - FY2017 Continues Growth
Details

Created: 22 May 2017

22 May 2017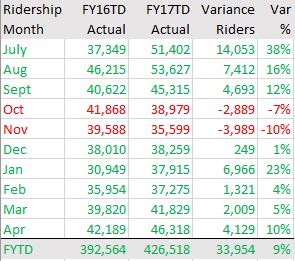 Ridership Report:
Executive Director Patricia Quinn briefed the NNEPRA Board on the Downeaster's Performance.  With one more quarter to go, FY2017 has already eclipsed FY2016 in ridership and revenue. Only two months, October and November, saw a decrease in ridership.
FY2017 is well ahead of FY2016 by 33,954 riders or 9%. 
Revenue:
Revenue in FY2017 to date was $6,425,859 compared to $5,990,533 - an increase of 7%
Brunswick Layover Facility:
From the Performance Report: "During the first full season in the BLF, the Downeaster posted strong ridership gains and our best on-time-performance in five years." Trains did not have to spend the winter months outdoors but were inside the new facility, where 50-degree temperature made ice and snow removal far easier for the appreciative maintenance crews.
New Schedule:
Today, NNEPRA released the new schedule (Old Orchard Beach is back on board). It features flexible late-night departures from North Station, depending on the event.Trains 689 & 699 will depart Boston at 11:25 p.m. on evenings of Red Sox home games and major concerts at TD Garden and Fenway Park. On all other nights, those trains will depart at 10:30 p.m. Here's the new schedule.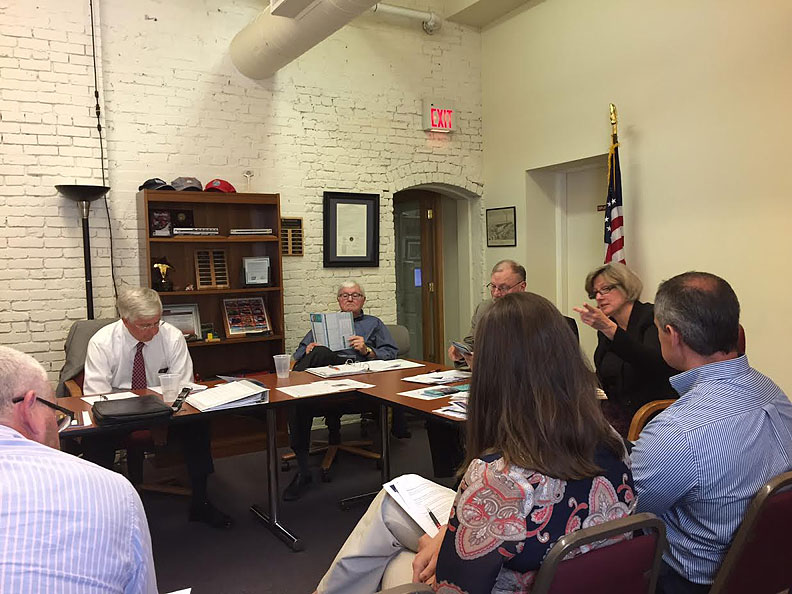 Proposed Fare Increase:
The staff presented a preliminary fare increase proposal. The board and NNEPRA will be prepared to finalize the proposal at the next board meeting and release it for public comment. Details are now available on the NNEPRA website.
NNEPRA Board Changes:
Two long-serving board members were not reappointed by the Governor. We were surprised to learn that Marty Eisenstein and another long-time board member, John Bubier, missed the cut. Attorney Eisenstein served many years as board chairman and was one who worked diligently and cooperatively with the Maine DOT, TrainRiders/NE and the citizen's group All Aboard Brunswick and many others to see that the AMTRAK Layover Facility in Brunswick ultimately met all federal and state environmental requirements. John Bubier, whom we began working with when he was head of the Portland Council of Governments in the 80's, later served as Town Manager of Bath and was most recently Biddeford's Town Manager. John has ably chaired NNEPRA's Operations Committee almost from its inception. Both will be missed by all.
The new chairman is John Melrose who served as DOT Commissioner in Gov. Angus King's administration. Much of today's meeting was devoted to bringing two new board members, Charles Large and Ron McKinnon, up-to-speed on the complexities of funding and managing the Downeaster service.