Our New Vision
TrainRiders Northeast brought the Downeaster to Portland, ME in 2001 and Brunswick ME in 2012. Our New Vision: An across-the-platform Amtrak connection at Boston's North Station, serving Worcester, Springfield, Hartford, New Haven & New York's Penn Station (Moynihan Train Hall). Our continued success depends on your donation. Use our PayPal button to help us reach this goal. Many thanks for your continued support. Wayne Davis, Chairman
UPDATE: NNEPRA Proposes Summer Weekend Rockland Service from May through October!
Details

Created: 24 October 2017

24 October 2017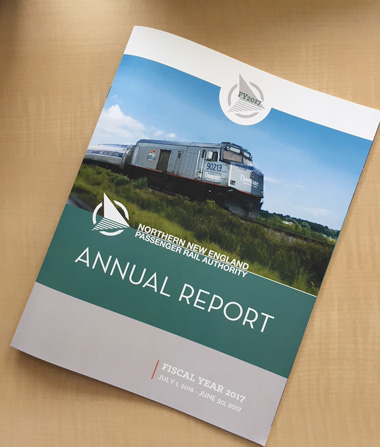 Annual Meetings are always important because the NNEPRA staff summarizes FY2017 Downeaster performance and future goals. The fiscal year ended with 511,422 riders (8% over FY2016), revenue of $8,620,119 (a new record) and passenger miles of 40,742,792 (7% over FY2016)!
One announcement at this year's meeting took many by surprise as proposed Downeaster service to Rockland was unveiled. That means that starting as early as next May, after analysis of the route and public meetings, riders boarding the Downeaster in Boston would be able to add Bath, Wiscasset, Newcastle or Rockland to their weekend tickets. The seasonal service would end in October.
UPDATE: At NNEPRA's November Board Meeting, the board approved the expenditure of funds by Executive Director Patricia Quinn to proceed with route analysis using an Amtrak train/crew as well as utilizing the Geometry Car to determine the quality of the tracks. It is hoped that at the late January board meeting, a decision as to whether to proceed with the proposed service can be made.
There was universal approval of the decision by those present. As one attendee said, "Make it happen!"
We interviewed NNEPRA Chairman John Melrose and TrainRiders/NE Chairman Wayne Davis about the decision.
The Annual Report, which was passed out at the meeting, is filled with interesting statistics and eye-catching graphics. It can be read here.
Interested in commenting? Go to our Facebook page.