Our New Vision
TrainRiders Northeast brought the Downeaster to Portland, ME in 2001 and Brunswick ME in 2012. Our New Vision: An across-the-platform Amtrak connection at Boston's North Station, serving Worcester, Springfield, Hartford, New Haven & New York's Penn Station (Moynihan Train Hall). Our continued success depends on your donation. Use our PayPal button to help us reach this goal. Many thanks for your continued support. Wayne Davis, Chairman
Several Downeaster Stories in the Press
Details

Created: 14 July 2019

14 July 2019
We've recently seen two stories that warrant sharing on our website.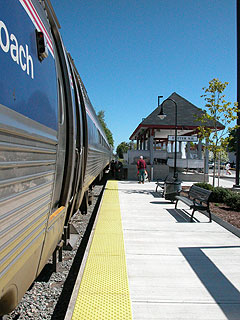 First, a possible stop in West Falmouth has been discussed by Falmouth town councilors and NNEPRA Executive Director Patricia Quinn. Councilors were reported to be eager to explore the addition of a train platform. It would be located adjacent to the West Falmouth Crossing shopping center. The story appeared in the Press Herald. Go here for the details.
Further down the line, the Town of Exeter is considering charging for parking at their train station. It's been free since the Downeaster service began in December of 2001. Needless to say, the proposal has caused considerable concern among many of the passengers. More on this story in SeacoastOnLine.
Both stories are also on our Facebook page, where you're invited to comment.