Our New Vision
TrainRiders Northeast brought the Downeaster to Portland, ME in 2001 and Brunswick ME in 2012. Our New Vision: An across-the-platform Amtrak connection at Boston's North Station, serving Worcester, Springfield, Hartford, New Haven & New York's Penn Station (Moynihan Train Hall). Our continued success depends on your donation. Use our PayPal button to help us reach this goal. Many thanks for your continued support. Wayne Davis, Chairman
30th Annual Meeting of TrainRiders/Northeast
Details

Created: 25 November 2018

25 November 2018
On Friday, December 14th, TrainRiders/NE celebrated its 30th year of grassroots advocacy on behalf of passenger rail in the Northeast. Our pride and joy, the Amtrak Downeaster, marked its 17th year of serving Maine, New Hampshire and Massachusetts.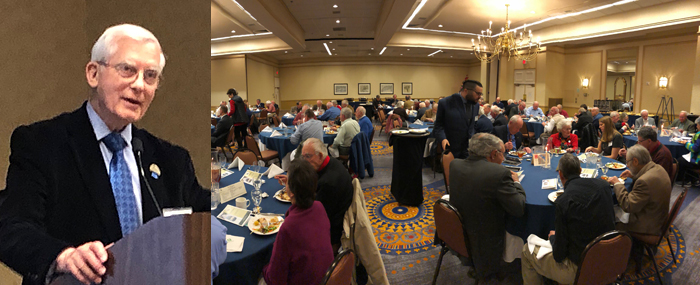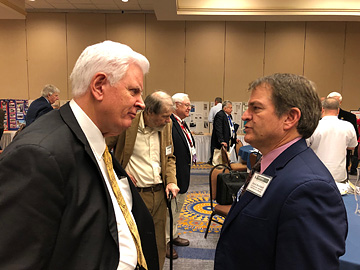 Our Keynote Speaker was Eugene (Gene) Skoropowski, Senior Passenger Rail Consultant, TY Lin International, whose 40 years of railroading experience brought Florida's privately-funded passenger rail service to fruition.
Gene congratulated TRNE's Wayne Davis for his dogged pursuit of passenger rail in the Northeast and congratulated NNEPRA's Patricia Quinn for being selected by Railway Age as one of railroading's leading women in 2018. It was also a time for leaders in the industry to catch up on important issues as witnessed by an earnest conversation between Gene and Maine DOT Commissioner David Bernhardt. \
Commissioner Bernhardt gave an impressive overview of Maine's expanding commitment to improving freight rail service in Northern Maine.
NNEPRA Executive Director Patricia Quinn provided us with the Downeaster's record-breaking numbers in Fiscal Year 2018. She mentioned her continued interest in expanding Downeaster service beyond Brunswick to Rockland and listed service to New York City as another opportunity under review. The NYC proposal was brought to the NNEPRA board by Wayne Davis. It's always a delight to see Patricia and her devoted staff celebrate the Downeaster's accomplishments.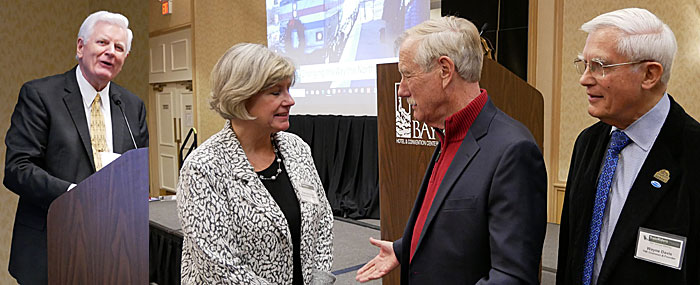 We were honored to have Senator Angus King drop by our meeting. He and Representative Chellie Pingree (on video) congratulated Wayne Davis and Patricia Quinn on their extraordinarily successful partnership.
This year's video presentation examined three areas: the success of the Dome Car and its uncertain future; the various projects NNEPRA and PanAm are pursuing; and the unique Tax Rebate Program for senior volunteers at the Saco Train Station. This can be a template for the staffing of Amtrak stations in other small towns and cities.
Mariah Morales, of Amtrak's Government Affairs team, briefed us on Amtrak's relationships with coalitions, trade associations and advocacy groups.
PanAm Railways Vice President Cynthia Scarano commented on the excellent relationship between the freight railroad and NNEPRA.
In conclusion, Wayne noted that much had been accomplished, but more opportunities lie ahead.