Our New Vision
TrainRiders Northeast brought the Downeaster to Portland, ME in 2001 and Brunswick ME in 2012. Our New Vision: An across-the-platform Amtrak connection at Boston's North Station, serving Worcester, Springfield, Hartford, New Haven & New York's Penn Station (Moynihan Train Hall). Our continued success depends on your donation. Use our PayPal button to help us reach this goal. Many thanks for your continued support. Wayne Davis, Chairman
Amtrak Ditches Dining Car Service on Some Long-Distance Trains
Details

Created: 20 September 2019

20 September 2019
From Wayne Davis, Chairman, TrainRiders/NE
The most recent release from Amtrak titled "What's new, Amtrak? Rail service pledges improved dining, sleeping experience."
Improved???? I don't think so. One of the "improvements" starts off with "If you like traveling long distance via train but don't want to actually meet other people while doing it, Amtrak has a new option for you" Starting next month, Amtrak will add flexible dining options on four of its routes allowing passengers to take their dinners into their private rooms or have an attendant bring I to them" Improvement? New?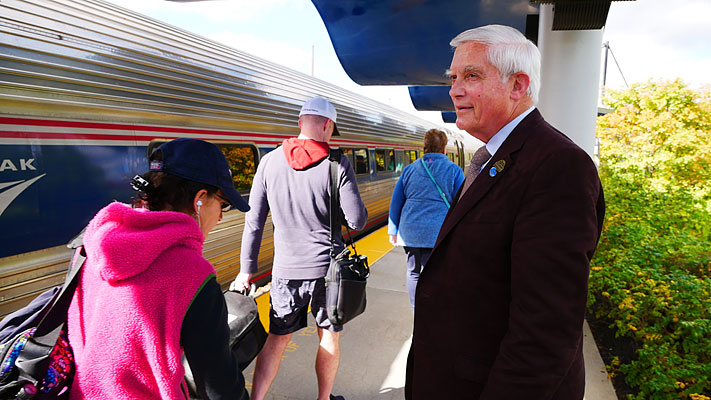 For the benefit of the new Amtrak folks – as a sleeping car passenger on countless Amtrak sleeping cars for the past 30 years, I've always had the option to have my meal brought to my room or walk to the diner and join with fellow passengers. The American way.
I also think it's an insult to the millennials to suggest that most of "the younger generation of travelers don't want to eat with strangers". Please, look around the next time you're at the food court in the mall.
It also appears from the article that a great deal of time and money has gone into designing meals more like the early "TV dinners" or early packaged airline food,
I somehow find it hard to believe that younger folks would be adverse to custom broiled steak, roasted chicken, poached salmon, grilled catfish or shortribs or spaghetti and meatballs served with appropriate accompaniments like baked potato, or rice and string beans or peas or carrots along with the sauces and gravies and warm rolls and butter all served on china and glass with silverware.

For Breakfast – look for something like an egg McMuffin – gone are the grits, fresh eggs (or egg substitute) bacon or sausage, and biscuits with jam & Jelly or muffin. All served with coffee and a variety of juices in glasses all served on glass and china.
No – I don't think anything in the "new" Amtrak service is very new or improved. And all of us a bit over 20 years old should not be considered "the older generation" We're all really only passengers seeking a comfortable means of transportation where civility reigns with traditional meals for everyone – because everyone is not attracted to the "…grab and go…" or the food court at the mall concept that the New Amtrak folks seem to be promoting.
Wayne David, TrainRiders/NE Chairman


Comments from Board Members & Friends
"Sure glad I'm paying over $500 more for my Florida trip this time ($2800 R-T for three of us). I don't know how reducing the lunch/dinner meal choice down to 4 prepackaged entrees is an upgrade. This is just the next step in Amtrak's shooting themselves in the foot. After 21 years of annual trips to FL, I'm seriously considering this to be my last by train." Steve Piper - TrainRiders/NE Board Member
_____________________________________________________________________

"Amtrak's misguided leadership continues to degrade its service and commitment to passengers. The decision to replace fine dining with fast food is a typical example of their poor leadership. Another example which had an effect on our wonderful Downeaster is the scrapping of the beloved Dome Car. It appears that Amtrak leadership is working very hard to eliminate the joy of train travel." Nick Catoggio - TrainRiders/NE Board Member
____________________________________________________________________

"Simply put: The "allure" of airline-style food service is not a reason people ride medium to long distance trains. A freshly-made breakfast, lunch or dinner in the diner and the "table camaraderie" of new friends and good conversation has always been what sets train travel apart. Amtrak's current CEO, a former airline executive, doesn't get that." All Aboard Ohio
____________________________________________________________________

"We have ridden a fair number of routes- the Coastal Starlight, Pacific Surfliner, Southwest Chief, Capitol Ltd, Empire Builder, Lakeshore Ltd, Montrealer (now called the Adirondack), Desert Wind, California Zephyr, often the NE Regional. One of the true joys was a lovely meal while meeting people from all over. They are killing the trains, bit by bit. A once-mighty system, one that would give the cattle-car airlines more than a run for their money. We cannot be the only people who would rather ride the rails than fly, and certainly drive." Janet Ward - TrainRiders/NE Board Member
_______________________________________________________________________

"The role of our AMTRAK long distance trains is not simply to move people from point A to point B (although they do that) but to provide a true experience of America by providing sleeper service on those long distance routes and, importantly, to provide good American meals - real meals created in the Dining Car and not prepared meals in a box from who knows where - both as part of the overall train travel experience and, very importantly, as part of the social experience as we meet and mingle with fellow Americans from all over and with visitors to our country as well. If we can't do this, how much of a country are we? Are we a country to be proud of, or are we a nation in decline? Let's make America great again by bringing back REAL MEALS on REAL TRAINS! Trains to all of our wonderful regions from sea to shining sea!" John E. Carroll - TrainRiders/NE Board Member
____________________________________________________________________

"I just returned from a trip on the Lake Shore Limited, Boston to Chicago and back. 1st of all the box lunches were not tasty or appetizing. The part of the trip was missing the comrade with other passengers in the dining car. In the past, I was able to meet lots of nice people from different parts of the country.. instead, I sat alone in the newly refurbished dining car eating a box lunch, that I had to walk up to the window and order. We must do all we can to help get back the dining car experience." Bob Rodman, TrainRiders/NE Board Member
_______________________________________________________________________

"The excitement of the journey traveling on Amtrak's long distance trains has dwindled dramatically and will I believe continue to do so as the last of the parlor and Dome cars no longer exist on Amtrak even dining cars on some long distance trains have been eliminated. It appears to me that Amtrak's mission is to starve the long distance trains and focus on the NEC. Unfortunately there doesn't seem to be any political will to help the situation either. Wouldn't it be nice if on May1,2021( Amtrak's 50th anniversary) train advocates have a nationwide rally pushing to upgrade rather than downgrade Amtrak's long distance train travel?" Fred Smith, TrainRiders/NE Board Member
_____________________________________________________________________

"Thank you Wayne. It used to be we had to fight people trying to destroy Amtrak from the outside through uninformed policymakers and politicians or those simply bribed by other interests. You of all people know how much this same crowd tried to stymie expansion like the stunningly successful Downeaster. Now we have officers of the Amtrak board appointed to carry out the same destructive mission from the inside and employing insultingly deceptive euphemisms, skewed cost/benefit data and failing entirely to fight for the company of which they are officers! Keep up fine contributions like this article. Amtrak does not need to "bring back" passengers. They never left. They were abandoned like their routes and stations were through previous slash and burn efforts to "save" the system." James Churchill
_____________________________________________________________________

"I am saddened to hear that Amtrak is reducing the level of service on cross-country train trips. The ability to travel across the country by train affords passengers a completely different view of our beautiful country. I do not understand why Amtrak would reduce the food service to prepackaged food boxes- it is not good business and I worry that ultimately, less people will travel by train. Trains are part of our amazing history and a part of our future – please keep the dining cars so that train travel can continue to be an option for travelers around the country." Mary Starr, TrainRiders/NE Board Member
_______________________________________________________________________

"My husband and I have enjoyed the Dining Car Service on our rail trips. As a Travel Agent, specializing in rail travel, it is one of the features that helps sell!! Dori Kimbell
_______________________________________________________________________

"And, by the way, the loss of dining car service on the eastern routes will save Amtrak a grand total of $2 million a year, with food costs increasing, while labor costs decrease."
F. Bruce Sleeper, TrainRiders/NE Counsel See https://www.eater.com/2019/9/23/20879839/amtrak-dining-car-end
Webmaster note: There is a petition on change.org worthy of your signature. It's currently near 10,000 signatures. Go here: Tell Amtrak We Want Dining Car Service To Remain on All Long-Distance Trains.
Also, Rail Passengers Association has released a statement.