Our New Vision
TrainRiders Northeast brought the Downeaster to Portland, ME in 2001 and Brunswick ME in 2012. Our New Vision: An across the platform, Amtrak connection at Boston's North Station, serving Worcester, Springfield, Hartford, New Haven & New York's Penn Station. Our continued success depends on your donation. Use our PayPal button to help us reach this goal. Many thanks for your continued support. Wayne Davis, Chairman
TrainRiders/NE's Annual Meeting to be Held at 2p on March 25th - VIRTUALLY!!! Register now.
Details

Created: 01 March 2021

01 March 2021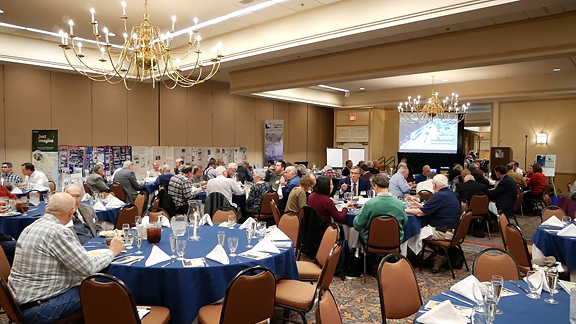 Remember when we gathered together for our Annual Meetings - more than a hundred of us in a Portland hotel ballroom, lunching and listening to our guest speakers. Well, Covid-19 has changed the rules. However, we will not be deterred!
On March 25th at 2 p.m. our 33rd Annual Meeting will be called to order, virtually. You, our members and friends, will be invited to attend via a Zoom webinar. You'll hear the exciting details of our proposal for a simplified trip from the Downeaster stations to New York City's revitalized Penn Station in New York City. At North Station, you would cross the platform to an awaiting Amtrak Regional train thus eliminating the challenging and time-consuming subway commute to South Station (or the costly taxi ride). And of course, the trip to Maine, New Hampshire & Massachusetts from the Big Apple would be equally accommodating.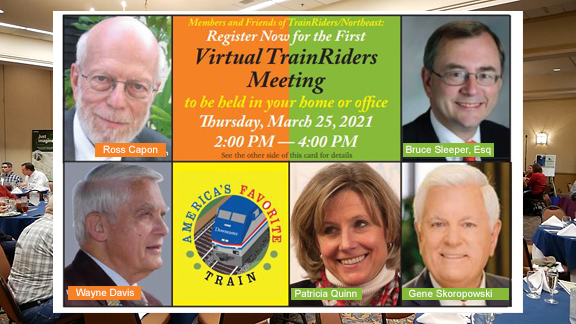 You'll also hear and see our guest presenters and be able to ask them questions, using the chat function. Patricia Quinn is Executive Director of NNEPRA, Ross Capon is President Emeritus of Rail Passengers Association (NARP), Eugene Skoropowski is best known for his Florida Brightline passenger rail accomplishment, Bruce Sleeper is TRN's counsel and Wayne Davis, our chairman, whose vision brought the Downeaster to ME, NH & MA.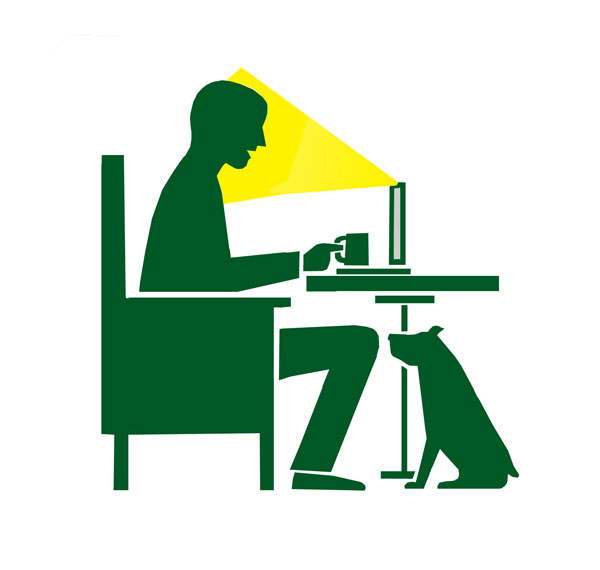 ACT NOW! No matter where you are or what device you're using, you can register now for the meeting at no cost. Simply fill in the form, click on 'Register' and you'll receive a confirmation page with a link that will give you access to our meeting. You need not wait to register for the day of the meeting. To begin the process, click on this link.
Maine DOT Supports NNEPRA Goal to Relocate Portland Station to the Mainline
Details

Created: 23 February 2021

23 February 2021
At this month's NNEPRA Board Meeting, Executive Director Patricia Quinn announced that the Maine DOT was on board with the rail authority's goal of moving the Portland passenger station from its current location to a new facility on the mainline. Such a move would eliminate backing out of the Portland Transportation Center in order to maintain service to and from Freeport/Brunswick. Ms. Quinn figures that one-mile detour' costs the Downeaster at least two hours of unnecessary travel each day - that's 14 hours a week!!!
The DOT has pledged up to $2 million for a feasibility study which is expected to take two years. More on this topic can be viewed at Maine Public.
In other news from the meeting:
Ticket-generated income since July (beginning of the fiscal year) was $1,047,133 with 46,136 passengers. Ms. Quinn noted that ridership to date is but 15% of the normal passenger load but it is growing, albeit at a slow pace. However, ridership at the Haverhill station has picked up because the MBTA has suspended weekend service there.


NNEPRA is planning to return the 5th roundtrip by Memorial Day if Covid-19 restrictions for Interstate travel are relaxed. Assuming that the Red Sox return to Fenway Park, night games will once again see a later northbound train departure.


Cash is now accepted for Downeaster travel at the Portland Transportation Center and onboard.



Bicycles are now able to 'roll on' to all trains at all stations - one per coach.
Rail Passengers Association Webinar Features Chairman Wayne Davis
Details

Created: 29 January 2021

29 January 2021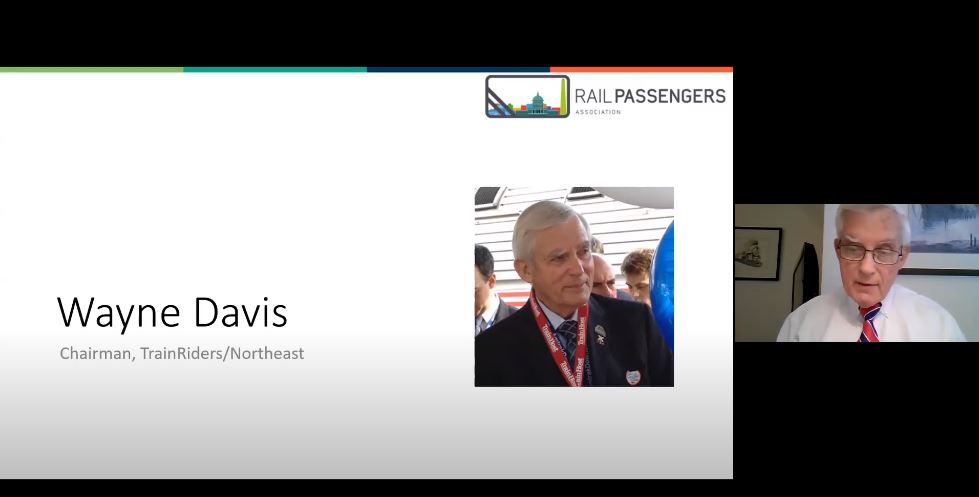 The Rail Passengers Association, formerly the National Association of Railroad Passengers, held a webinar this week for its members. The topic was state-sponsored Amtrak service.
Chairman Wayne Davis of TrainRiders/NE was one of several presenters who shared not only the projects they were focused on but, in Wayne's case, how an effective grassroots effort galvanized a state legislature to push for the return of Amtrak service to Maine. The Downeaster service from Maine through New Hampshire to Boston was the result. Wayne shared the video we shot on board the Downeaster during the pandemic, demonstrating the safety measures in place and discovering the various reasons passengers were traveling.
You can view Wayne's remarks beginning at 8:46 into the video. Later, he returned to share with the group advice that then Gov. Angus King provided which led to the creation of the Northern New England Passenger Rail Authority.
The Downeaster Celebrates it's 19th Birthday!
Details

Created: 15 December 2020

15 December 2020
Congratulations to our favorite train and its fabulous managerial staffs at Amtrak and NNEPRA!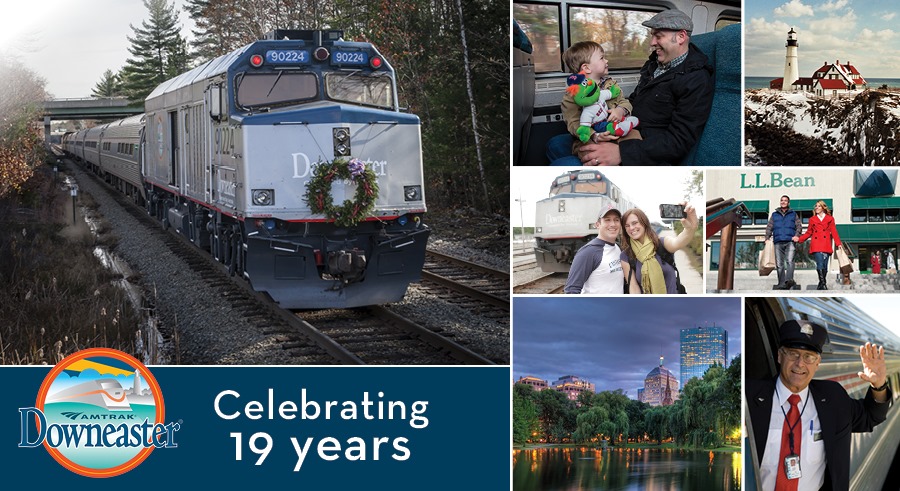 Back in 1989, Wayne Davis led a group of 21 Maine/NH citizens that created our grassroots non-profit. They organized a citizen's petition that urged the legislature to support passenger rail in Maine. It took 12 years of constant work with government officials in Maine and ultimately with Amtrak and the US Congress to get 'America's Favorite Train' on the tracks. Our history of accomplishment, which brought the Downeaster to northern New England, continues today with plans to extend connecting service to New York City.
From Wayne Davis: "I'm reminded of that exciting moment 19 years ago today when the dreams of 21 citizens, backed by nearly 90,000 Maine taxpayers made our Downeaster service possible. Since then "America's Favorite Train" has carried nearly 8 Million passengers and despite covid19's temporary setback, TNE hopes the train will again be carrying 2,000 passengers a day."
CSX to Acquire PanAm's New England Rail Network
Details

Created: 01 December 2020

01 December 2020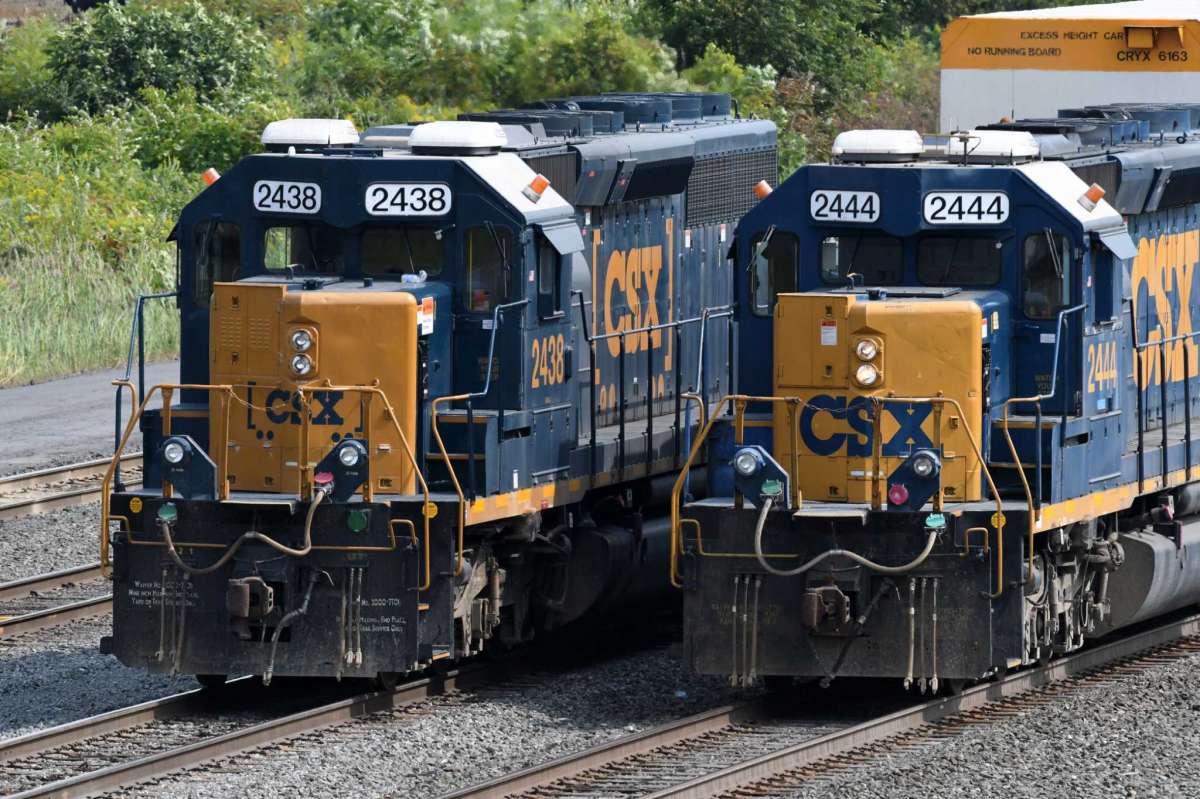 The Amtrak Downeaster will soon have a new host railroad - CSX. The freight railroad has agreed to acquire Pan Am Railways' northern New England network for an estimated $700 million. The details of the agreement, which are not yet public, will be reviewed by the U.S. Surface Transportation Board.
NNEPRA Executive Director Patricia Quinn told TrainRidersNE: "We have enjoyed a long and productive working relationship with Pan Am Railways which we look forward to continuing with this new partner, in a new era, filled with opportunity."
Pan Am President David A. Fink said this about the upcoming merger, "Pan Am is pleased to reach this agreement with CSX, a North American leader in rail-based freight transportation. This is great news for New England shippers and the national freight network overall."
A full article from Trains Magazine.