Our New Vision
TrainRiders Northeast brought the Downeaster to Portland, ME in 2001 and Brunswick ME in 2012. Our New Vision: An across-the-platform Amtrak connection at Boston's North Station, serving Worcester, Springfield, Hartford, New Haven & New York's Penn Station (Moynihan Train Hall). Our continued success depends on your donation. Use our PayPal button to help us reach this goal. Many thanks for your continued support. Wayne Davis, Chairman
Amtrak to Cut Many Long Distance Trains
Details

Created: 19 June 2020

19 June 2020
Amtrak Executive Vice President and Chief Marketing and Revenue Officer Roger Harris, in a June 15 letter to employees, announced that Amtrak nationally will cut many long-distance trains as a result of a significant loss in ridership due to the coronavirus. He notes that some services have seen a 95% drop in passengers.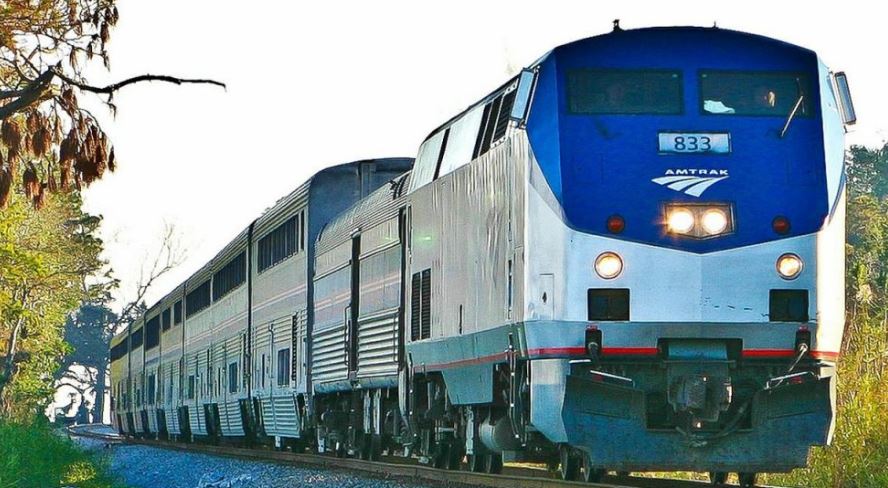 But Railway Age asks if some of the services will be permanently eliminated and the national system destroyed. Amtrak to Cut Many Long Distance Trains
Downeaster Service to Resume June 15th with One Roundtrip
Details

Created: 10 June 2020

10 June 2020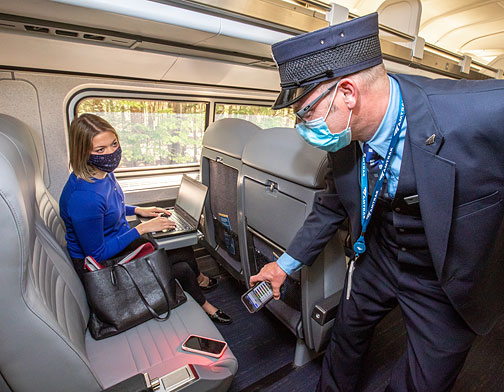 NNEPRA has announced that Phase 1 of the restoration of Downeaster service between Brunswick and Boston will get underway on Monday, June 15th with trains #680 & #685.
NNEPRA states that the purpose of the service is to "provide commuting options for essential workers and those who are traveling for essential purposes."
Enhanced Health and Safety Protocols will be implemented, which include:
Read more: Downeaster Service to Resume June 15th with One Roundtrip
NNEPRA Operations Meeting Briefs on Downeaster's Preparations For Return to Service
Details

Created: 08 May 2020

08 May 2020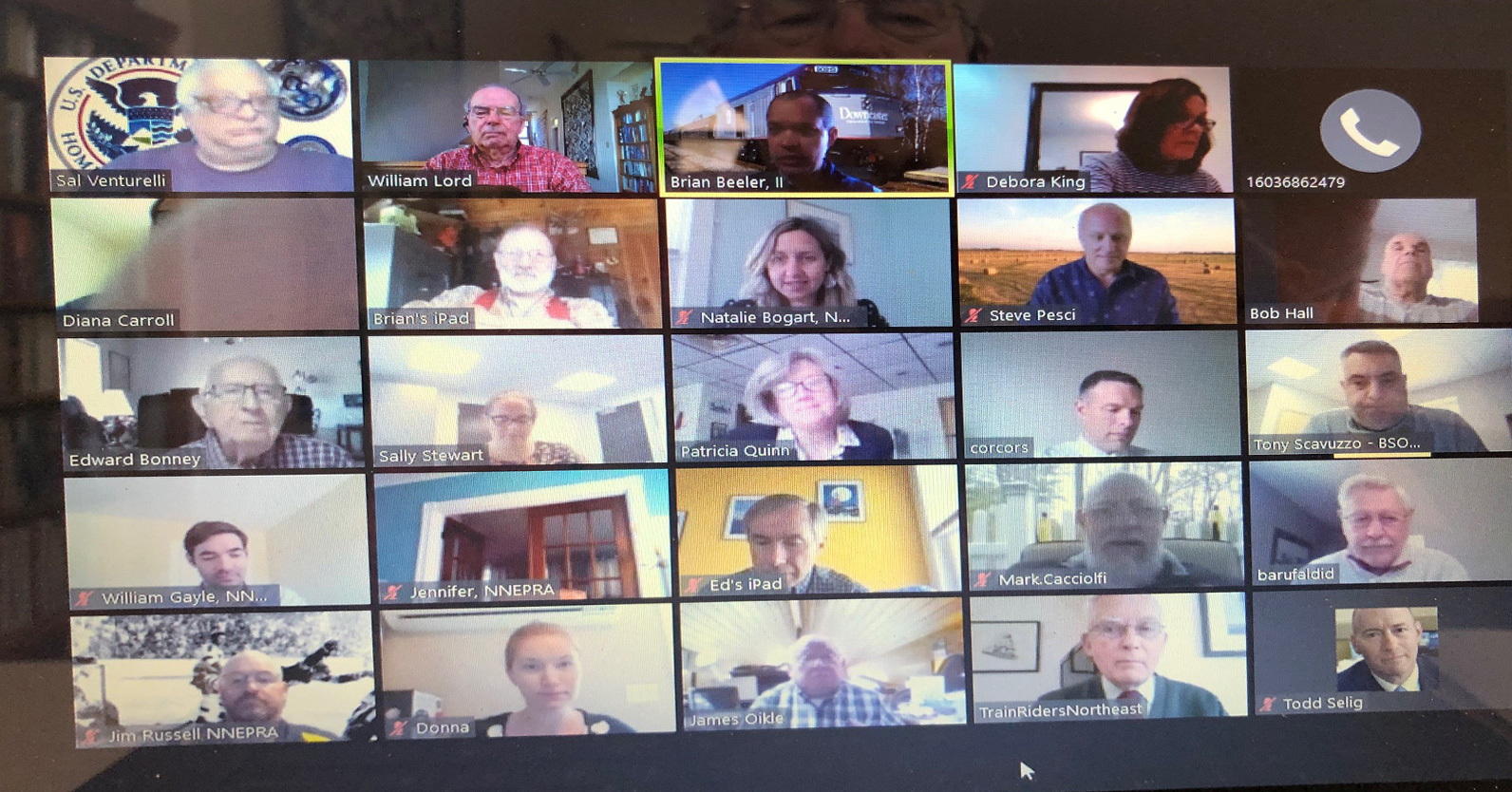 NNEPRA conducts a bi-monthly Operations Committee Meeting for station representatives along the route, town managers, Amtrak management, Homeland Security and other interested parties. Today's virtual meeting saw some 30 participants sign-on from their homes, cars and offices.


NNEPRA Executive Director Patricia Quinn briefed all on the rail authority's activities during the current shutdown and what lies ahead for the Downeaster service.

The Downeaster had seen record ridership/revenue numbers for the first 7 months of FY2020. All data pointed to record ridership approaching 590,000...until the virus brought the service to a halt.
During this hiatus, NNEPRA has been working with PanAm to accelerated specific track maintenance projects - in particular, tie replacement work between Plastow and Dover. This was scheduled for the fall, it will now begin this spring while train traffic is relatively low (PanAm freights are still running).
NNEPRA has created a Service Restoration & Recovery Plan (dependent on federal and state requirements).


All trains will be deep-cleaned at the end of each day in the Brunswick Layover Facility. Amtrak will use a particularly strong disinfectant to kill any viruses onboard the train.
All Amtrak personnel will wear masks.
All riders will wear masks. Once at your seat, the mask can be removed.
Social distancing will require that ridership be limited to half the normal passenger load (approx. 150 per trainset).
Service will be resumed in three stages:
1-Travel restricted - essential workers only
2-Travel allowed
3-Travel encouraged
New signage summarizing the 'new reality' will be placed at all stations.
The restoration of service will likely begin with one roundtrip/day and then slowly increase over time.

All participants congratulated Patricia and her staff for 'keeping the dream alive' during this difficult period.
Amtrak Downeaster Service Temporarily Suspended Through May 31st
Details

Created: 30 April 2020

30 April 2020
From NNEPRA:
Amtrak Downeaster service is temporarily suspended due to COVID-19 and associated travel-related restrictions. The suspension will remain in effect through at least May 31, 2020. Please check back for updates.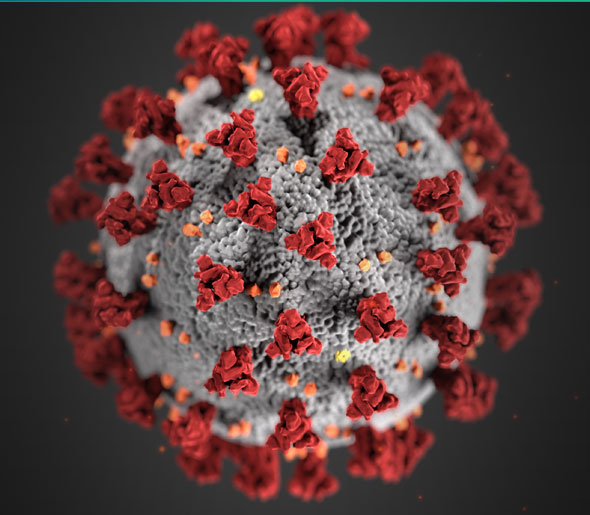 We are working closely with our station community partners and Amtrak to protect the health and safety of our passengers and crews when service returns.
Train equipment used in Downeaster service has been sanitized, and Amtrak has implemented enhanced cleaning protocols to ensure that the equipment will be disinfected daily once Downeaster service resumes.

Although Downeaster stations in Maine and NH are currently closed, stations are being equipped with information and resources consistent with social and physical distancing guidelines set forth by the CDC prior to re-opening. During this closure, stations are being thoroughly cleaned in preparation for reopening.

When service returns, the number of passengers per coach will be limited to support the social and physical distancing guidelines set forth by the CDC.

We are using this time of suspended service to complete various track projects. Many had been scheduled later in the year and would have required service interruptions. By getting them done now, it will enable us to operate an even more reliable service when we return.
Ticket Refunds & Cancellations
Amtrak is waiving change fees for reservations made before May 31, 2020. To modify a reservation, log in to your account, go to 'Modify Trip' on Amtrak.com, or find your reservation from your account on the home screen in the Amtrak app. A fare difference may apply to your new itinerary. If you want to cancel your reservation with no fee, you must call 1-800-USA-RAIL and speak with an agent (not available via Amtrak.com or the app).
For more information visit: https://www.amtrak.com/coronavirus
John Middleton Passes Away
Details

Created: 28 March 2020

28 March 2020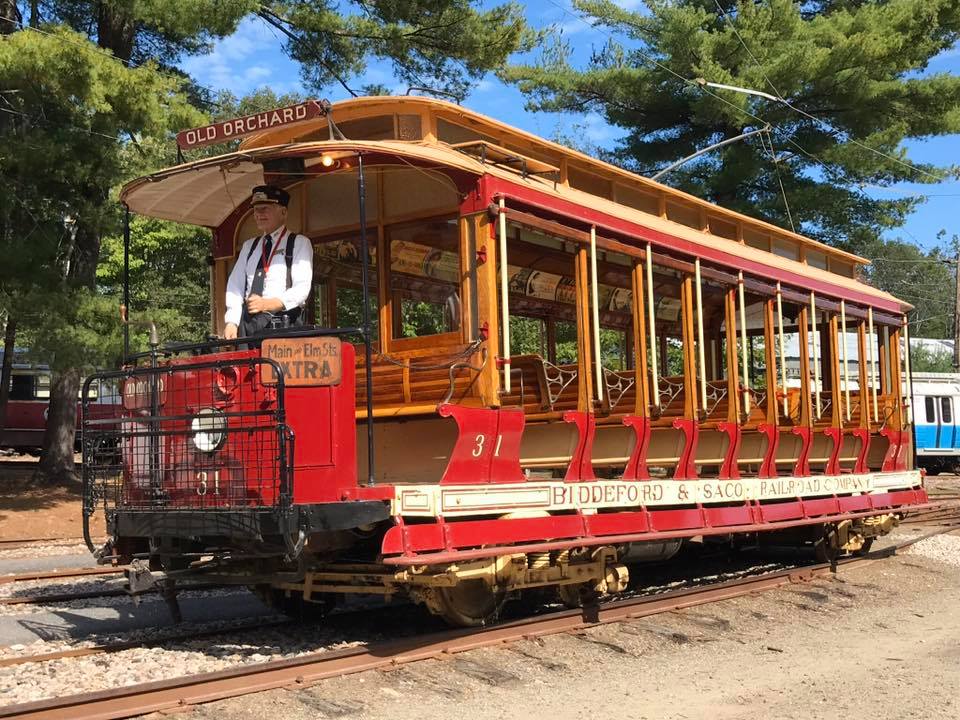 John Middleton, a long-serving and dedicated member of TrainRiders/NE, passed away on March 21st. John was 95. John was an exemplary Train Host as well as the manager of our membership list. He was also on the board of the Trolley Musem in Kennebunkport, The picture, from the museum, captures his passion for rail transportation.
John's son, David, provided the following obituary.