Our New Vision
TrainRiders Northeast brought the Downeaster to Portland, ME in 2001 and Brunswick ME in 2012. Our New Vision: An across-the-platform Amtrak connection at Boston's North Station, serving Worcester, Springfield, Hartford, New Haven & New York's Penn Station (Moynihan Train Hall). Our continued success depends on your donation. Use our PayPal button to help us reach this goal. Many thanks for your continued support. Wayne Davis, Chairman
Bikes Ride the Downeaster
Details

Created: 17 September 2020

17 September 2020
It's been a long effort on the part of bikers, environmentalists, NNEPRA and Amtrak itself, but bikers can now bring their 'vehicles' onboard the Downeaster at any station stop.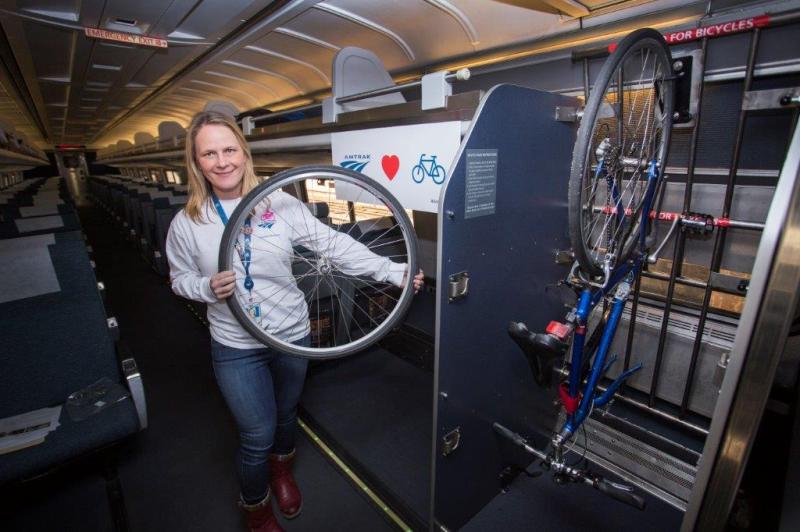 Before this, one could only bring a bike aboard at Brunswick, Portland, Woburn and Boston - a long platform was needed.
There are some limitations and an additional cost, but what an improvement!
Here are the details from Amtrak.
The Downeaster Receives Covid-19 Funding
Details

Created: 15 September 2020

15 September 2020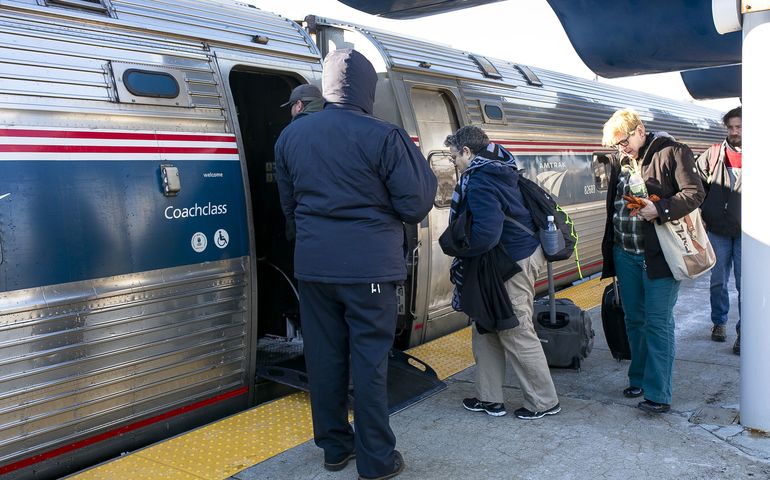 $2.1 million in federal funding arrived from Washington to "cover operating and preventative maintenance expenses during the pandemic."
Senator Collins, R-ME, made the announcement stating, "This critical investment will allow the Downeaster to make important improvements to its rail line in Maine, enhancing safety, efficiency, and reliability for the hundreds of thousands of passengers who use this service each year."
The Downeaster is running four round trips to Boston from Brunswick. Covid-19 protocols include the wearing of masks, social distancing when possible and extensive cleaning of the coaches by the Downeaster maintenance personnel.
The full article can be read at MaineBiz.com.
John Middleton Honored at Seacoast Trolley Museum
Details

Created: 01 September 2020

01 September 2020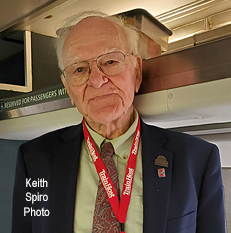 John Middleton's life of dedicated volunteer service was honored this past weekend at the Seashore Trolley Museum in Kennebunkport, Maine.
He was on the board of the museum and also a Train Host for TrainRiders/NE and in charge of our membership list.
Wherever John served, he did it with enthusiasm and grace.
Several of our board members and Train Hosts were present as well as dozens of museum members.
The museum is a great place to visit, ride a heritage trolley and roam around their store.
Read more: John Middleton Honored at Seacoast Trolley Museum
Amtrak Downeaster Adds More Train Service Beginning July 20!
Details

Created: 14 July 2020

14 July 2020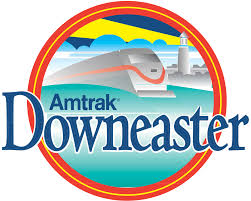 PORTLAND, MAINE – The Northern New England Passenger Rail Authority (NNEPRA) announced today that the Amtrak Downeaster will begin operating four round-trip trains between Brunswick, ME and Boston, MA every day beginning on Monday, July 20, 2020 as it enters Phase 2 of service restoration.
Other Phase 2 service elements include the availability of onboard food service and the re-opening of some Downeaster station facilities. Visit AmtrakDowneaster.com for a complete schedule and service information.
Several protocols and procedures have been implemented to protect the health and safety of passengers and crews, including:
Trains will be sanitized and disinfected daily with enhanced cleaning between trips.

Face coverings are required for crews and passengers on board trains and in stations.

The number of riders is limited to no more than 50% of available seating capacity to support physical distancing guidelines.

Amtrak eTicketing allows for touchless tickets collection; cash sales are not accepted.

Enhanced cleaning, training and social distancing protocols have been implemented at the Downeaster Café, including installation of plexiglass partitions at the service counter and a pilot program for at-seat service. The Café table seating area will remain closed.

Enhanced cleaning, training and social distancing protocols have been implemented at Downeaster station facilities.

Read more: Amtrak Downeaster Adds More Train Service Beginning July 20!
NNEPRA Expects Phase II of Resumption of Service Before the End Of July
Details

Created: 01 July 2020

01 July 2020
At today's Operations Meeting, Executive Director Patricia Quinn said she expects three more roundtrips will be added to the Downeaster's schedule between Brunswick and Boston in the latter part of this month. The NNEPRA Board, which does not normally meet in July, will gather on July 15th to decide how best to proceed.
The determining factor will be the progress of the tie job between Exeter and the NH/MA line as Ms. Quinn wants to make sure that the additional service will perform well.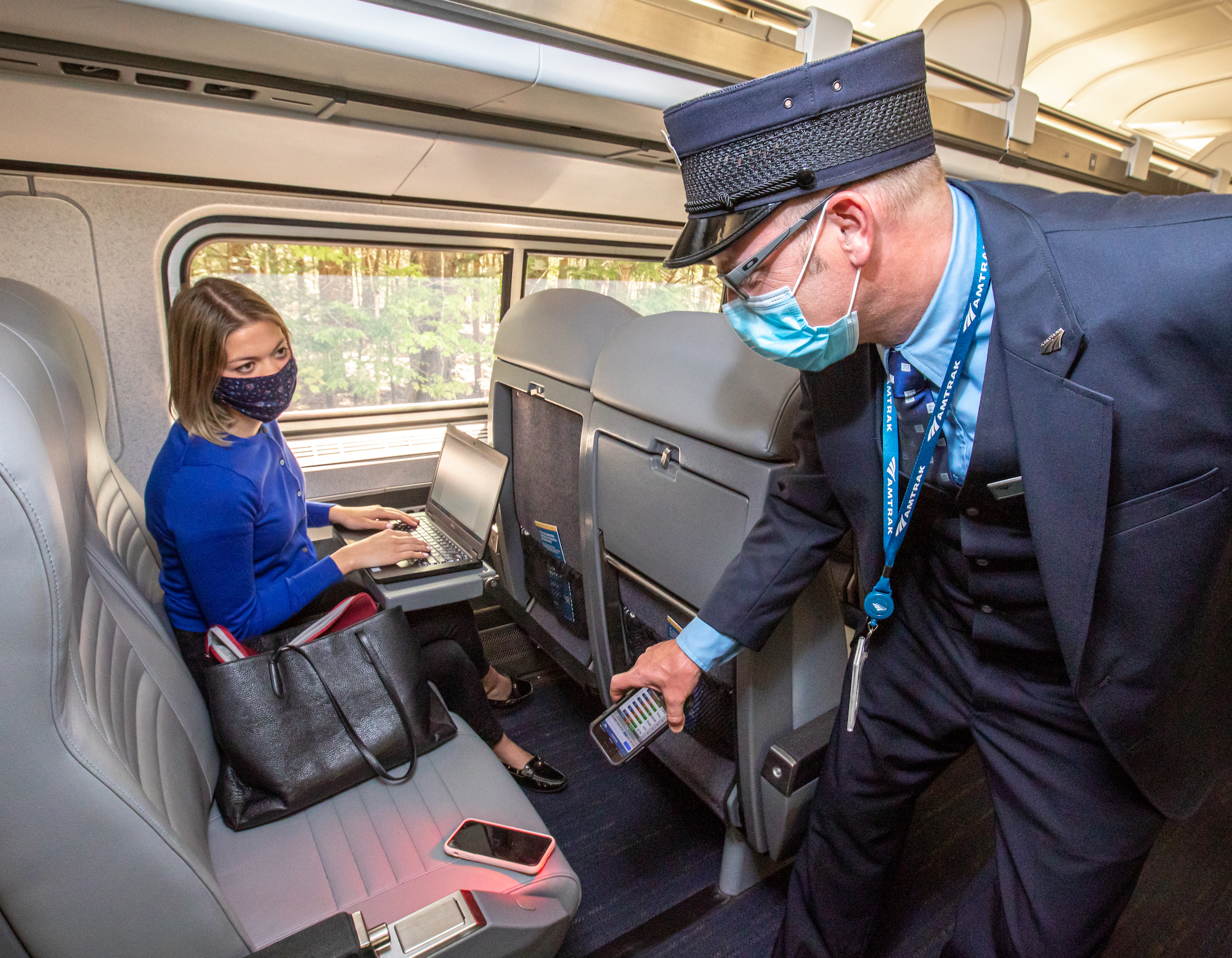 In addition to #680/681, trains #682/683, #684/685 and #688/687 are expected to be added. Once #688 arrives at North Station, it will not linger but head back to Maine as there is no late-night entertainment scheduled at the Garden. There is no date certain for this resumption of service. All trains will undergo extensive cleaning in the Brunswick Layover Facility.
All safety/protective measures will remain in place, social distancing upon boarding with mask and social distancing within the coaches (traveling at half capacity).
The stations along the line will determine in their own towns/cities as to how and when to open.