Our New Vision
TrainRiders Northeast brought the Downeaster to Portland, ME in 2001 and Brunswick ME in 2012. Our New Vision: An across-the-platform Amtrak connection at Boston's North Station, serving Worcester, Springfield, Hartford, New Haven & New York's Penn Station (Moynihan Train Hall). Our continued success depends on your donation. Use our PayPal button to help us reach this goal. Many thanks for your continued support. Wayne Davis, Chairman
TrainRiders/NE's Virtual Annual Meeting Held on March 25th - View the Video
Details

Created: 01 March 2021

01 March 2021
On March 25th at 2 p.m., our 33rd Annual Meeting was called to order. It was not in a hotel ballroom but on the Internet as a Zoom Webinar.
You heard from Chairman Wayne Davis and former Vice-Chair Andy Hyland about our new proposal for a simplified trip from any Downeaster station to New York City's revitalized Penn Station (Moynihan Train Hall). At North Station, you would cross the platform to an awaiting Amtrak southbound train, thus eliminating the frequently challenging and time-consuming subway commute to South Station or the costly taxi ride. Of course, the trip to Maine, New Hampshire & Massachusetts from the Big Apple would be equally accommodating.
You also heard from our guest presenters and were able to ask them questions thanks to Bruce Sleeper's tireless monitoring of the chat channel.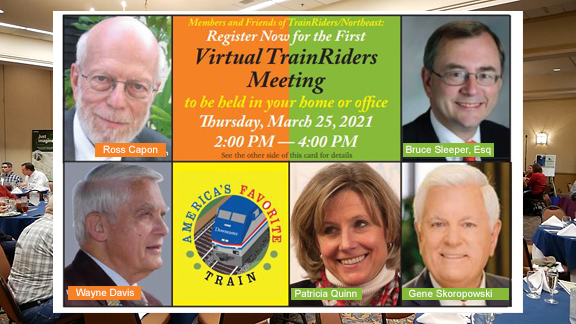 Our speakers:
Patricia Quinn - Executive Director of NNEPRA

Eugene Skoropowski, best known for his Florida Brightline passenger rail accomplishment. (PowerPoint file)
Ross Capon - President Emeritus of the National Association of Rail Passengers (now RPA) (PowerPoint file)
Andy Hyland - Former Vice-Chair of TrainRiders/Northeast presents our New England States Amtrak connection at North Station (PowerPoint file)
The video of the Webinar has been split into two sections for easier viewing.

Section 1 features our panelists: Patricia Quinn, Gene Skoropowski, Ross Capon, along with Senators Susan Collins, Angus King and Representative Chellie Pingree. Go here.
Section 2 details our New England States proposal, eliminating the frequently awkward journey between North and South Stations for those wishing to continue on to New York City. You'll hear assessments of the proposal from town and station leaders and then join Wayne Davis for an in-person tour of the new Moynihan Train Hall in NYC. Go here.